Is NRI required to file an income tax return? – a very common question. In short – an NRI is liable to pay taxes under certain conditions. This post will cover that… We have also touched – How to NRI file NRI income tax returns online?
Let us look at the various aspects of NRI tax filing in India.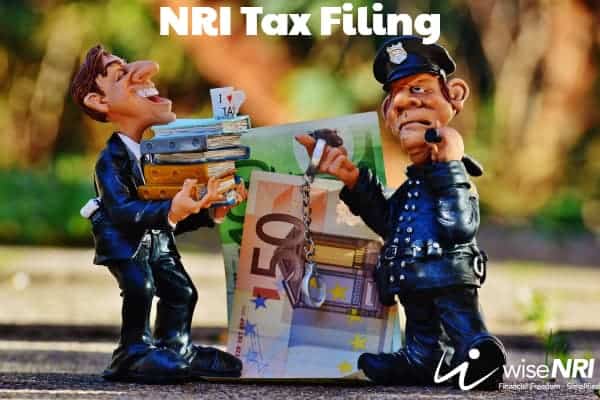 Must Check – How Can NRIs Save Tax On Their Income In India?
Cases when Income Tax is applicable to an NRI
A Non-Resident Indian (NRI) has to pay taxes on any income that is received, accrued, or arisen in India. If you are an NRI and have one or more of the following income sources and your income in India exceeds Rs. 2,50,000, you are liable to files taxes returns –
Interest earned in NRO accounts – It is subject to taxes.
Rental income – It is subject to a TDS of 30%. The tenant is responsible for deducting TDS and submit Form 15CA (and in some cases Form 15CB also) and then pay rent to the NRI.
Capital gains on house property or other assets – It is taxable and has to be added to the total income earned.
Income from fixed deposits or interest on savings bank account – Income is earned/accrued in India and therefore taxable.
Income earned – If you earn income while in India for part of the financial year, you have to file returns for the same.
If you have earned income in India for work done abroad, you have to file returns too.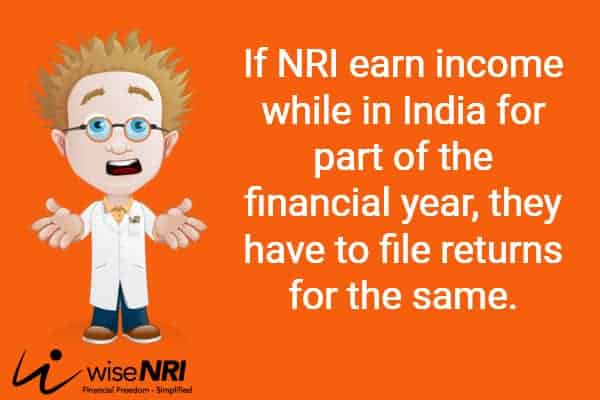 Due Date for Filing Income Tax Returns for NRI
The due date for filing income taxes returns in India is on or before 31st July for the preceding financial year. So for the financial year – Apr 2020- Mar 2021, you have to file taxes on or before 31st Dec 2021.
If as an NRI, you are a working partner in a firm that has not had the accounts audited yet, then you have to file taxes by 31st December.
Check – New Indian Tax Rules for NRI – 2021 Good & Bad News
How to File an Income tax return for NRIs
NRI does not need to be physically present in India to NRI tax filing in India. You can send all the relevant documents, complete the relevant form and sign it and send it to a taxes expert in India who can file it for you.
But nowadays it is best to file Income tax returns online –
Get the documents and information such as PAN card, bank statements, income details, and deduction details.
Register on the Income Tax India website
Choose the right ITR form.
Select the option on how to file returns. You can e-file your returns or download the relevant ITR complete and upload it.
Fill the form and submit it
Verify the ITR-V. It can be verified by printing it out, signing it, and sending it via normal post or speed post to CPC Bangalore within 120 days of submitting the form. The address is –
Income Tax Department – CPC
                Post-Box No – 1
                Electronic City Post Office,
                Bangalore – 560100, Karnataka
You will get an acknowledgment on receipt of the form. It can also be verified online or e-verified by using Netbanking, Aadhaar OTP, or Bank account number.
The process of Income-tax Refund for NRIs
You will get a refund only if you file your tax returns.
So even if you do not have to pay any taxes but are eligible for a refund, you will still have to file taxes returns. If you want to offset your capital losses against capital gains to lower tax liability, you have to file tax returns.
"If you want to offset your capital losses against capital gains to lower tax liability, you have to file tax returns."
Hope this helps you to file your tax returns this year smoothly. Please feel free to ask questions in the comment section regarding NRI Taxation.
Note – We are not CA but will try to answer based on our learning while working with NRI clients.