We have heroes all around us, including our doctors, teachers, etc. But a superhero is a being who has special powers that allow them to do extraordinary things. They can be a superhero in the true sense only when they use their special abilities while remaining true to themselves no matter how adverse the situation may be.
We can draw a parallel between superheroes and us. Just like they have superpowers like an unassailable weapon, inbuilt power, or gadgetry, we have our finances, capability, and characteristics. Just like they need to use it wisely to have a clear conscience and make the world a better place, we need to plan our finances wisely to achieve financial independence and have a secure financial future.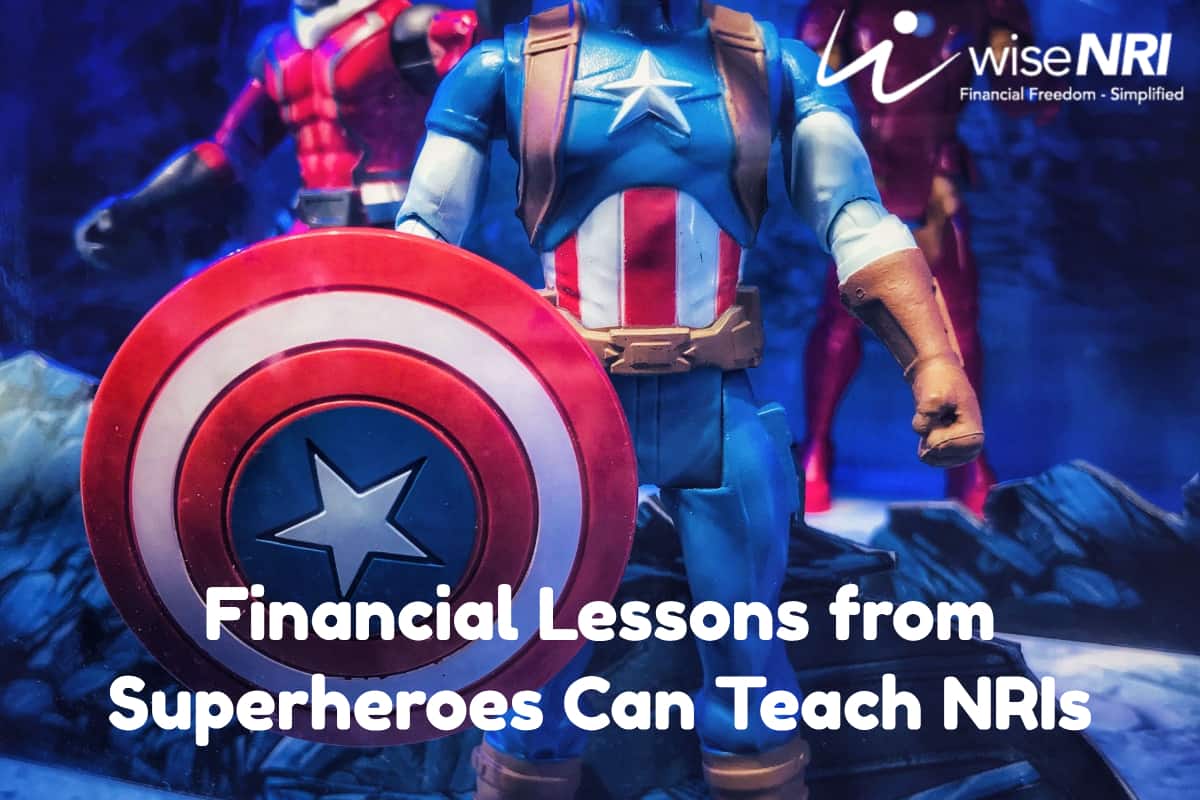 We can learn some valuable lessons from superheroes that can help us in our financial journey –
Superheroes Do Not Show off Their Powers
Superman hides his powers behind his day job of being a journalist. Our own Mr. India hid his identity under the guise of a poor violinist and philanthropist. Most superheroes do not want to show off their powers but only use them when necessary. Similarly, NRIs need not show off their wealth by splurging on luxurious goods or living an unnecessarily lavish lifestyle. It can lead to a situation where we spend beyond our means and do not save or invest for the future. It can trap us into spiraling debt leading us to financial misery.
It is wiser
To save and invest first,
Stock up the emergency fund and then
Spend on a lifestyle within our means
Check – How can (wise) NRI avoid lifestyle inflation?
With Great Power Comes Great Responsibility
This is an oft-repeated quote in the Spiderman comic books and movies. It implies that if you have the ability to do something, make sure you do it for the greater good of the community. Similarly, money gives us the power to
Experience financial security
Pursue our dreams
Make a difference in the society
Be free
To be able to experience its power, NRIs have to use money responsibly. Some of the ways to be financially responsible –
Set up short-term and long-term money goals
Take steps to achieve our money goals
Live on a budget
Use credit cards wisely
Read The Fine Print
Deadpool was looking for a cure for his terminal cancer and got himself into a situation that left him for the worse. Deadpool trusted someone without sufficient checks. When it comes to finances, NRIs need to examine everything thoroughly.
If you are investing in shares, read the financial statements and do your research rather than follow tips.
While choosing a credit card, read the terms and conditions. Find out what the asterisk (*) and dagger (†) symbols near the words "Cashback", "Redeem", and "Fees" really indicate.
When taking a home loan, read the terms and conditions of the agreement carefully to avoid disputes in the future.
Read – How NRIs can choose the best Financial Planner in India.
Diversification is a Must
In Avengers Endgame, many superheroes of the Marvel Cinematic Universe came together in their last stand against Thanos. Similarly, your investment portfolio should have a wide range of investments that have different features. It will help minimize risk and increase the potential long-term returns. Depending on your risk tolerance level, financial capacity, and stage in life, you should have a mix of equity of various kinds, debt, real estate, gold, commodities, etc.
Slow and Steady Wins the Race
Lord Rama did not take hasty steps in the Ramayana to free Sita from Ravana's clutches. He knew he would require an army and decided to build a bridge across the sea so that he could reach Lanka with an army. The bridge was built over time with tiny stones and rocks. It teaches us the power of taking small steps consistently to make significant achievements. For example, a monthly SIP in an equity mutual fund will help build a considerable corpus over the long term.
If one had invested ₹ 10,000 per month in Nifty 50 in 2013 and did not withdraw any amount, they would have a corpus of about ₹ 27,00,000 in 2023, as the 10-year average return on Nifty 50 is around 15%.
Must Read – Time is Money when it comes to retirement planning
One thing that NRIs should NOT learn from Superheroes 
Neglecting Insurance and Risk Management: Superheroes often take significant risks without adequate insurance coverage or risk management strategies
Financial planning is imperative for a secure financial future for everyone including NRIs. We can get inspired by these superheroes to make a financial plan and execute the plan for a secure financial future.
Please share one valuable lesson you've learned from your favorite superhero in the comment section.