As an NRI (Non-Resident Indian), investing in mutual funds in India can be a great way to grow your wealth. However, before you can start investing, completing the KYC (Know Your Customer) process is mandatory.
What we Cover in this Article –
KYC for NRI mutual fund in India
Benefits of investing through mutual funds
Mutual Fund investment process for NRIs
How to check NRI KYC status
NRI KYC form for mutual fund
Online Mutual Fund KYC for NRI
How to change KYC status to NRI
NRI KYC FAQs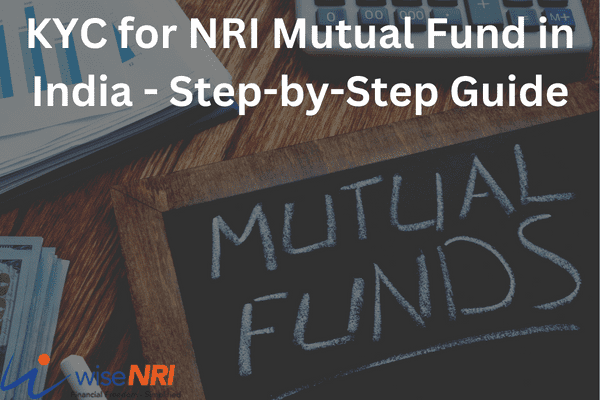 Must Check- Mutual Funds For NRI In India – Comprehensive Guide
KYC for NRI Mutual Funds in India
Completing the KYC process is a crucial step in investing in NRI mutual funds in India. By following the step-by-step guide outlined in this article and ensuring that all necessary NRI KYC documents are in order, you can complete the process smoothly and start investing in the right mutual funds that align with your financial goals.
Investing in the India Growth story has been one of the dream investment horizons with the investors – at home and abroad. NRIs who are making it big overseas, do not want to miss out on this growth story, because of the corporate resilience that was on display during the most trying times in the last one-and-half years.
The reduction in corporate taxes, cost savings, and formalization of the economy have all resulted in growing profit margins of the listed companies on the BSE and NSE. Similarly, the debt funds are better managed now than earlier with more transparency and more options for safety with growth.
These both present a great avenue for investment in the India growth story through mutual funds. NRIs can participate in this story through their investments in mutual funds in India – it makes sense to know what is required to do so.

Benefits of investing through mutual funds
There are a multitude of advantages of investing in Mutual Funds
1. Professional Management
As we have repeated many times over, if you are not into finance, do not play with your capital. It is always beneficial to give the charge of managing your funds to professionals with a solid track record. Furthermore, they know more about the investment climate in India more than you could with your busy life overseas.
2. Easily manage funds online
Online investments have made it easy to check the health of your investments from anywhere. Using the website or mobile apps of the Asset Management Companies (AMCs) you can start/stop/pause SIP, SWP, or STP; make direct purchases or redemptions; and download account statements and capital gains/loss reports from anywhere, anytime.
3. Benefit from rupee appreciation
If the value of INR appreciates against the currency of your domicile country, then you get to reap more profits. This not a very unlikely scenario, as the currency markets, can be very volatile in the short run.
Mutual Funds Investment Procedure for NRI
AMCs cannot accept investments in their MF schemes in foreign currencies, therefore, NRIs must have either an NRO or NRE bank account in any branch in India. Usually, when a person becomes NRI, their regular savings account can be converted into an NRO account, or they can open a separate NRE account to remit money from abroad for investments.
NRIs also have to adhere to the Foreign Exchange Management Act or FEMA and complete the KYC procedure discussed later. Most AMCs do not accept MF investments from NRIs living in the USA and Canada, but some of the following do: (but there are tax issues)
BNP Paribas Mutual Fund
Nippon India Mutual Fund
Parag Parikh  Mutual Fund
Sundaram Mutual Fund
UTI Mutual Fund
Check – Smallcase Stock Investing For NRIs
What is the process of KYC for NRI Mutual Fund?
Whether you want to invest in equity, debt, or hybrid funds – based on your personal financial goals, investment horizon, and risk profile – you have multiple options for doing so. But before making the first investment as an NRI, must complete CKYC (Central Know Your Customer) requirements.
Under the Prevention of Money Laundering Act 2002 (PMLA) all categories of investors are required to comply with KYC norms, for carrying out any transaction in their Mutual Fund schemes.
NRI Mutual fund KYC is a simple process of validating and verifying the details submitted by you in your investment application – online or offline – against original documents for the purpose of making investments in financial instruments regulated by SEBI. Being a centralized procedure, if you get your KYC done from one AMC, you do not need to repeat the process with any other AMC for future investments, and even for opening a Demat account.
The NRI KYC process is straightforward, and you can complete both offline and online through Video Calling.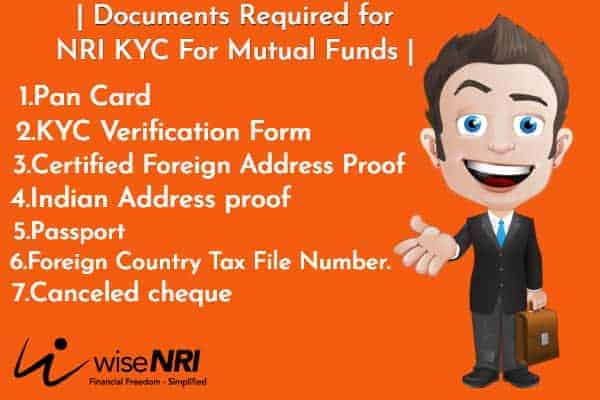 Must Check – Best Mutual Funds in India for NRI 2022 – Equity & Debt Funds
Offline
The CDSL Ventures Limited (CVL) carries out the KYC procedure on behalf of all mutual funds in India. The CVL Points of Service accept NRI KYC application forms, verify against original documents, and provide the KYC Acknowledgement receipt. You can do it by visiting a CVL PoS in-person as well as by posting them to your legal representative, MF Distributor, Financial advisor, or the AMC.
NRI KYC online
The online KYC process has also evolved over the years and is now seamless. You need to upload or email the clearly scanned copies of your required documents and then go through the In-Person Verification (IPV).
The IPV can be done seamlessly over a video call. Earlier, Know Non-Resident Indians (NRIs ) were required to visit the offices or someone visited the investor to verify the papers and paperwork at their home or workplace.
IPV is required to verify that all the copies submitted by the investor are in her possession and the details are correct. Most advisors & distributors, KYC Registration Agency, AMC, or registrar & transfer agents ( Karvy) carry out IPV via video call using  Skype, Zoom, Google Meet, etc.  You can schedule a comfortable date and time for the IPV video call with the agencies.
Major also offers instant IPV during business hours through their mobile apps using Aadhaar based biometrics or OTP verification.
Check- Beware of Rampant Mis-selling of Expensive Insurance to NRIs
NRI KYC Documents for Mutual Fund
You must send the self-attested copies of the following documents for KYC and must carry them on you for IPV:
PAN card – if you do not have one yet, then easily apply at NSDL website.
KYC verification form with latest colour passport size photo. Download the NRI KYC form for mutual fund 
Canceled cheque leaf of your NRO, NRE, or FCNR bank account.
Certified Foreign Address Proof – residential permit, latest utility bill, DL with address, etc.
Indian address proof – latest utility bill, DL, Aadhar card, Bank statement, etc.
Passport – first two and last two pages.
Foreign Country Tax File Number.
Note: If any of the documents are in a foreign language, then they must be accompanied by a certified English translation. You can get the documents attested at Indian Consulates or overseas branches of banks registered in India.
How to Check NRI KYC Status
Just enter your PAN card number and captcha and check your KYC status.  To check your KYC status has been approved or not, you can go to the websites of the Registered KRAs at:
It usually takes only a few business days to update your status online, after which you can start your investment journey through Mutual funds in India. At Wisenri.com, we offer not only financial advisory services but KYC services for our esteemed NRI customers.
How to Change KYC Status to NRI
We keep getting questions on how to update KYC for NRI. If you have an existing KYC status as a resident Indian and need to change it to NRI, you will need to follow these steps:
Contact your mutual fund company: Reach out to your mutual fund company and inform them of your change in status. They will provide you with the necessary forms to complete the process.
Obtain the required documents: You will need to submit a copy of your passport, visa, and other relevant documents that establish your NRI status. You may also need to submit proof of overseas address.
Fill out the forms: Fill out the forms provided by the mutual fund company with accurate information.
Submit the documents: Submit the filled-out forms along with the necessary self attested documents as mentioned above.
Wait for confirmation: The mutual fund company will verify the documents and update your KYC status to NRI. You will receive a confirmation from the mutual fund company once the process is completed.
It's important to note that you should update your KYC status as soon as possible after becoming an NRI to ensure that your mutual fund investments are in compliance with regulations.
FAQs-NRI KYC for Mutual Fund
Q1. How do I know my KYC Status?
You can directly access them online and know your KYC Status by just entering your PAN Number
Q2. What are The advantages of the NRI Mutual Fund KYC?
If you have completed KYC once, then you can invest in any mutual funds any number of times with the same KYC. If you are required to change the address in all your mutual fund investments, you do not need to it separately. If you could update that in the KYC, that will automatically reflect in all the mutual fund folios.
Q3. What are the benefits of Mutual Funds?
The most important benefit of investment in a Mutual Fund is that the investor can redeem the units at any point in time.
Q4. Can I invest in mutual funds?
NRIs are allowed to invest in mutual funds in India – as long as they adhere to the rules of the Foreign Exchange Management Act (FEMA).
Remember to stay up to date with any changes to the KYC process, and always seek professional advice. If you have any questions or concerns regarding NRI KYC for mutual fund add them in the comment section.