Well, the newspapers and television are full of features recalling few things like "Best of craziest Bollywood moments of 2019" or the "Best of wardrobe malfunctions of last year" or the "Best of divorce/separation of the year", I will not make an adventure to test your oomph level and will draw your focus on a serious affair i.e. investments.
Each year I try to focus on what is next in the investment domain. Hence my best of 2022 shall be on "Best Mutual Fund to Invest in India".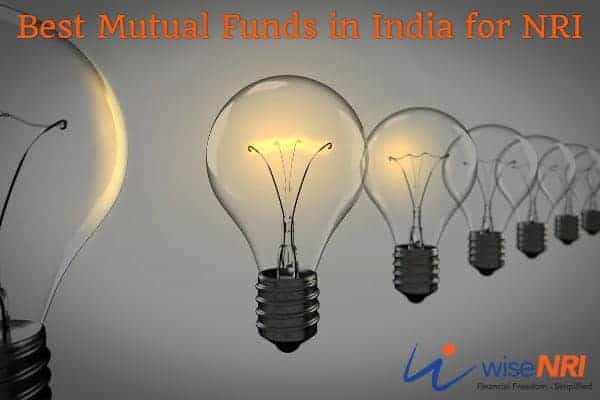 Check – Mutual Funds For NRI – Comprehensive Guide
Best Mutual Funds For NRI
I have covered the top schemes of Equity as well as Debt funds so that NRIs can think of building a proper portfolio. You can also download the consolidated factsheet of the equity mutual funds for NRI from the end of the post.
Before we leap the same old age word of wisdom. Do not get carried away by simple past performance (Oh! If you consider last year's performance you will not consider investing in equity funds). The decision to invest should only be taken:
In congruence to your financial goals.
As per your risk appetite.
As per the asset allocation process.
In case you are naïve, take the help of a professional in a "professional way" (read pay his due advisory fees)
Before we start…
Can NRIs invest in Mutual Funds in India?
In most cases, the answer is Yes but NRIs based in the US & Canada face some restrictions in a few AMCs. In the case of the USA due to tax issues, it's really tough to invest in Mutual Funds – NRIs should have a word with a tax expert or a financial planner before investing in Indian Mutual Funds.
Even where Mutual Fund houses allow the investment they require a separate letter for making a lump sum investment or for starting a SIP.
In a few AMCs, it's easy to invest but at the time of redemption they create issues & ask for additional documents – so NRI should invest in Mutual Funds after getting proper guidance. NRIs will require lots of support during all phases of the investment.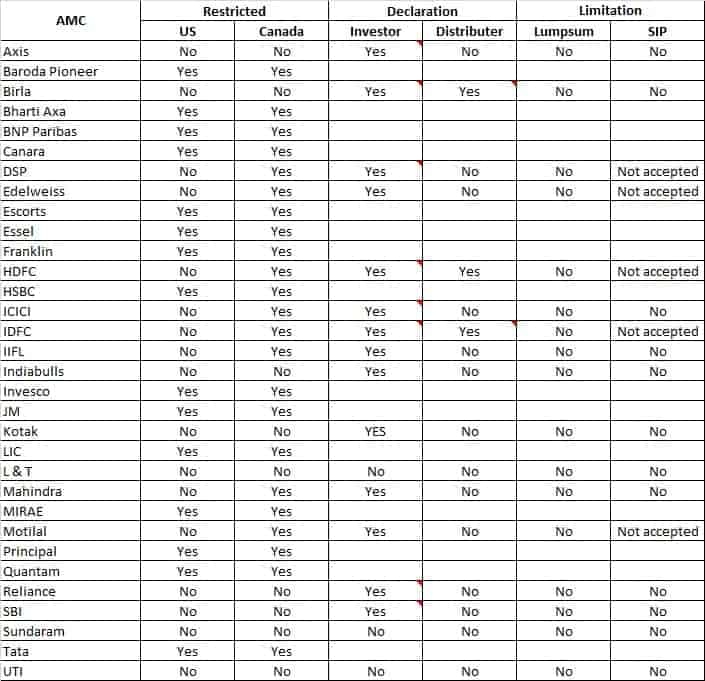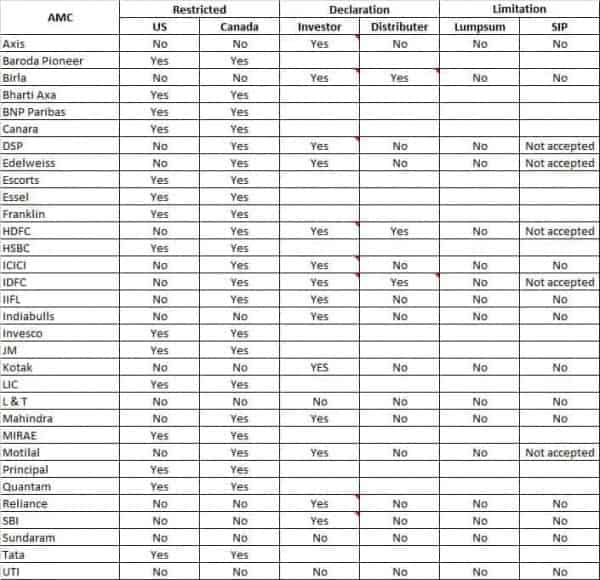 Best Mutual Fund to Invest in India
I just don't want to focus on single criteria like performance or just a 5 star rated fund from a research house to select funds.
But I don't want to add many filters to make it too complex for you to understand.
So you would like to ask – what's the Selection Criteria of the Mutual Funds in India to invest ?
Value Research 4 or 5-star Rating
Ratings can give you a first-level check to fund selection but you should understand that they are based on past data & can't predict the future.
Fund Size
I have considered Rs 2000 Crore as the minimum fund size for equity funds.
Alpha (Jensen) is positive in 3 years
This is a risk-adjusted measure used to gauge the extent to which a manager has added value to the returns that could have been expected from a benchmark portfolio, while taking into account the fund's sensitivity to that benchmark.

So this is a test of whether a fund has achieved a better performance than its Beta would suggest: a positive Jensen Alpha indicates an active management style with superior stock-picking ability; a negative figure is produced if returns are falling short of the adjusted benchmark return.
In simple words, Jensen's Alpha will tell you – has your Mr. Fund Manager contributed some returns.
Fund Manager Tenure
I have avoided funds if there is a change of fund manager in the last 1 year.
Also, Check – Best Investment Plan for NRI
So here we go…
Equity Mutual Funds to invest in India
I repeatedly keep saying that it's not about fund selection that will generate returns – it's more about your behavior. I keep saying "Investing is not a Number Game it's a Mind Game." – this also is the subtitle of my new book with CNBC "Modifying Investor Behavior". 🙂
Last year performance of Equity Funds – Category Wise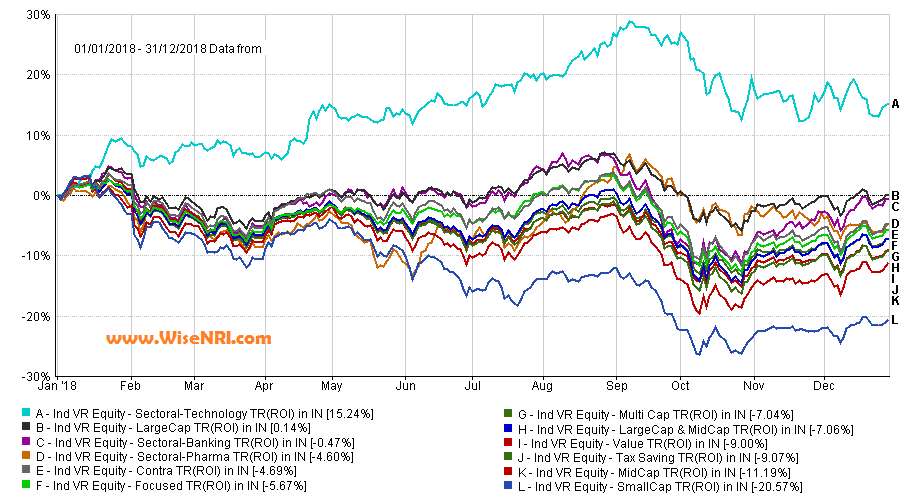 10 years performance of Diversified Equity Funds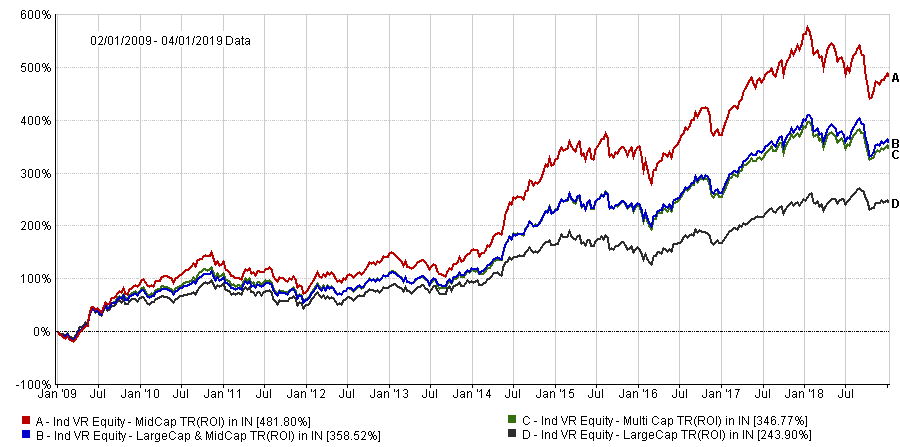 Check – Should NRI Invest in India
1-year rolling chart of Diversified Equity Funds
10 years performance chart is of no use if you don't understand volatility. In the last 7 years we have hardly seen any correction – check the yearly performance of diversified funds in the below graph. Look at the numbers in 2008 & 2011 – let me be very frank investors were lucky that 2009 was V shape recovery.
Sometimes it takes 5+ years for recovery in a bear phase – the Chinese market is still lower than 2007 high.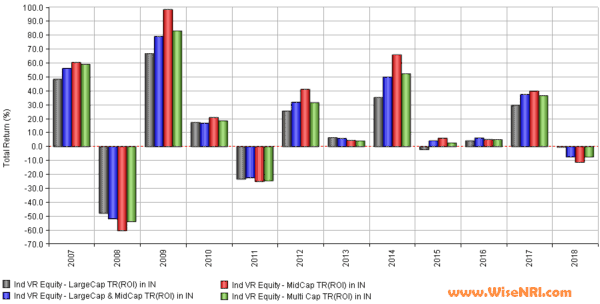 Read – NRI Mutual Fund Taxation
Equity Mutual Funds for NRI
I have added funds from main categories in diversified equity mutual funds – ignored focused, small-cap, value, etc.
I have not even covered Sector Funds here as I don't think there is much point in talking about the same – if someone wants to know why the comment section is all yours.
Equity – MidCap
1yr
3yr
5yr
10yr
L&T Midcap Gth TR(ROI) in IN
-14.07
13.24
23.95
22.21
Axis Midcap Gth TR(ROI) in IN
3.03
12.43
20.55
Sector: Ind VR Equity
MidCap TR(ROI) in IN
-12.84
9.13
17.95
19.26
Equity – LargeCap & MidCap 
1yr
3yr
5yr
10yr
Mirae Asset Emerging Bluechip Regular Gth TR(ROI) in IN
-6.83
16.28
26.92
Sector: Ind VR Equity
LargeCap & MidCap TR(ROI) in IN
-8.93
10.45
16.01
16.45
Equity – LargeCap 
1yr
3yr
5yr
10yr
Axis Bluechip Gth TR(ROI) in IN
6.40
12.58
14.60
ICICI Prudential Bluechip Gth TR(ROI) in IN
-2.18
12.39
14.68
18.50
Sector: Ind VR Equity
LargeCap TR(ROI) in IN
-1.65
10.50
12.20
13.15
Equity – Multi-Cap 
1yr
3yr
5yr
10yr
Mirae Asset India Equity Regular Gth TR(ROI) in IN
-1.77
14.25
18.66
21.08
Aditya Birla Sun Life Equity Gth TR(ROI) in IN
-5.78
13.73
18.73
17.49
Kotak Standard Multicap Regular Gth TR(ROI) in IN
-1.71
13.33
18.72
Motilal Oswal Multicap 35 Regular Gth TR(ROI) in IN
-9.06
12.02
ICICI Prudential Multicap Gth TR(ROI) in IN
-1.23
11.87
16.86
17.39
Sector: Ind VR Equity
Multi Cap TR(ROI) in IN
-8.72
9.94
15.66
16.15
PPFAS Long Term Equity Regular Gth TR(ROI) in IN
-1.78
9.88
15.90
Also, download the consolidated fund factsheet of the above funds from the end of the post.
Discrete Performance of Diversified Equity Mutual Funds
This may help you in gazing consistency of these funds. Only one thing is consistent that equity will give inconsistent returns & that's the way equity works. If you expect equities to generate 15% every year in a straight line – it's your mistake.
"Investments don't do mistakes – investors do." wiseNRI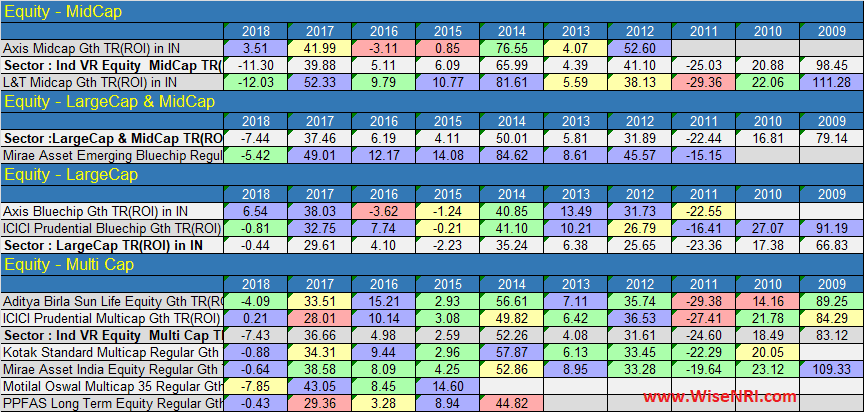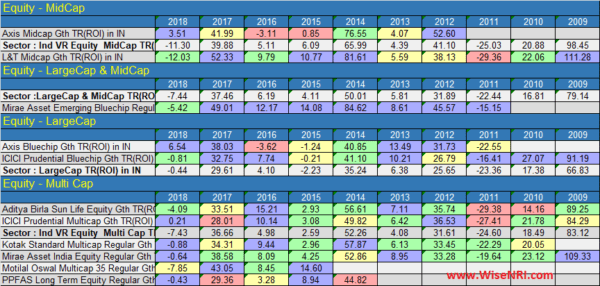 Balanced Mutual Funds for NRIs
Balanced Mutual Funds are considered the best of both worlds as they have 65% in equities & the rest in debt. They also do regular rebalancing which is very important for generating consistent returns. So if you are not in a position to rebalance your portfolio regularly – the balanced fund is a good option.
Filtering Criteria of Balanced fund is a bit different from diversified equity funds – I have considered funds with asset size above Rs 2000 Crore. And remove Alpha (Jensen) is positive in 3 years from the filter as not a single balanced fund qualified that 🙁
Hybrid – Aggressive Hybrid
1yr
3yr
5yr
10yr
HDFC Hybrid Equity Gth TR(ROI) in IN
-3.37
10.95
16.16
18.65
ICICI Prudential Equity & Debt Gth TR(ROI) in IN
-3.07
11.72
15.55
16.71
Sector: Ind VR Hybrid
Aggressive Hybrid TR(ROI) in IN
-4.23
8.70
12.89
13.77
Reliance Equity Hybrid Gth TR(ROI) in IN
-5.89
8.74
14.69
16.49
SBI Equity Hybrid Gth TR(ROI) in IN
-0.93
9.78
15.29
15.60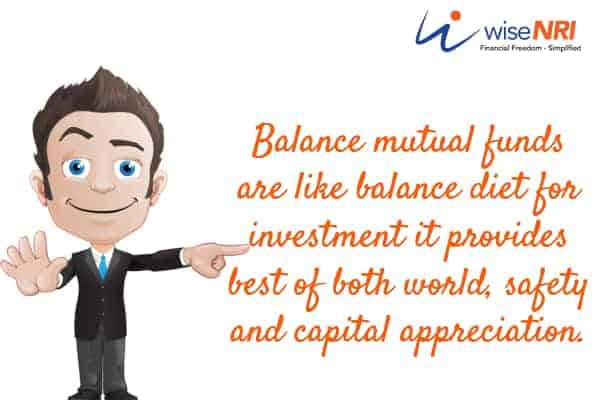 Debt Funds to invest for NRIs
Investment in debt funds by NRIs should be considered after looking at taxation, currency risk & asset allocation. NRIs prefer to invest their debt in NRE FDs – they should know what will happen to NRE FD after return to India.
Right now, there are many categories in debt funds but I have considered funds suitable for long-term investments.
The rationale behind the selection of these funds is just a four & five-star rating from value research & Asset under Management of Rs 2000 Crores.
Debt – Corporate Bond
6m
1yr
3yr
5yr
10yr
Aditya Birla Sun Life Corporate Bond Gth
4.47
6.98
7.88
8.68
6.73
HDFC Corporate Bond Gth
4.25
6.41
7.82
8.60
ICICI Prudential Corporate Bond Gth
3.78
6.43
7.47
8.13
Reliance Prime Debt Gth
3.84
6.91
7.55
8.12
7.93
Debt – Credit Risk 
6m
1yr
3yr
5yr
10yr
Aditya Birla Sun Life Credit Risk Regular Gth
3.27
6.45
8.28
Franklin Templeton India Credit Risk Gth
5.18
8.32
8.44
9.30
Debt – Dynamic Bond 
6m
1yr
3yr
5yr
10yr
Franklin Templeton Franklin India Dynamic Accrual Gth
5.41
8.28
8.95
9.98
8.02
ICICI Prudential All Seasons Bond Gth
3.84
6.10
9.18
10.46
UTI Dynamic Bond Gth
3.11
4.98
7.81
9.00
Debt – Gilt 
6m
1yr
3yr
5yr
10yr
ICICI Prudential Gilt Gth
4.53
6.82
8.72
9.90
6.21
SBI Magnum Gilt Gth
4.63
4.77
8.10
10.26
6.06
Disclaimer: Mutual Fund Investments are subject to market risks. Please read all scheme-related documents carefully before investing.
Personal Disclaimer – I am not suggesting you any of these funds – you should consider "Best Mutual Funds in India for NRI" as a random list of funds. Take advice from an experienced Financial Advisor.
If you are planning to improve your Financial Health in 2022
Check Our: Financial Planning System for NRIs
If you have any questions related to Mutual Funds feel free to ask in the comment section.