One of the most common questions that I get from NRI is – what will happen to my NRE FD after return to India?
This question is on top of his mind because most NRIs locked their savings in long-term NRE fixed deposits & they are giving high interest which is tax-free in India.
You can also get RNOR Guide from this post – important in the case of NRE fixed deposit.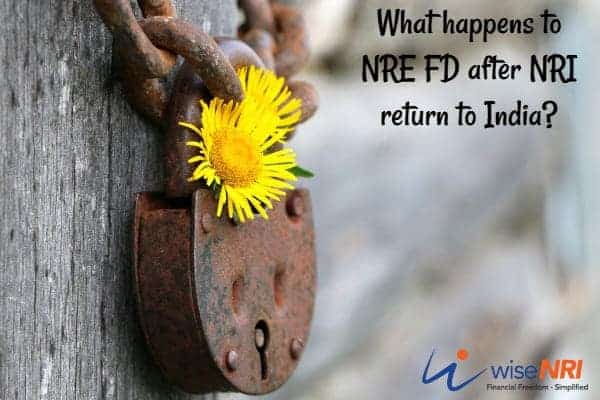 Must Read – Why NRIs Returning to India?
NRE Fixed Deposit
As an NRI, you can invest your money in fixed deposits in NRO, Non-Resident External, and/or FCNR accounts. The interest rate on these accounts may be different from the interest rate on resident FDs. Here is a comparison of NRE FD Rates of some banks –
Type of FD in Bank

(Sum less than  Rs. 5 crores)

NRE Fixed deposit Rate or NRO FDs
Interest Rate on  FCNR FDs (US Dollars)
1 year FD in ICICI Bank
3.75% per annum
0.50% per annum
1 year FD in HDFC Bank
3.75% per annum
0.01% per annum
1 year FD in SBI
3% per annum
0.70% per annum
Check – NRE Vs NRO Accounts – Everything You Must Know
It is good to park money in FCNR fixed deposits & NRE fixed deposit accounts –
Interest earned on NRE FD tax-free in India. (can be taxed in the country of residency)
The movement of funds is easy.
FCNR accounts are protected from exchange risk.
Many banks provide loans against FCNR deposits.
They can be continued in the same state till maturity whether you return to India or not during the FD tenure.
An NRE fixed deposit can't be open in joint name with an Indian resident, even if that person is a direct family member.
There is a repatriation option on investment through Non-Resident External Account.
NRO FDs are not lucrative as –
Interest is taxable.
There is no repatriation option on the principal investment or it's tough.
Funds that have been originated in India or funds from an NRE account can only be used to open an NRO FD. NRE FD and FCNR FDs can be opened with funds received abroad as well.
As an NRI, you can make use of NRO FD for investing money that you have earned in India and/or if you want to open a joint account with an Indian citizen.
Go for an NRE fixed deposit account if you want to mainly park funds from foreign countries and want the money to be fully repatriable.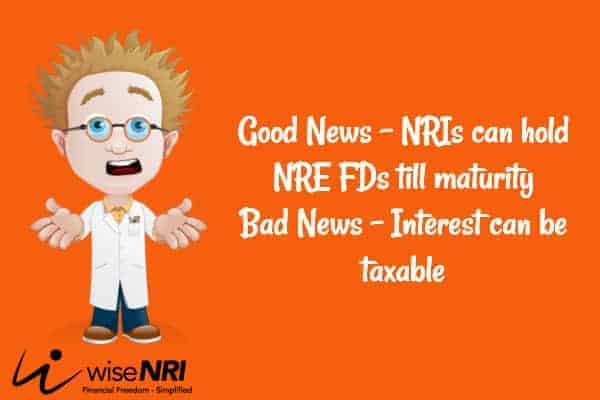 Read – Best Investment for NRI in India
NRE FD account after return to India
Let us look at the status of these NRE fixed deposit accounts and the taxation rules related to them when an NRI returns to home base i.e. India and becomes a resident of India –
These deposits can remain as-is until maturity when an NRI returns to India and become a resident Indian. They need not be converted to resident accounts.
Withdrawals from both these accounts can be done only in Indian Rupees.
If we break NRE Fixed deposit before maturity then interest is calculated only for the duration deposit remained with the bank.
Prematurely breaking of NRE FD attracts penalty which varies from bank to bank.
Non-Resident External and FCNR fixed deposit accounts can be converted to Resident Foreign Currency (RFC) accounts after maturity. The currencies allowed for RFC accounts are freely convertible currencies such as the US dollar, Euro, British Pound, and Japanese Yen.
NRO fixed deposit accounts have to be converted to resident accounts.
The interest rate will be payable at the original rate if the deposit is held for the full term even after conversion into a resident foreign currency account.
Interest income from NRE A/c or FD that have been converted to RFC accounts will be exempt from tax if the status of the returning NRI is 'Resident but not ordinarily resident' also known as RNOR. A person is considered as an RNOR if the following conditions are satisfied –
The person has stayed abroad for 9 years in the previous 10 years

During the 7 financial years preceding the year the person returned to India, he/she has stayed in India for a period of 729 days or less.
A person usually has the RNOR status for around 2-3 years. If the status is 'Resident', the interest is taxable.  Interest income from an NRO account is taxable in India whatever the residency status be. If the interest is taxable, then it has to be considered in the income source – 'Income from other sources' while filing tax returns.
After returning to India you become a resident Indian and your global income becomes taxable in India. Of course, Double Taxation Avoidance Agreement ( DTAA) may be availed if the oversees is also getting taxed locally, so to plan your stay in India try to maintain RNOR status for the maximum possible time.
In such a scenario except for some income, the rest of your foreign income will remain exempt from tax.
The NRI has the responsibility to inform the bank on a change of residency status so that the bank can take the necessary steps on the accounts held by the NRI. On becoming a resident the onus is on you to notify the bank of the change in the status.
The amount in the RFC account can be used for remittances abroad and investments abroad.
If you decided to go abroad again for the long term you can either remit the RFC balance abroad or transfer the fund from your RFC into a Non-Resident External or FCNR account.
Immediately on return to India, NRIs should inform their bank to designate their accounts as domestic Resident accounts or transfer the balance in their NRE/FCNR accounts to Resident Foreign Currency (RFC) accounts, if so desired; FCNR accounts can be continued till the date of maturity and upon maturity, can be converted to RFC accounts. wiseNRI
Few more points:
NRI after becoming a resident in India can also create a separate tax profile like HUF and take a separate tax exemption limit to HUF.
There is also NRO– Five years tax saver Fixed Deposit that will be eligible deduction under Section 80C of Income Tax Act, 1961. This also provides NRIs an opportunity to diversify their investments in addition to other investments permitted in Section 80C. The maximum amount to be invested in this should not be higher than INR 150000 in a financial year. No Overdraft or pledge allowed in the NRO – Five years tax saver Fixed Deposit.
In Five years NRO Tax Saver Fixed Deposit there is monthly and quarterly payout option is available but there is no partial and premature withdrawal is allowed.
As an NRI, let us know your experience if you ever asked your banker – NRE Fixed deposit account can continue after return to India? Please share their response in the comment section. If you have any additional or updated information – must share that will really help every NRI.