As per a report by the Ministry of External Affairs compiled in December 2018, the number of Indians abroad (NRIs, PIOs, and Overseas Indians) around that time was over 30 million.
Indians go abroad for education, work, or business. But most of them miss home and yearn for their country and its charm and uniqueness. Many of them want to come back to India at some point of time.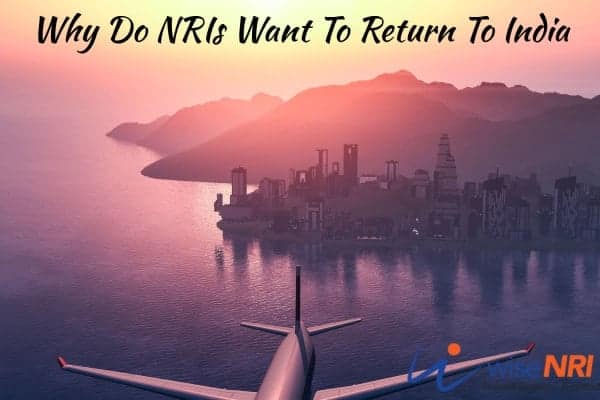 Must Check  – NRI Moving Back to India
NRIs Want To Return To India… 
There are a myriad of reasons to NRI Return to India  –
Opportunities
People went abroad in the lure of money and job opportunities. Over the last few years, India has been developing nicely. Here is a comparison of the stock market returns –
| | | |
| --- | --- | --- |
| Indices | 5 Years Return (%) | 10 Years Return (%) |
| Sensex – India | 75.73 | 78.07 |
| DOW Jones – United States of America | 89.71 | 112.13 |
| FTSE  – United Kingdom | 26.2 | 31.12 |
| HSI – Hong Kong | 37.03 | 27.35 |
People have realized that India also has the same or even more opportunities for professional development and earning income. The number of job opportunities in Western countries is less. It is not easy to start a business in a foreign land as well.
Moreover, if you compare the various processes such as banking, taxation, technological development in daily lives, India ranks high.
Many people want to start a venture on their own. There is a lot of potential demand in India as it is a developing country where needs have to be met. The population is huge and diverse so the potential of a wide customer base is high.
Read- NRI Investment Options in India
Social and Cultural Life
Most NRIs have grown up in India playing in the neighborhood and celebrating festivals with family and friends.
They have bonding with their extended families- aunts, uncles, and cousins. It is not the same abroad. Yes, in some cases, festivals are celebrated and the Indian community is active. But it takes a lot of planning and effort. In many places, the Indian diaspora is small and therefore NRIs do not get a chance to celebrate festivals such as Holi and Diwali.
Their children do not get opportunities to learn Indian music, dance, etc. These NRIs feel their children will have a cultural disconnect with their home country and prefer to move back.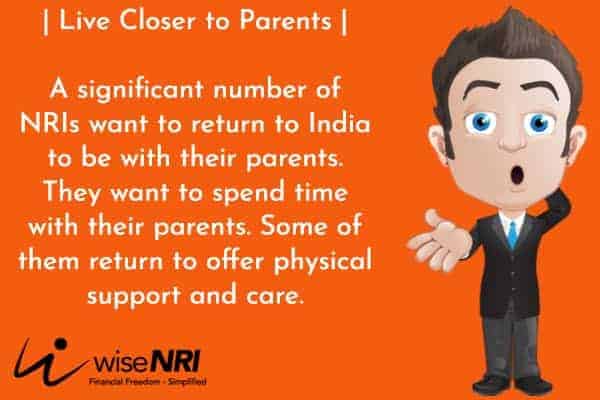 Check – What will happen to NRE FD after return to India
Various Social And Economic Issues
Many countries are facing economic problems such as low growth, lack of job opportunities, and increasing income inequality. In some countries, political and economic instability results in society closing doors on people of other nationalities.
There are many immigrant issues such as intolerance and violence that are increasing in different parts of the world. In such conditions, NRIs feel it is best to go back to 'apna desh' where they will be welcomed & accepted.
Live Closer to Parents
A significant number of NRIs want to return to India to be with their parents. They want to spend time with their parents. Some of them return to offer physical support and care.
Others want their children to have quality time with their grandparents which is difficult to get when you are in India just during the annual holiday.
Giving Back To Their Motherland
Many NRIs have gone abroad when they were young or for their education. They have been successful and are well-off financially. They feel that they owe something to their country and want to give back to their motherland in terms of service and charity.
Many NRIs come back to India and set up non-profit ventures to tackle socio-economic issues. Others work with NGOs and charity institutions. They want to make a difference in society and bring change in a positive manner.
Must Read – Planning for Retirement in India
Retirement
Few NRIs are very clear that they would like to work abroad till they retire or they achieve financial freedom – after that, they want to return for good. Till the time they retire – most of their important goals like kids education & buying a house are taken care off.
The savings that they have made can provide them a better lifestyle in India.
NRIs Returning to India
As an NRI, it is not an easy decision to make especially if your life abroad is comfortable and your family is well-adjusted there. You need to think from different aspects – family, socio-cultural adjustments, financial status, etc. before you make the decision.
From a financial aspect, remember to take care of the following things –
Evaluate Job Opportunities and Business Opportunities if you plan to work in India
Convert NRI bank accounts and Demat accounts to resident bank accounts
Focus on your wealth, income, and financial goals. Invest your money earned abroad smartly in a diversified portfolio.
Close the loop on the overseas assets and liabilities and ensure you have no tax liability abroad.
I will love to hear your plans of returning to India or staying abroad – please add in the comment section.