NRIs living around the world face a common dilemma about how to get their renewal of Indian passport in India as it reaches the expiry date. The problem has accentuated due to the COVID-19 restrictions on international travel to and from India.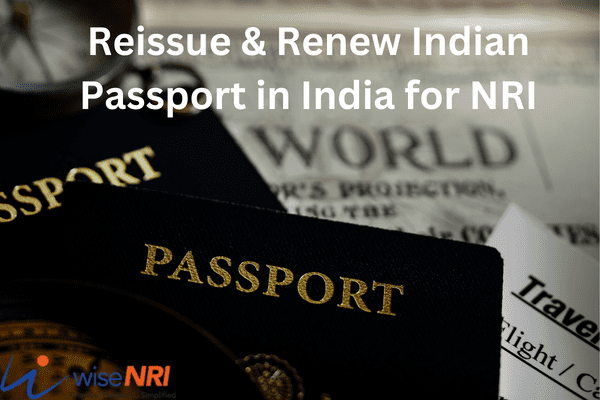 Check –Power of Attorney In India For NRI
Reissue & Renew Indian Passport in India for NRI
An ordinary passport is issued for a period of 10 years, and before its expiry, it can be renewed for another 10 years. This must be done at least 12 to 9 months before the expiry date. It ensures that you have at least six months validity at the time of renewal application for seamless travel on your current passport.
Your passport number remains unchanged if your passport is renew a indian passport in time. You need to get the passport reissued if it has expired, and your passport number would also change. This will create a lot of hassles as you will have to update your new passport number at all relevant locations – rental agreements, employment records, foreign health & life insurance, foreign pension funds, NEW/NRO accounts held in India, Demat accounts, and the likes. Therefore, timely renew a Indian passport is the best way forward, to avoid all these unnecessary troubles.
However, there are other reasons, why you may go in for a renew Indian passport in India, even before it has expired. These reasons are:
Validity expired or less than six months to expire.
Change in important personal details like permanent Indian address.
Pages in the passport have exhausted.
Passport is damaged, lost, or stolen.
Must Read – Wealth Planning Checklist for NRIs
Renewal of Indian passport Online in India
NRIs can apply for Indian passport renewals from any of the Missions of the Ministry of External Affairs, Government of India if they reside within the jurisdiction of the respective Missions. The guidelines pertaining to the fee, application procedure, documents needed, are available and updated from time to time on the websites of the respective Missions.
A complete list of addresses and websites of Indian Missions abroad is available on the MEA website through its service Locate Mission. Similarly, the Passport Seva service at Indian Embassies and Consulates portal of the MEA offers Passports services and assistance to Indian Citizens, living abroad.
Essentially, the process for an Indian renewal passport is the same as applying for a new Passport: Apply online, Visit Mission or a Passport Seva Kendra (PSK – if in India), Police Verification, and then Passport delivery. Let us understand these steps in detail.
1. Applying Online for NRI passport renewal for India
For NRIs Abroad Renewal Indian Passport in India
If you are abroad, Visit the Online NRI Passport Application portal, to start the process.
Choose the Mission from the drop-down list of all active Indian Mission abroad, it will redirect you to the Passport Seva at Indian Embassies and Consulates
Register as a new user by clicking on the "Register" link.
Then, log in with your the registered login ID and password.
In the Applicant Home Page, to file a new application, click on the link that reads "Apply for Ordinary Passport/Emergency Certificate/Police Clearance Certificate/Surrender of Indian /Diplomatic /Official Passport/Identity Certificate." Yes, I know it is too long a title for a link, but what can we do!
After successful submission of the application, take a printout of the online submitted form. There are still some columns in the application form which you will have to fill by hand.
You will be provided an appointment on a designated date and time, from the available slots.
Visit the respective Application Processing Centre at the Indian Mission, Embassy, or the Consulate along with required supporting documents. The list of Application Submission Centres is available on the same page at link "Embassy/Consulate" Connect.
You can download the blank application form from the website to be filled in hand and submitted at the designated Indian Mission.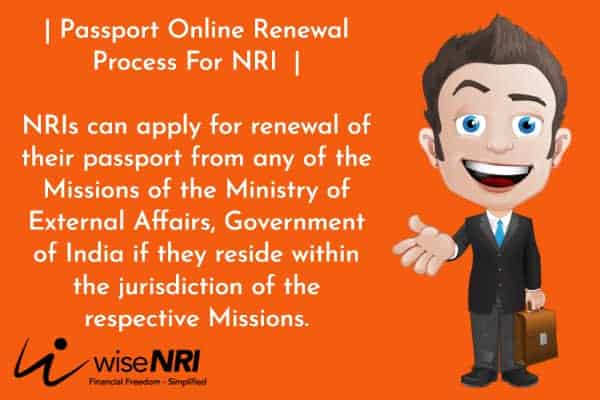 Must Read –401k Plan Before Moving Back To India
For NRIs in India Renewal of Passport in India
If you are in India, visit the Passport Seva Portal to start the process of passport Indian renewal.
If you are a new user, register yourself, or if an existing user, then log in. Once you are logged in, opt for Renewal/Reissue Service. while submitting the details.
Specify the type of application – Normal or Tatkal.
Fill the application form online.
Under the Apply Anywhere scheme, you can apply for a Passport from any PSK/POPSK/PSLK, you should first check the availability of slots at all nearby centers by going to this link.
Book an appointment according to the available time slots at your nearest PSK/POPSK/PSLK.
To confirm your appointment, pay online or enter the bank challan details you may have submitted at designated bank branches.
Print the application receipt and carry it along with other documents to the PSK on the scheduled date and time.
2. Visiting Indian Mission or PSK
You need to be present at the designated Indian Mission/Embassy/Consulate or the PSK, as the case may be, along with your a copy of the application form, all the required documents, processing fee (in case not paid) at the time of appointment.
Must Read – 10 Best NRI Investment Options
Visiting Indian Mission Abroad for Renewal Indian Passport in India
Visit the concerned Indian Mission, Embassy, or Consulate on the scheduled appointment.
Submit the completed application form along with the fee, supporting documents – date of birth certificate, copies of first two pages of the passport, current residential address, Proof of address Indian home address, etc.
Visiting the PSK in India
At the PSK, after the initial verification of documents, your application will be processed in a three-step process at three different counters named A, B, and C.
Counter A: Your Photograph and biometrics are taken or updated.
Counter B: Original Documents verified.
Counter C: Application status checked with guidance on further process and approvals required.
3. Police Verification
The police verification is usually not necessary in case of passport renewal indian renewal or reissue applications. However, under certain circumstances listed below, the police verification may still be needed:
If your permanent address has changed.
If you have been abroad for a long time and your Aadhaar Card was issued only recently.
If there is any discrepancy in your application.
Must Read – NRI Resident Savings Account
Documents you must carry at the time of visiting the Indian Mission or the PSK for renew the passport in India
Original current Valid Passport.
Highest educational qualification proof.
Indian permanent address proof.
Marriage certificate in case you recently got/already are married.
Spouse passport to endorse spouse's name in your passport.
For Tatkal passport your travel tickets.
Overseas address proof in the form of the latest utility bill, residence permit, etc.
In case you have changed your name or permanent Indian address, then supporting documents – court-approved affidavit, and land registry or new utility bill in your name, respectively.
Charges for the passport of India renewal
If you are getting your Indian passport renewal in India, then there are no charges for the renewal of  Indian Passport for NRIs. But if you are using the services abroad at an Indian Mission, a High Commission, or a Consulate, then they may charge you service charges in local currency, which may seem to be hefty sometimes.
Renew Indian passport from USA
The Indian government has outsourced the renew Indian passport from USA to VFS Global. If you travel internationally and wish to continue using your Indian passport as a means of identification, you must keep it valid and up-to-date.
Please share your experience if you have done your NRI Passport Renewal in India. And What kind of problems are you facing while NRI Passport Renewal in India.