With exponential growth in the content related to personal finance, you can get access to a lot of information on how to manage your finances well, track your expenses, and invest wisely. Once you have grasped the basics, managing your money, and finding ways to meet your financial goals – short-, mid-, and long-term – is the next logical step.
As each person's needs, aspirations, and context are unique, there cannot be a one-size-fits-all approach to personal finances. Another layer of complexity gets added with multiple geographies thrown into the mix. Therefore, if it were difficult for a regular investor to track her investments in India, it becomes much more complicated for an NRI.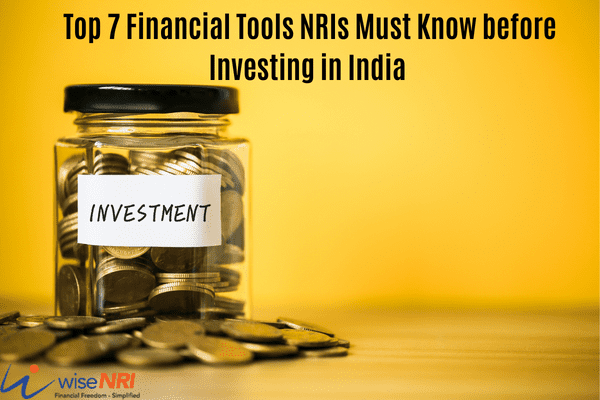 Must Check – NRI Investment Options in India
An NRI primarily earns, spends, saves, and invests in the country of their residence. But many NRIs also earn indirect income from India, spend here on family and property, and invest in Indian markets.
To ease the pains of money management and portfolio tracking there are many apps and software tools available. Some tools have great expense trackers, some have almost perfect investment trackers, while others have many things that are good enough.
Here we list the best Financial Tools NRIs Must Know before Investing in India.
Top 5 Financial Tools for NRIs Should Focus before Investing in India
1. Mint
Mint is one of the most popular expense tracking and budgeting tools. You can link your bank accounts and credit cards with the app and their information can be pulled into the software.
It allows for easy and near real-time monitoring and analysis of your cashflows – incomes and spending. With a monthly and category-wise report, you can identify the spending that could have been avoided and can then plan to cut them back.
With Mint, you can create alerts for due dates – for utility and credit card bills – and low account balances, lest you forget anything. It can come in handy when you are busy with work, vacations, or life in general in a foreign country and bills are due here in India.
By creating categories for different expenses you can let the Mint app show you how much to spend on discretionary items. Besides being free to download and use, Mint is also compatible with iOS and Android devices.
Pros:
You can download and use it for free.
Detailed monthly and categorized spending analysis is available.
2. MoneyView
Many people complain that they do not get time to check the SMSs that are delivered or mistakenly delete them without reading. Many transactional messages like bills generated, low balances, due dates, etc. also get lost this way.
How convenient would it be that someone could read all the SMSs for you and categorize at least the financial messages and create alerts?
MoneyView app provides real-time tracing and analysis of your finances if you allow it to read all transactional and financial SMS messages. It makes perfect use of the hidden financial data that sits idly in the message inbox.
The tool can read financial transaction-related SMSs – as they all have a predefined and TRAI-approved SMS code – and update its cash flow, expense, and investment reports accordingly. The cumbersome manual data entry into tools is now so passé.
The automatic categorization of transactions, also reveals the notable areas according to your spending history. You have the option to view weekly or monthly analyses to course correct if you are overspending and deviating from the budget. It can also study your spending trends over time to track your progress.
The alarm and reminder feature reminds you to pay bills, explore more savings opportunities, and even nudges you to invest more.
Pros:
Regardless of your credit score, you can get offers for loans.
There are no hidden fees.
Must check – NRI Investments in Commercial Property
3. Goodbudget
An expense tracker and money manager app suitable for home budgeting is Goodbudget (previously known as Easy Envelope Budget Aid or EEBA). It manages money using the time-tested envelope system.
Before starting to use this app to track your expenses, the app asks you to fill in the monthly budget. You can also add details for quarterly, bi-annual, or annual expenses like insurance premiums or school fees.
Once the budget is prepared, it creates virtual envelopes to put your money into them for each of the budgeted expenses. The envelopes give you a more concrete visual cue as you spend your money.
As you pay the expenses, the envelopes get empty that you must fill in before the next cycle begins. If one of the envelopes gets empty before the cycle ends, you will get an alert indicating overspending on the given category.
This simple method allows you to keep your spending in check and ensures that you never run out of money for the necessities like fees, rent, insurance premiums, or EMIs. Additionally, you can share your budget with your partners – spouse, roommates, or colleagues – via its web, Android, and iPhone apps. The seamless backend ensures that everyone is on the same page with convenience and real-time monitoring.
Pros:
It supports a variety of devices.
Cost-effective.
4. mTrakr
Not only your income and expenses, but you can also manage your wealth with the mTrakr app. This app is very thorough and covers every facet of personal finance.
You can link it to all your bank accounts and credit cards for real-time tracking of bank transactions and credit card transactions in one place. You can check outstanding balances of credit cards, credit limits, card bill history, and even a smart bill analysis.
You can also check your bank account statement and help you track all your bank accounts in one place. You can use the mTrakr app as your most used personal finance tool and money manager. With its Single Sign On (SSO) facility, you no longer need to remember passwords for multiple websites for internet banking and credit card apps.
For beginners and youngsters, it also offers to split the expenses among friends. You can also lend small sums to your friends through this app and keep a track of who has paid how much and when.
Pros:
Provides a compact view of all linked bank accounts.
SSO, Expense splitting, and Lend/Borrow are innovative features.
5. Axio
Axio the monitoring of your monthly outlays (previously known as Walnut). Using the Axio app will help you stick to your spending plan, make on-time bill payments, and improve your monthly savings.
This app can help you in tracking your monthly spending and savings. It also analyses the SMS messages in your phone's inbox and keeps track of important data like expenditures, bills, and even travel reservations.
Further, Walnut Prime, an instant line of credit for shopping, bill payments, travel, and a variety of other uses, is made available to eligible users in addition to personal loans.
The Walnut Money Manager app offers instant personal loans with rates ranging from 14% to 22% annually and terms as long as 12 months.
Pros:
Support for 50+ Indian banks and cards.
Simple expense, tag, or note searching.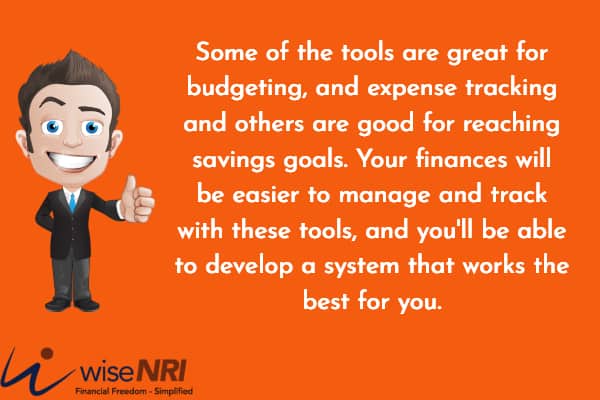 Must Read –Portfolio Investment Scheme for NRI
Two Bonus Financial Tools to Help You Where You Stay
1. Quicken
This tool is among the most established in the personal finance industry. It is a fully-featured financial management package at a reasonable price that also delivers a holistic approach to financial management.
The app can be used to manage a variety of financial factors, from budgeting to debt tracking to saving goals to even investment coaching. Furthermore, it is capable of exporting data to Excel, so that you can manipulate and conduct additional calculations.
You can set up bill payments right from its bill pay feature, which is one of its more advanced elements. You can even use it to calculate your net worth accurately by tracking the value of your assets.
Besides managing your personal and business expenses, the software can also manage property management functions such as tenant payments.
There is a 30-day money-back guarantee offered by Quicken. Windows, macOS, iOS, and Android users can purchase the software for $41.88 per year.
Pros:
Cost-effective.
A variety of features are available.
2. YNAB
YNAB is a personal finance software that helps you manage your monthly budget and improve your financial literacy.
As you manage your daily finances and create your budget, the software provides tutorials to assist you in tackling some of the tougher financial topics. By following a few simple financial management rules, YNAB can help you break bad financial habits.
With the software, you can analyze and track your spending automatically by linking it to your bank account. In case you overspend on your monthly budget, you can monitor your spending and take action. However, it does not include any investment tracking features.
YNAB offers a 34-day free trial to help you decide whether the software is right for you. There is a monthly fee of $14.99 or an annual fee of $98.99 for the full software.
Pros:
Report on budgeting and spending.
Keeping you motivated with helpful tutorials.
Excel – if you are old school guy like me who still believes nothing can beat excel when it comes to calculations & customisation – you should check Vertex42
Conclusion
Some of the tools are great for budgeting, and expense tracking and others are good for reaching savings goals. Your finances (mostly spends and to some extent cashflows) will be easier to manage and track with these tools, and you'll be able to develop a system that works the best for you.
Using a financial tool can help you get started on your financial planning journey. But as you start the voyage, you will come to know that Personal Finance is more personal than finance. As the tools and apps need to reach out to the masses, they can cater to some of your initial and basic needs but cannot help you realize aspirations.
The cost of personal finance software is worth it if it helps you gain your financial goals. You can control and track your investments, save money, and stick to a budget with it. You typically get more value for your money if it's helping you.
In the end, the personalized and custom advice that is the hallmark of personal finance is best delivered by an expert with years of experience and depth.
Please share if you are using any of these tools or any other tool that you think can help NRIs improve their financial life.