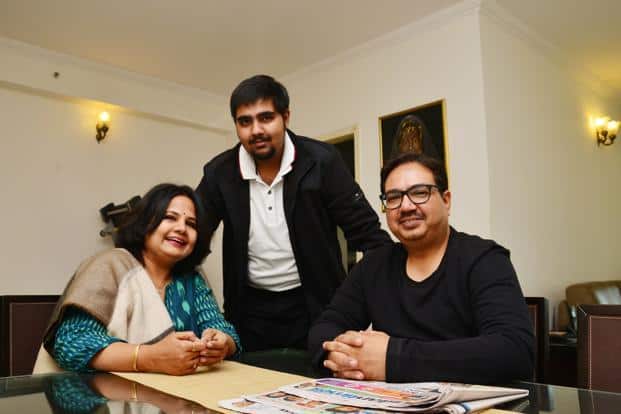 Yogendra Ji is my favorite client.. not because he pays fees on time 🙂 but I think I have personally learned a lot about "Life" from him.
As this section on wiseNRI is more about life than finance, so I requested him to be my guest in the 1st Interview.
Listen to it here. I am sure you will enjoy the conversation. Must drop a line in the comment section.
Here is a summary of the discussion by Vidya.
Mr. Yogendra Sharma was an NRI. He lived and worked in Singapore for a few years. He then returned to India primarily due to the fact that his parents were getting old and he wanted to be with his near and dear ones. Hemant spoke to him about different aspects of life apart from the financial aspects.
Hemant started the life section remembering the shloka – 'Asto ma sadgamaya, Tamso ma jyotirgamaya' means 'Lead me to truth from ignorance and lead me to light from darkness'. This is the pivot of his life.
Check – Financial Planning for NRI – How it's different
On Happiness
Mr. Yogendra feels that happiness depends on age. In the 20s and 30s, he got his happiness from travel and a dream job. But in the 40s, happiness for him is more of living with his family, have good health, and be spiritually awakened.
On the Biggest Mistakes that NRIs should avoid
He thinks there is not much financial literacy among Indians. When he was in Singapore, he got opportunities to invest in any instrument across the world and he was excited and enamored by this.
He invested in many expensive & complex products from companies like Zurich. But he realized that he did not get the expected returns that would fund his retirement as the cost of investment was very high.
When he got out of the funds, he had to pay up to 30%-35% of his investment as charges for the exit.
Read – Investment Plans for NRI in India
"NRIs should be very cautious and think of all aspects before getting into complex products." Mr Yogendra
Children's College Decision
He has one son. His son was clear about his future. He wanted to become a diplomat, join the UN, or be involved in Foreign Policy research.
He was also interested in studying abroad & money was not an issue.
Mr. Yogendra adds "But we realized that the courses abroad did not have anything comprehensive about India."
So he has joined Jindal University where he is doing a course in Global Affairs. They are very happy with this decision as the course is good and the quality of the faculty is top-notch.
Read – Steps – Planning for Retire in India
On NRIs buying/renting a house outside India
He says "In India, as we know there is a huge difference between the cost of property and rent in India. For example, the house that I live in, the rent would be around Rs. 60,000 per month. But the EMI for the loan for owning such a house would be around Rs. 3,00,000 per month. In Singapore on the other hand, the house rent was SGD 4,000 and if that property was purchased, the EMI would have been around SGD 4,200."
When he went to Singapore, real estate prices were very high. But the financial crisis lead prices to fall by almost 40%.
Loans were available at 0.85% interest. So he purchased a house.
But he planned his exit from the country well. So as soon as he decided to return to India, he put up the house for sale and went back to living on rent. This made the transaction smooth.
On Choosing Hemant Beniwal as his Financial Planner
He went through the blogs and testimonials and then contacted Hemant. He was impressed with the quality of questions on the financial data sheet that he had sent and the quality of advice given.
He also feels comfortable during discussions with Hemant. He is with Hemant for five years and he still feels the high quality is present.
He does not feel that products are being pushed. He feels the advice is independent and in his best interest.
On his Interest in Spirituality
His grandfather was a priest and his family was quite spiritual. He read books on India and Hindu culture. He felt Indian scriptures are scientific too.
He realised he needed to have the right Guru for enlightenment and spiritual awakening. He had a great experience in the session with his Guru.
Must Read – What Should I Know About study in abroad? 
He understood concepts like Sthul sharir, kaaran sharir, suksham sharir.
[thrive_text_block color="blue" headline="In the session, he was the only one with no home loan, car loan and credit cards among 70 people. They said that this happens when masculine energy and feminine energy are balanced. This balance is achieved when spouses are in agreement with their lifestyle. Meditation, kind of food, kind of thoughts and kind of people around you are important for balance in one's energy. "] [/thrive_text_block]
Though this is an Indian concept, unfortunately it is alien to us Indians.
His Advice to NRIs
Mr Yogendra shares, no one teaches us how to treat our money well. Financial literacy is an important part of our life. It is crucial that we learn to manage finances and invest in a good financial planner.
Hope this discussion helps NRIs make wise decisions and increase their happiness quotient. Please share your view in the comment section.