Many Indian students want to pursue higher studies abroad. They prefer to study in developed countries like the U.K, the USA, and Australia in the hope that they will get a head start in their career & will become NRIs.  Some people opt for countries like Russia, Germany, and Sweden where education is cost-effective.
NRIs also look at universities abroad as their kids' who have not studied in India have followed a curriculum, certification, etc. that are not from India. They are not sure if their children can adjust to courses in Indian universities.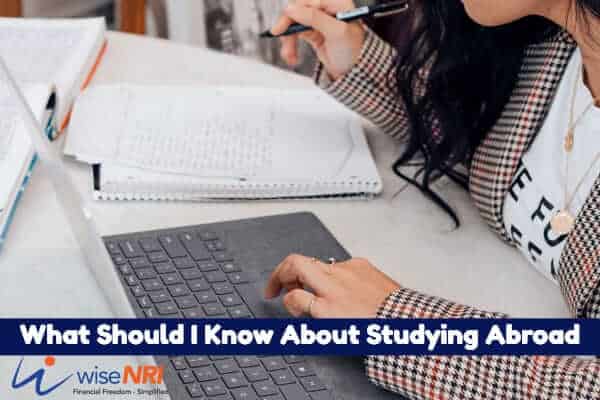 Check – Wealth Planning Checklist for NRIs
Here is a guide for Indian students wishing to study abroad 
Preparation and Research
There are many countries, many universities, and numerous courses to choose from. Do your research well on education needs, financial resources, and student's personality. Select a university that has the right accreditation. You have to research on living conditions, climate, documentation, and placement opportunities of the universities. Talking to students who have studied in those universities will get you a wealth of information. You can get an international student identity card from ISIC to avail of student discounts and other useful things.
Course and location
Select the appropriate course that the student is interested in. Check the job applicability of the course. Check eligibility requirements to apply for the course. You have to zero in on where your child will pursue education. It has to be selected on the basis of interest, course, financial requirement, safety, and living conditions. A course in a small town might be cheaper but does it have all facilities and will your child be comfortable there?  Some people prefer Singapore or Hong Kong due to their proximity to India. In some countries, education is cheaper than in India. But you have to check accessibility, safety, and other parameters. It will be helpful if you have friends/relatives in the same city or town who can act as local guardians for your child.
"In Germany engineering courses are almost free in government colleges but you should start learning German to adjust" wiseNRI
Check – Child education plan for NRI
Finances
Finance is an important consideration. Studying abroad can be quite expensive and you have to consider your financial situation and then decide on whether to study abroad and how to manage finances.
The main categories of expenditure will be fees, accommodation costs, school supplies, and other living costs.
Here is a brief overview of the fees for various courses in the United States, the United Kingdom, and Australia (All amounts in INR) –

Accommodation costs depend on the type of living facility selected. Students can live in dorms within universities or look for accommodation elsewhere. They are in the range of US$ 5000- US$ 150000 in the US. In the UK, it can be around UK£ 4000-5000. In Australia, the accommodation costs are around AUD 3000-10000.
Apart from these costs, you have to factor in expenses for books, food, medical care, educational trips, travels, visa, etc.
In short, it is quite a significant investment and you have to start early to save and invest so that you have the requisite amount. You can also look at scholarships and educational loans. Most banks offer student loans that have long repayment periods and terms that are suitable for the borrowers.
Many students opt to work while studying. It gives them a sense of independence and they also learn important life lessons such as budgeting, time management, negotiation skills, and professional interaction. The student should take care to maintain a focus on education and not let the job overwhelm them. Another important aspect is that the student should be eligible to work legally. Check the visa and local rules before starting a job.
The student must have local currency when he reaches there. He should be aware of the exchange rate. It will be a good idea to carry international debit cards or have online payment options. One of the first tasks is to open a bank account in the place where the student will live and study.
Read – 6 ways NRIs should not spend their money
Communication
Initially, it might be handy to have an international calling card or roaming activated on your existing sim card so that you can reach out to family and friends. Ensure that you have a smartphone with capabilities to install and use communication apps. Store emergency contact numbers like fire, police and, ambulance in the phone and have them handy, so, you can contact them immediately if required.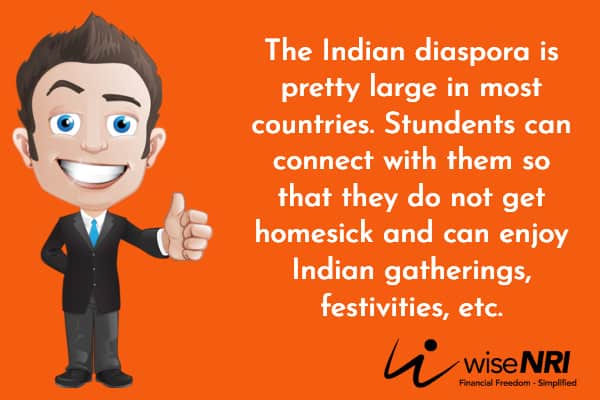 Children's Education – Financial Planning For NRIs
Comfort
It is not easy to live and adapt to a new place. It takes time. So try to make your stay as comfortable as possible. For example, If you lived in Mumbai for 17-18 years of your life and then move to Boston for higher studies, the climate will be a challenge. So carry enough warm clothes. Invest in good winter wear. If you are going to be studying in a little town in Europe, you may not enjoy the food initially. So carry some of your favorite snacks. Learn some basic cooking skills so that you do not miss home too much. You may not know too many people initially so, ensure to be in touch with your friends and family back home so that you do not get mentally upset. At the same time, try to get familiar with the new place, people, and culture so that you feel comfortable
Adaptability
The culture will be different. Moreover, people from different cultures, religions, and places will be studying there and living there – though we live in a more connected world we are more aware. It is important to keep an open mind and understand and appreciate the differences.  It might help to know a little bit of the local language, culture, and history. If interested, you can also mingle in local cultural events. The Indian diaspora is pretty large in most countries. You can connect with them so that you do not get homesick and can enjoy Indian gatherings, festivities, etc.
Pursuing your studies abroad is a big project. It will help to research well and be sure of the location and course. You will have to plan finances in advance such that you can afford the education abroad. It will help you not only to complete your studies but enjoy it and make the most of your time abroad.
If you have any inputs on things to consider before studying abroad – please add them in the comment section.