Dubai has recently launched the 'Retire in Dubai' scheme. Under this scheme, foreigners over the age of 55 will be eligible for a five-year renewable visa if they meet certain criteria. The primary criteria of the 'Retire in Dubai' scheme are –
Monthly income of 20,000 dirhams (around US$5,445) and
Savings of 1 million dirhams (around US$ 272,000)
OR
Own property in Dubai worth 2 million dirhams
The person will also have to acquire health insurance in the UAE and cannot expect any benefits from the government.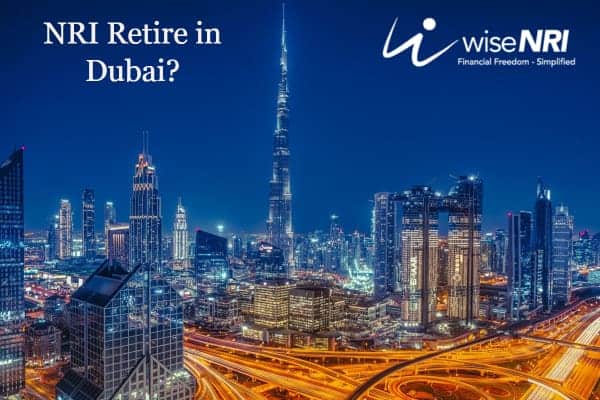 Read – Planning to Retire in India – 5 easy steps
NRI Retirement in Dubai
Dubai's economy is on a downturn with COVID-19. Expatriates are returning home or looking at another destination as their stay in the UAE depends on their employment and business. The UAE wants to retain its expatriates who have purchasing power and also enhance the emirate's position as a key global investment destination. Expats in the UAE can work up to the age of 60 years and in some cases up to 65 years. The scheme aims to encourage these ex-pats to retire and settle in the UAE.
Indians constitute the largest ex-pat population in Dubai. Indians form around 27% of the total population of the UAE.
NRIs like retiring in Dubai for many reasons –
Proximity to India – Most cities in India can be reached by flight in 3-4 hours. People like the connectivity and the advantage of flying back home whenever required.
Cultural Aspects – Indians have been living there for many years so there are well-established cultural associations. Indian festivals are celebrated with gusto. Many places of worship for different religions exist in Dubai. There is a wide and strong social network of Indians. Dubai hosts many high-quality entertainment acts from across the world.
Food – You get good quality dishes of every Indian cuisine easily, which is not easily possible in many other countries.
Security and Cleanliness – It is a safe place with a low crime rate. Women like the secure and liberated environment provided there. Dubai is known for its cleanliness and hygienic conditions.
Financial aspects – Many Indians move to Dubai for better financial prospects. They earn more and have to pay almost zero tax. They can also build a lifestyle they aspire for which may not be possible in India.
So is it a good idea for NRIs to apply for this visa?
Check –Best Places to Retire in India
Should NRIs Retire in Dubai
Many Indians like living abroad for various reasons. Let us look at the advantages of living in Dubai –
Some Indians have children studying in countries in the Western hemisphere, and Dubai is closer to them. Others who have lived in the UAE have children studying in the UAE or working in the UAE. They would like an opportunity to live closer to their children.
Dubai has an established transport system and good infrastructure. Petrol is cheap. It is a developed country that has adopted sophisticated technology in all walks of life. You can have a high standard of living there.
As mentioned, earlier it is not very far from India and one can easily travel between the UAE and India.
Many ex-pats set up trading outfits in Dubai, which is a tax haven so that their profits can be parked here.
There is no income tax in Dubai, and that translates into a better lifestyle, higher savings, and more investments.
It is an easy place to set up a home or a business as everything is time-bound and process-driven. Technology is used in most processes and so they are efficient and streamlined.
The cost and terms of retirement for the visa are more favourable compared to countries like the US.
Must Read – NRIs Should Think About Their 401k Plan Before Moving Back To India
"Retirement is not literally about 'not working', but simply about the flexibility that comes from not needing to work, and having the freedom to do whatever you want & whenever you want." wiseNRI
But there are cons of living in Dubai as well –
The cost of living in Dubai is very high. As a retiree, it may not make sense to have such excessive expenditure unless one is very wealthy.
The visa granted under the 'NRI retirement in Dubai' scheme is for only five years. The terms of renewability are not defined properly. If your visa is not renewed, you may be at a loss as to your place of stay and in terms of financial investment for the visa.
Medical insurance for a person above 55 years will be expensive. Moreover, medical facilities and healthcare in Dubai are quite expensive.
Dubai has a hot desert climate and that means summers are extremely hot and humid. The climate may not be suitable for all people to live in.
The cost of the visa is exorbitant, and the terms are not the most favorable. Countries like Portugal, Costa Rica, and Malaysia offer better terms (e.g. permanent residency, no restriction on age limit) and ask for lesser financial investment.
Dubai's economy is not doing very well. Real estate is on a downtrend. It has to be seen how the emirate will bounce back in the economic sense. If the economy does not go on an uptrend, it may not make sense to live there.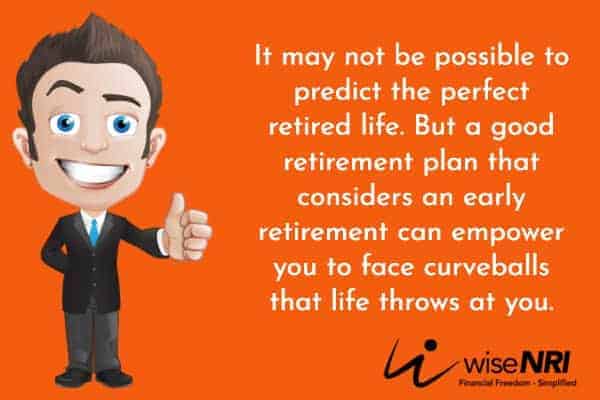 Indians who are living in Dubai and look to continue staying there may find the scheme favourable. Indians who are looking to settle abroad and desire proximity to India will also be tempted by the scheme.
The scheme was launched just this month and so the details and execution of the same may still be unclear and will get concrete in some time. It might be a good idea to adopt a wait and watch policy before trying to get the visa. Watch this space for updates!
Please share your view if you plan to retirement planning Dubai or some other place outside India.