As an NRI, when you visit India, you have many items on your agenda. You typically have multiple errands, tasks, leisure activities, etc. These days many prefer Uber and Ola but some of you may prefer to own a car as it offers comfort and convenience to tick off all items on your agenda.
In This Article :
1. Car loan for NRI in India
2. Can an NRI buy a car in India?
3. What are the conditions to get a car loan in India for NRI?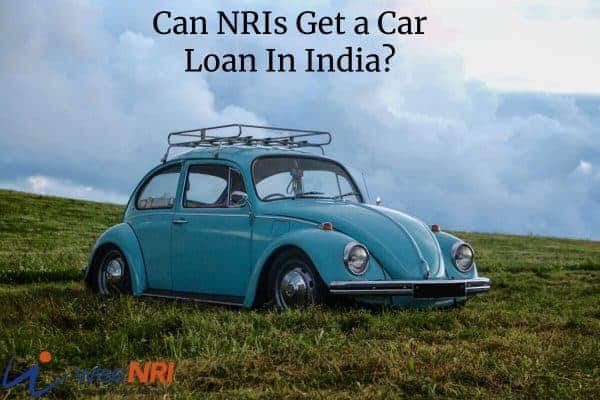 Must-Read – Home Loan Checklist for NRIs
Car Loan For NRI In India – Can NRIs buy cars in India?
Yes, they can.
Will an NRI get a Car loan for NRI?
The answer is 'Yes' again.
NRI can avail of car loans in India. We have listed down the prominent features, conditions, and the process for NRIs to avail themselves of a car loan:
What is the Eligibility to get a Car loan for NRI in India?
The eligibility requirements and conditions vary depending on the bank and the country of residence of the NRI. Here are the most common ones:
The NRI must have an Indian resident as a guarantor or a co-applicant.
Loan applicants and guarantors should be between 21 to 65 years old.
The NRI should be either self-employed or a salaried professional in a foreign country.
Banks may have specific conditions related to the duration of employment, income criteria, and repayment terms to approve loans.
Some banks may insist that the guarantor who is an Indian resident be the owner of the car.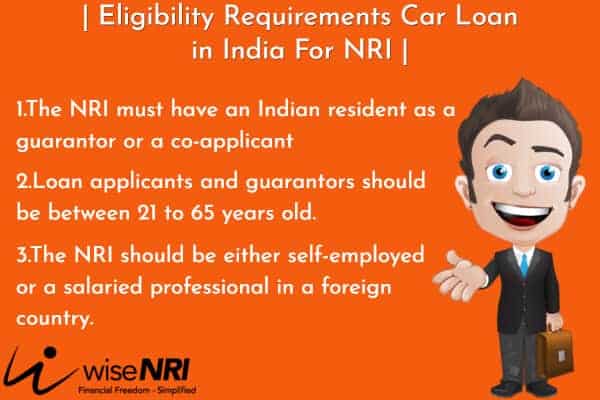 Check-NRI personal loan in India
How should I apply for a loan? Which Document Required Car Loan In India
The process is simple. You will have to fill out the application and submit requisite documentation like passport, income proof, work permit/visa, bank statements, photographs, etc.
What are the typical features of a car loan for NRIs?
Most banks offer car loans to NRIs. While each may have their own product features, the most common features are:
Many banks allow the application to be done online.
Usually, the car loan tenure is 5-7 years. For example, the maximum tenure of a car loan from SBI is seven years.
The tenure available in NRI Loans is 5-7 years.
Most banks provide loans for 85%-100% of the car price (ex-showroom price).
The interest rate of NRI car loans is usually the same as the rate on car loans given to residents. The interest rates for car loans in India are from 8% – 11% per annum for an SBI car loan. Bank of Baroda charges between 7% and 10% per annum.
It is not very difficult for an NRI to get a car loan. Ensure that you satisfy the eligibility requirements, and the purchase is aligned to your financial plan. Check our Financial Planning service for NRIs
Apart from the financial reasons, NRIs should check out your reasons for buying a car and think about how the car will be maintained in your absence.
Please share your experience and questions in the comment section.