Like any individual, a Non-Resident Indian may need quick access to cash to meet urgent and unforeseen expenses. They may have adequate assets, but not sufficient cash to foot the bill. For example, property, ELSS Mutual Funds, Gold, or their businesses have great valuation but are illiquid.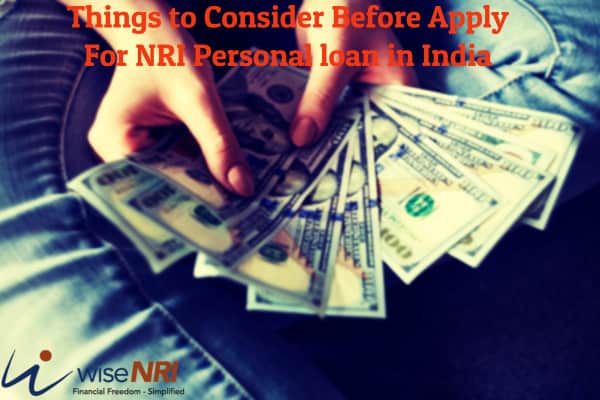 Must-Read – Home Loan For NRI In India
Common Reasons for taking a personal loan
This need for sudden cash may arise anywhere in India, in your country of residence or work, or when you are travelling. The reasons (some rational, some not so much) may be:
A health emergency.
Stolen or lost luggage.
Children's educational expenses.
A lucrative business opportunity.
An accident resulting in property loss.
A dream destination wedding or vacation.
An impulsive purchase to indulge yourselves or loved ones.
A personal loan is one of the best ways (people think) to fulfill such urgent financial needs. For an expat, it is quite difficult to obtain a loan or an advance in a foreign country. Most banks catering to NRI banking needs, also offer personal loans. Many Non-banking Finance Companies (or NBFCs) also give personal loans to NRIs because of their higher incomes.
NRI Personal Loan Features and Benefits
The personal loan is a "no-strings-attached" credit that you can use anywhere, on anything – to pay bills, pay off another credit, medical expenses, and home renovation.
High Loan Amount
NRI applicants can get personal loans ranging from Rs. 2 lakhs to Rs. 20 lakhs. Some lenders may increase it up to Rs. 25 lakhs depending on your relationship.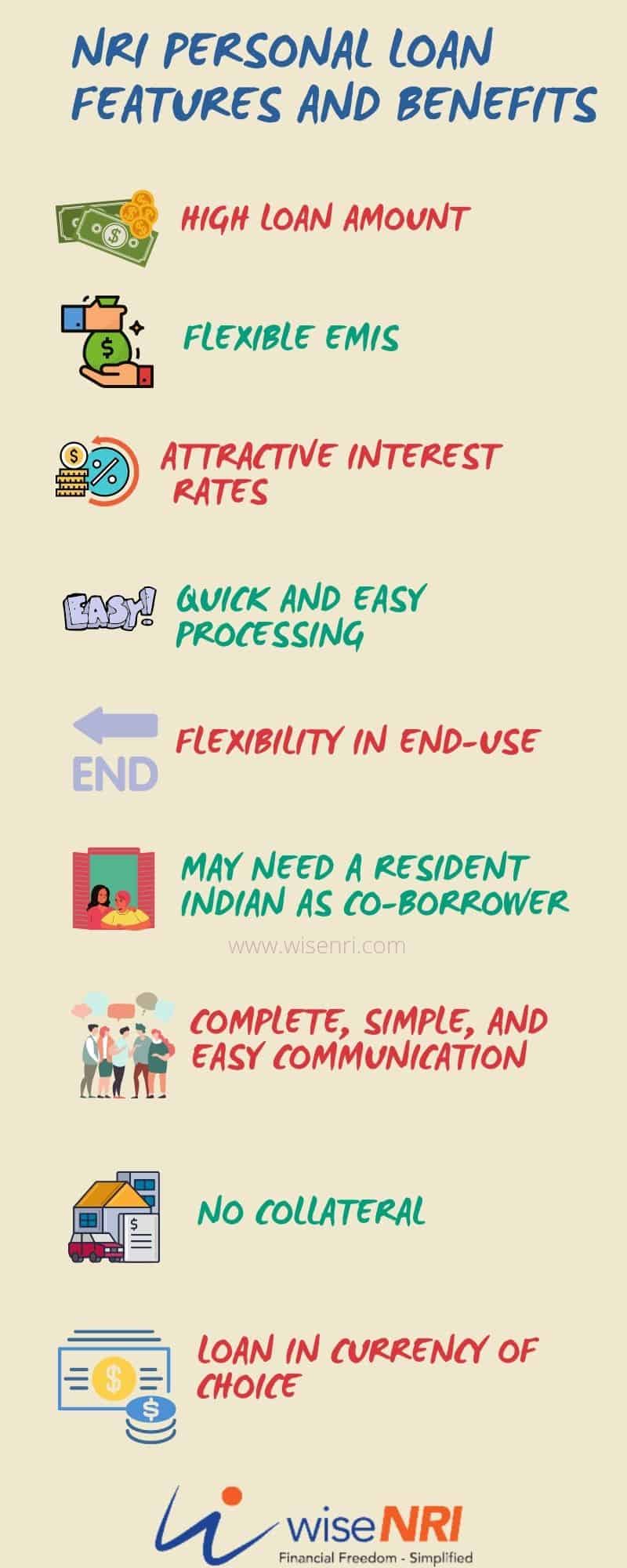 Read- Car Loan For NRI In India
Flexible EMIs
You can set up the repayment schedule from 6 months to 60 months according to your convenience.
Attractive Interest Rates
Compared to cash advances from Credit Cards, NRI personal loans offer attractive interest rates. The rate offered is again dependent on the profile and relationship of the applicant.
Quick and Easy Processing
Some innovative banks and NBFCs can process, approve, and disburse loans from their websites or app in just a few hours! Documentation requirements for personal loans have come down to the minimum.
Flexibility in End-Use
NRIs can use personal loans to meet any financial requirements – no questions asked. However, speculating, gambling or other illegal activities are not allowed.
May need a Resident Indian as Co-borrower
NRI personal loans can be taken jointly by an NRI and a Resident Indian (RI) as co-borrowers. In the case of a joint personal loan, both (or all) borrowers need not have separate accounts with the bank and even good individual credit scores. The primary borrower must fulfill all the eligibility conditions.
Complete, Simple, and Easy Communication
The most common pain point in NRI relationships has been a lack of or incomplete communication. (Read our Best NRI Banking Services Survey Report Part 1 here). Many services like EMI alerts, availing moratorium, statements, updating credit limit, and even loan restructuring can be done online in a few taps.
Loan in Currency of Choice
The NRI personal loan can be sanctioned and disbursed in either INR or a foreign currency of your choice. Most lenders offer loans in major currencies including USD, GBP, EUR, AED, HKD, SGD, and SAR. The payment of the loan EMIs and any lump-sum payments would be in the currency of your loan. Some lenders may, however, allow repayment in INR, with or without a fee.
No Collateral
Your credit history, represented by a credit score (like the CIBIL or CRIF score) depends on your past loan repayment behaviour. Additionally, a well-paying job or a business with substantial cashflows are all that you need for loan approval. Some banks or lenders may also approve your loan if you have a substantial term deposit with their banks. In that case, you need not break the deposit but can get a loan against it.
Secured vs. Unsecured NRI Personal Loans
Personal loans are mostly capped at Rs. 20 lakhs. If you need a loan for a higher sum, then you can use your term deposits or other assets as collateral to get a loan beyond this limit. A reputed guarantor can also do the trick.
Must-Read – Issues NRIs Face With Their Banks
Interest Rates
The interest rates and other terms of some of the top lenders are as follows:
Lender
Minimum Rate
Maximum loan amount (In Rs. Lakhs)
Maximum loan tenure (Months)
Processing Fee
Pre-Closure Charges
SBI
9.60%
20
60
–
NIL
Citibank
9.99%
25
60
–
–
ICICI Bank
10.50%
10
36
Up to 2.25% of the loan amount
5% of the o/s principal amount
Tata Capital
10.99%
–
60
–
–
PNB
11.25%
20
60
–
NIL
South Indian Bank
11.70%
25
60
Up to 2% of the loan amount
4% of the o/s principal (if paid within 12 months) 2% otherwise
Bajaj FinServ
13%
–
60
–
–
HDFC Bank NRI Overdraft Loan against Deposit
2% above the Deposit rate
NRE/NRO Deposit – 90% of the deposit amount

FCNR Deposit – 70% of the deposit amount

Deposit Tenure or 60 months (whichever is less)
–
–
Eligibility for NRI Personal Loan in India 
You must be a salaried or self-employed applicant with active NRI status.
For salaried applicants, a minimum employment tenure in the current organization of 6 to 12 months.
Self-employed applicants need to submit income proof for the past 2 to 3 years with proof of the active status of their business/practice.
Some lenders insist that the primary borrower be an RI and the NRI can only be a co-applicant.
The minimum age is 21 years, and the maximum age is 60 (for salaried) or 70 (for self-employed) years.
The above eligibility criteria are generic and not exact. The criteria may differ from lender to lender and case to case.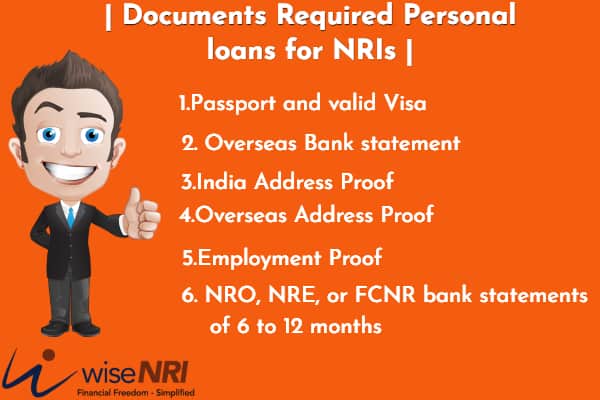 Check – NRI Credit Card in India
Checklist Before You Apply for NRI Personal loan in India
Use personal loans for emergency financial requirements and not to splurge.
The interest rate is higher than secured loans. Therefore, for requirements like home extension or improvement, use a home loan instead.
Always explore other options – like an advance from your employer or assistance from family.
The bank with which you have an established relationship generally processes your loan faster.
If you are taking a loan in the currency of the country you live in, you may save on forex conversion charges but may have to pay an additional processing fee. It may also put you at a disadvantage vis a vis INR loan while paying it back.
Most lenders require an RI co-applicant who must be a close relative.
Read the fine print – processing charges, late payment charges, pre-payment charges, and forex conversion charges may apply.
Documents Required
You must keep the following documents (and their soft copies) ready before applying:
Passport and valid Visa.
Overseas Bank statement of 6 to 12 months.
India Address Proof – for both the applicant and the co-applicant) – Aadhaar, Voter ID, Passport.
Overseas Address Proof – for NRI applicant – Residence Permit, Address Proof Verified by from Indian Consulate/Embassy.
Employment Proof – Appointment Letter, Your official and HR's Email ID, Official ID, Current Salary Slips, Active Work Permit.
NRO, NRE, or FCNR bank statements of 6 to 12 months.
Valid Power of Attorney in favour of the RI co-applicant.
How to Apply for Personal loans for NRI in India?
To apply for an NRI you can approach the lender through multiple channels:
Visit the nearest branch of the bank or the NBFC if you are in India. or you can ask a relative to do so.
If the lender has a branch or business associate in your residence city overseas, you can visit them.
If you already have a relationship with the lender, ask your relationship manager.
Visit the lender's website or app and enter your details in the NRI personal loan application form.
You may also contact your financial advisor in India, who can not only guide you through the need, risks, and benefits of a personal loan, and function as your agent to get you that loan. If you plan to use deposits or other assets as collateral, then your advisor may help you in thinking through the decisions.
Hope this gives you a good idea about NRI personal loans – if you still have any questions feel free to add them in the comment section.