We have been writing about personal finance needs and issues faced by NRIs for a long time. Many of our readers – through their emails, comments, and questions – have pointed out many issues they face in dealing with their banks. This was especially true of the banks in India where they have maintained their NRI accounts – NRO, NRE, and FCNR.
Recently, we were also seeing a regular demand from our NRI readers that we write about the specific problems they face in dealing with their banks. But specific problems are just that – specific to a particular case.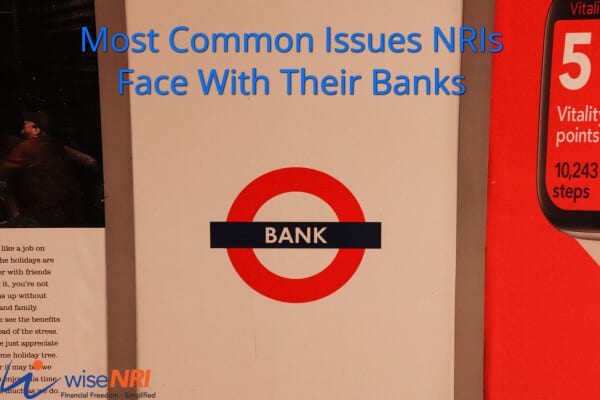 So, instead, we decided to run a survey to gauge "NRI Banking Experience" and to find out the "Which Is the Best Bank for NRI In India?."
The response, as expected, was a mixed bag – many clients expressing their satisfaction over the services received, while some expressing a deep resentment with their banks.
In this first part of the two-part series on sharing our findings, we present to you the most common issues that NRIs face at their banks.
Must Read- FCNR account for NRI – Secret Revealed
Survey Methodology
The survey – in its first phase – elicited close to 125 responses on 20 objectives and 3 subjective questions. Of these, 12 questions were specifically designed to gauge the level of satisfaction for different services and client expectations.
The only disclaimer we have is that the small sample size may not truly and wholly represent the pan-India situation.
All banks allow the opening of the NRI bank accounts, though not at all branches. With integrated Core Banking Solution (CBS), they also offer anywhere banking, internet banking, and mobile banking services to their NRI clients. According to the RBI data as of July 14, 2020, there were 134 overseas branches of 9 PSBs and 5 private banks offering branch services to their clients.
Without further delay, let us hear the story the data has to tell.
NRI Respondents' Profile
Primary Bank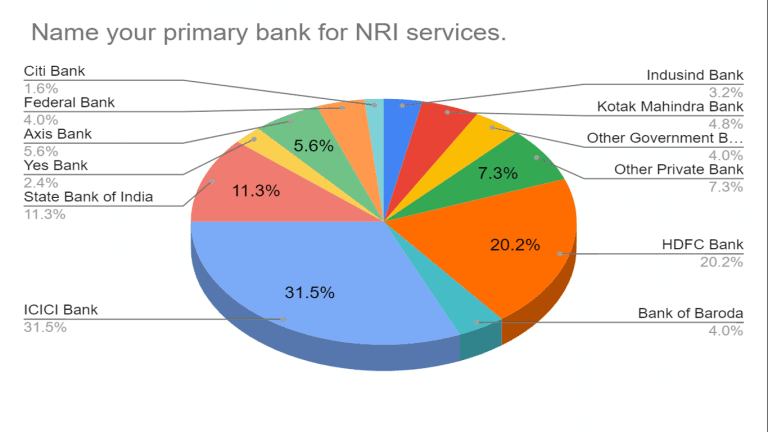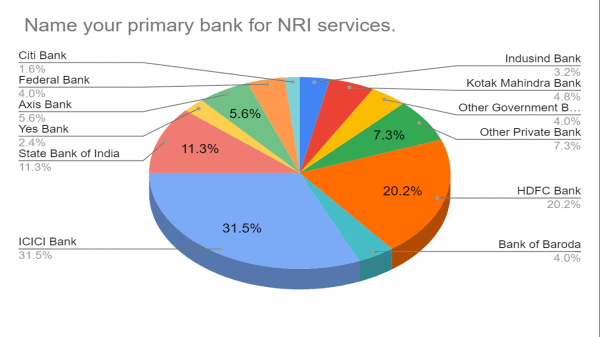 SBI and Bank of Baroda have the largest branch networks in India as well as overseas. Still, ICICI Bank and HDFC Bank alone have more than 50% of customers, at 31.5% and 20.2% respectively. The SBI is the only other bank with a double-digit share at 11.3% share.
Read – NRI joint account with resident
Annual Income Range
As expected, the NRI clients are well-off – at least in rupee terms. One-fifths of them have an annual income of 1-crore plus, and more than 30% had an annual income in the range of Rs. 50 lakhs to 1 crore. It means this is a market of HNIs that no bank can ignore.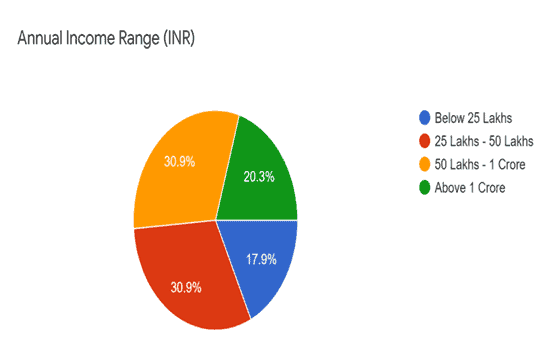 NRI Account Type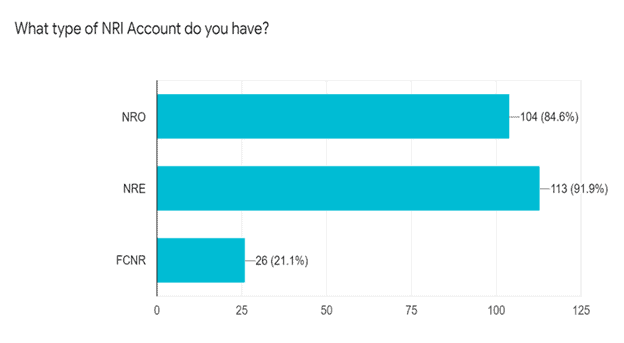 Most clients have an NRE account, at 92%, to deposit their foreign earnings back home and to be able to repatriate their India earnings to their place of residence. A high incidence of NRO accounts 9close to 85%) shows that they had a bank account before moving overseas that they converted. Only a fourth of NRIs had an FCNR account showing not too many of them bring their foreign currency earnings to India. (we have not asked about RFC accounts)
Must  Read – Credit cards for NRI
Local Bank Branch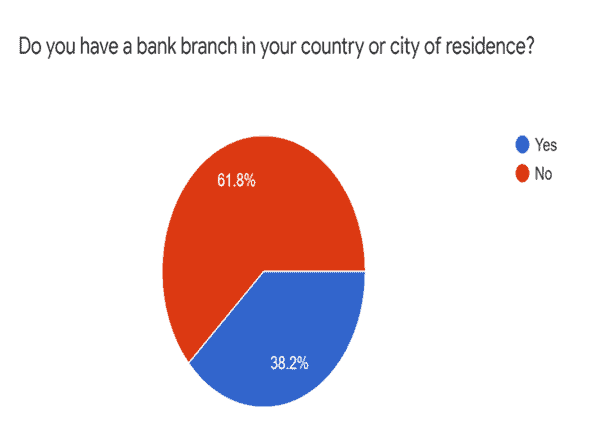 An overwhelming number of respondents faced the issue that they did not have a local bank branch in their city of residence. According to the RBI list, mentioned above, UAE (DIFC), Singapore, and Hongkong alone have branches of Indian banks in double digits. So much for the global presence!
Only 31 countries had at least one branch of an Indian bank as of 2020, with 27 subsidiaries and 7 overseas Joint ventures. Even these are concentrated in countries like the USA, the UK, Nepal, and some South-East Asian & African countries.
Check – Mandate holder in NRI's bank account
Banking Relationship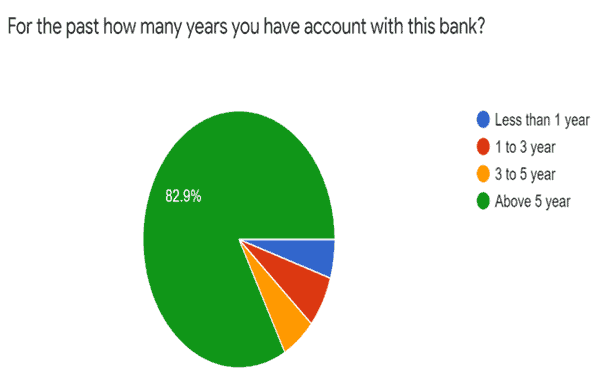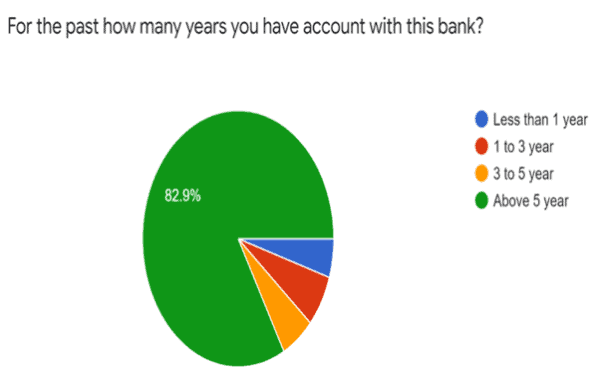 An overwhelming number of respondents had an association of more than 5 years with their bank, with 88.6% having a relationship of over 3 years, and 83% with a relationship of over 5 years. It means they are talking about their experience of the bank in pre-COVID, during COVID, and post-COVID periods.
Accessing Banking Services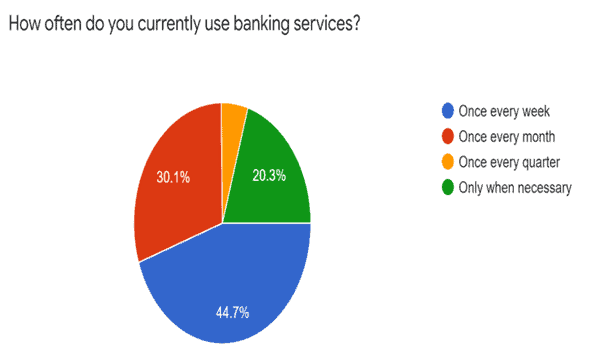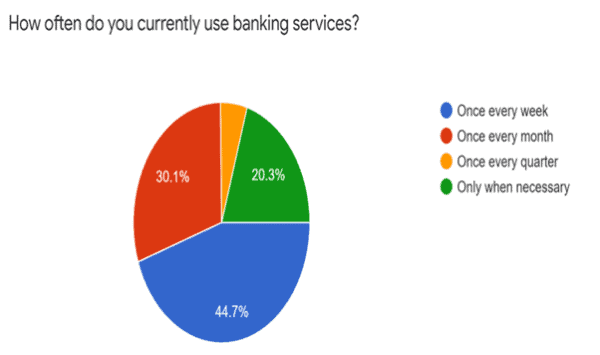 Again, an overwhelming number of users access their bank accounts – online or physically – at least once a month at close to 75%. Almost 45% of the respondents reported accessing their banking services every week.
Now lets us assess the quality of banking services and how do they fare in user perception.
What is your opinion on services provided by your bank?
This question had four components, namely:
Do you think that your bank caters to all your banking needs?
Would you recommend this bank to your NRI friends?
In the future do you want to switch to another banking service provider?
Do you think your RM understands NRI issues?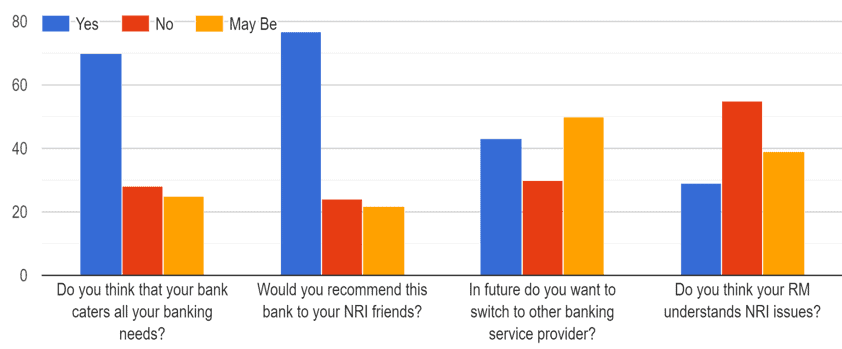 The above 70% positive responses to the first two questions are a breather for most banks offering NRI banking services. But the devil is in the details.
Almost 95% of the respondents answered that they may or would consider switching their bank in near future.
Another 55% of them responded that their relationship managers do not understand their unique issues as NRIs! This must be a record of sorts that a relationship manager is clueless about the relationship they need to nurture. Add to it the 39% responses that said that the RM "may" not understand their issues – they were not sure and are sitting on the fence.
How would you rate the following services?
The next quality parameter that we asked the NRIs to rate their banks on the following service parameters:
Branch Staff Behaviour
Service Quality of your Bank
Online Banking Services
Turnaround Time of your RM
Changing your residential status and Bank account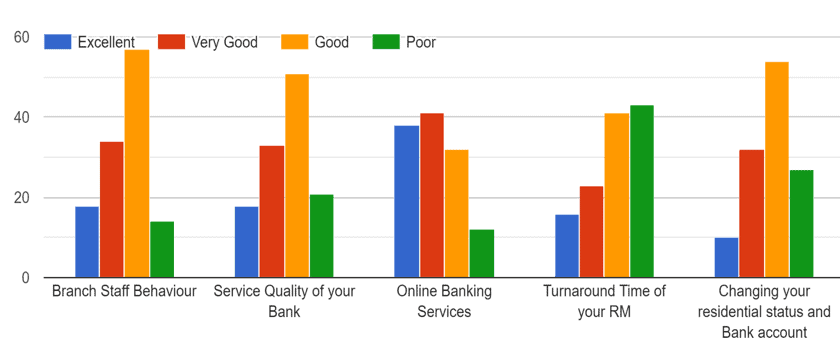 On the parameters like staff behaviour, service quality, online banking, and changing residential status most banks fared well with only 11.4%, 17.1%, 9.8%, and 22% of customers not satisfied with the services. But these are the most basic of services that have become commoditized and are a given in any service-oriented institution.
The real quality parameter was the turnaround time of the RM. Once again 35% thought that their RM took too much time to respond and offer a solution, while another 33.3% rated them ok. It means more than two-thirds of people need urgent improvement in the service by their RMs.
Does your bank offer a Goal-based Financial Plan?
Goal-based financial planning is one thing that can stand the stress of the times and vagaries of the markets. As most people rely on their banks and RM for financial advice, it was shocking to know that misselling is still rampant in banks.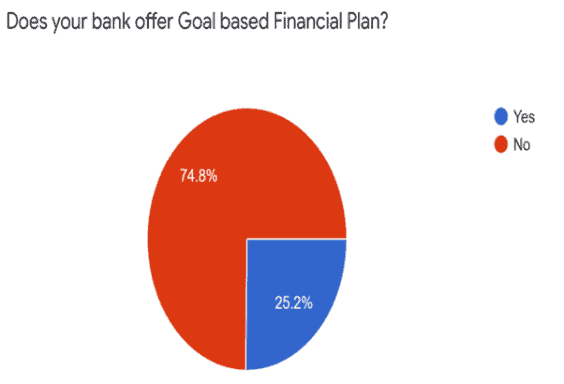 Only one out of every 4 respondents said that their banks or RMs offer goal-based investment financial plans. No wonder people lose money not because of their greed or mistakes, but because of the callousness, greed, and mistakes of their bankers.
Additional Services You Wish Your Bank Offered
Many customers, including the ones who were very satisfied with their banks' services, wished that their banks offered many more services. Here we list the most relevant ones (popular services as well as important services) that NRIs expect from their bankers. Remember that these are arranged in the order of relevance to customers.
Better communication and follow-up by RMs.
Personalized services, and quicker response and turnaround time.
Digital token-based 2-factor authentication – because SMS-based OTP does not work globally.
Easier processes to update contact details – especially contact number and Email ID.
Fee-based financial planning services – including for children's future, retirement, and goal-based investments. People are sick of being charged in a hidden manner as commissions.
Tax advisory and return filing services.
NRI Mutual Fund portfolio management services.
Doorstep/postal pick-up and drop services for documents, checkbooks, and other documents – especially for cities where branch network is absent.
More paperless procedures – eKYC, opening or closing of accounts, transactions, portfolio management.
Easy and cost-effective Demat and Trading accounts.
NRI Credit Card with more reach, credit limits, and rewards.
Advisory and help in matters related to coming back to India to moving to another country.
Better Internet and Phone banking and App-based services.
Real estate advisory services – for both commercial and housing property.
PSB banks' financial products are not as innovative as those from private banks.
Improvements You Wish to See in Your Bank
We conclude the first part with the seven most sought improvements that NRIs wish their banks would bring soon. Again, these are arranged in order of relevance.
Ease of use with 24X7x365 online accessibility via phone, website, and app.
Accessible, knowledgeable, and responsive relationship manager and advisors.
Quick acknowledgment, action, and feedback on complaints.
Personalized service, more focus on solution delivery, and less on selling financial products.
Better International presence, especially in more cities in the USA where many NRIs now reside.
Lower charges and reasonable average minimum balance requirements.
Better interest rates on deposits.
75% of NRIs are not getting Financial Planning advice from their banks. But all successful investing is Goal Focused & Planning Driven.
If you agree – let's talk about YOUR Goals & Plan.
Hope you agree with the survey findings – please share in the comment section some common banking issues that you face as an NRI.