Credit cards are one of the safest and most secure ways to make payments globally – be it online or offline. As the card companies and banks have their own money on the line, they ensure that transactions using these cards are not only convenient but also safe.
Not only can you make purchases in India or abroad, but you also get access to emergency funds in case of need, especially while traveling overseas. It becomes easier to track and manage expenses using detailed credit card statements. Moreover, with an add-on card for family members, you can give them freedom.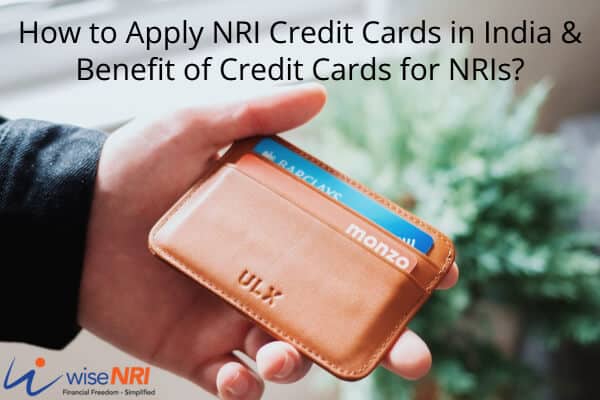 Many Indian banks offer international credit cards with superb privileges to Non-Resident Indians (NRIs). NRI Credit Cards have many added advantages over regular credit cards. National/International travel & hotel booking, fine dining, entertainment, lounge access, online shopping, and international transactions on these cards are often more rewarding.
Must Check – Best Bank for NRI In India
Benefits of using NRI Credit Cards in India 
As NRIs, as a class, are considered to be well-off and big spenders, the banks offer extra benefits to attract new customers.
Reward Points
Making purchases with an NRI credit card can get you 1.5x to 2.5x reward points compared to a regular card.
Cash Back
One of the most gratifying offers, cashback on bill payments, purchases made at partner stores, flight & hotel bookings, and sometimes on refueling makes it a USP for many cards.
Avoid Forex Charges
With NRI credit cards, you can avoid paying foreign exchange conversion charges and save a substantial amount.
Surcharge Waiver
Many merchants do not bear the card processing charges, but with an NRI credit card, the bank may offer a surcharge waiver, in the form of reward points or cash backs.
Revolving Credit Facility
You can avail a revolving credit facility on your NRI credit card, to help you in financial emergencies. You can repeatedly borrow money – up to a pre-defined limit, interest-free – and pay it back later. (but it should be avoided)
Must-Read – Issues NRIs Face With Their Banks
ATM Access
Credit cards for NRI offers ATM access at most International ATMs, operated by MasterCard or VISA, to withdraw cash in local currency.
Add-on Credit Cards for NRIs
With add-on cards for your family members, they can share your credit limit and avail the benefits irrespective of their credit score.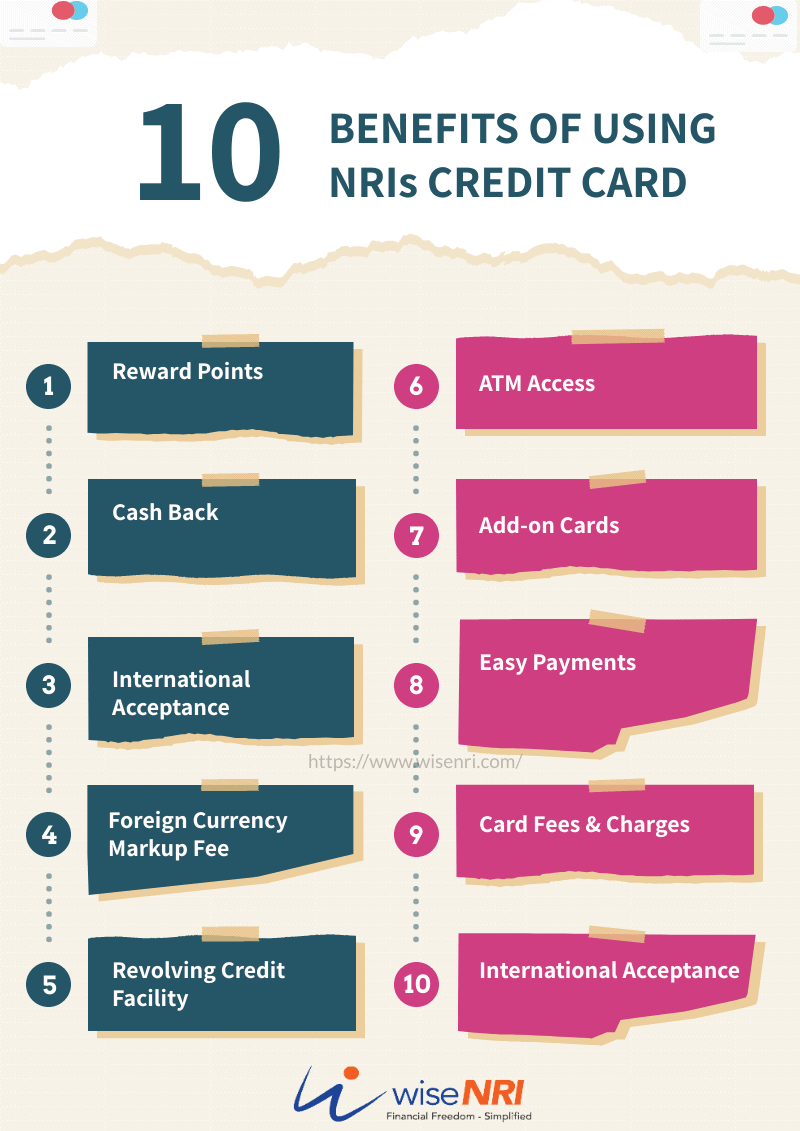 Must Check – NRI personal loan
Easy Payments
You can easily make payments from anywhere in the world using online banking with your linked NRI bank account. More importantly, you can make payments in INR or an international currency.
Points to Remember when applying for an NRI Credit Card in India
Like any financial instrument, credit cards for NRI need precaution, and awareness on your part. Therefore, before you sign the dotted line and start using the card, check the following points thoroughly.
Card Fees & Charges
Different fees are applied to a credit card – annual fee, processing fee, joining fee, cash withdrawal charges, cancellation fee, etc. Be sure that you understand each of these components completely, and never forget to ask if these could be waived. Most companies and banks offer fee waiver in case you spend beyond a limit in the first few months of joining.
Finance Charges/ Interest
As credit cards extend an unsecured credit, there are heavy finance charges or interest applicable, if you fail to pay the dues even by a day. You cannot claim that you were traveling, or did not understand the timezone differences and missed the deadline. The card company has already given you 15-25 days to pay your card bill.
The finance charges could range upwards of 36% pa (3% pm). Cash withdrawals are charged from the day of withdrawal, so double-check the interest rates on a cash advances by different banks.
International Acceptance
If you travel often and to many parts of the world, then more than anything, you need that your card is accepted at most of the countries your visit. Get a detailed list of all the countries and country-wise limits before you apply for the card.
Card Protection
Check all the protection mechanisms that your bank offers while you are traveling against lost or stolen cards, card jacking, and card replacement services.
Foreign Currency Markup Fee
If your card is issued in INR but allows your international transactions in foreign currency, then check for a foreign currency markup fee on your international transactions.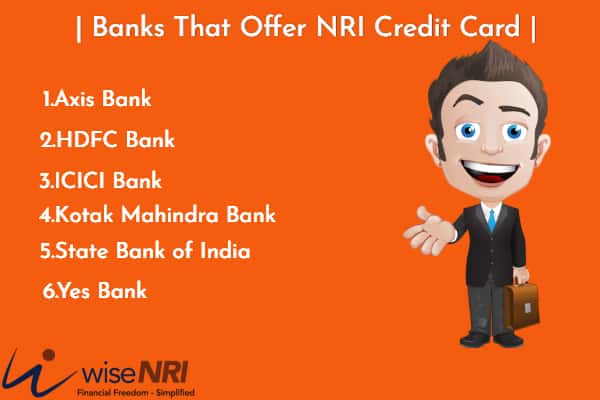 Check – All About Mandate Holder In Bank Account – by NRIs
Payment Process
You must know all the possible modes of card bill payment, including from abroad. You may link your bank account to the card for direct debit of the monthly bill, but it can also lend you in trouble if the balance is insufficient.
Banks that offer credit cards for NRI
The following banks offer NRI Credit Cards from Mastercard, VISA, and American Express networks.  The Mastercard network has recently been prohibited by the RBI to take on new customers, though their existing customers remain unaffected.
Axis Bank
HDFC Bank
ICICI Bank
Kotak Mahindra Bank
State Bank of India
Yes Bank
Eligibility Criteria to apply for an NRI Credit Card
Check the following point to see if you are eligible to apply for an NRI Credit Card:
An operational NRO, NRE, or FCNR account with the bank.
Some banks require a minimum balance in the linked account.
For some cards, banks may require you to make a term deposit with them.
Documents Needed
You can apply through online mode or by visiting the branch. You should read the following documents before you apply.
Identity Proof
PAN Card
Aadhaar Card
Passport
Voter's ID Card
Driving License
Ration Card
Arms License
Freedom Fighter's ID Card
Photo ID proof certified by a Judicial/Gazetted Officer.
Address Proof
Passport
Voter's ID Card
Ration Card
Driving License
Property Documents
Lease/Rent Agreement
Recent Utility Bills
Income Proof
3-months' Salary Slip, if salaried
6-month's Bank Statement
Latest ITR/Form-16
Must Read – Wealth Planning Checklist for NRIs
How to Apply for Credit Cards for NRI in India?
Apply Online
Visit the official website of the preferred bank and fill the inquiry form with your details including name, email, contact number, income, address, etc.
Once the email and phone are verified, you may be directed to an online application form. A bank executive may also call you to guide through the process.
Upload the documents online for verification.
Bank executives may visit you for In-person Verification and collect your documents.
Apply Offline
Visit the bank branch where you operate your NRO, NRE, or FCNR accounts as the process would be must faster. You can always go to another bank, but they will first have you open an NRI bank account with them.
Fill the offline application and submit the original documents and their copy for verification. Originals would be returned back to you.
Your application would process and approve in a few days, and you would receive the card and instructions at your home.
Conclusion
Credit Cards give you a high credit limit, secure transaction facility, and international access to products and services of your choice. Their exclusive offers can also help you get bargain deals and exclusive access. International travel necessitates that you carry an NRI credit card on you.
But unruly credit behavior can also be the reason for your financial problems. Use the card as if you are using cash – ultimately, today or 50 days from now, you have to pay for the bills.
Please share your experience of using an Indian Credit card as an NRI. If you have any questions add them in the comment section.