In part two of our reporting on the findings of the survey to gauge "NRI Banking Experience" and to find out the "Best Bank for NRI in India," we present to you the findings of the survey.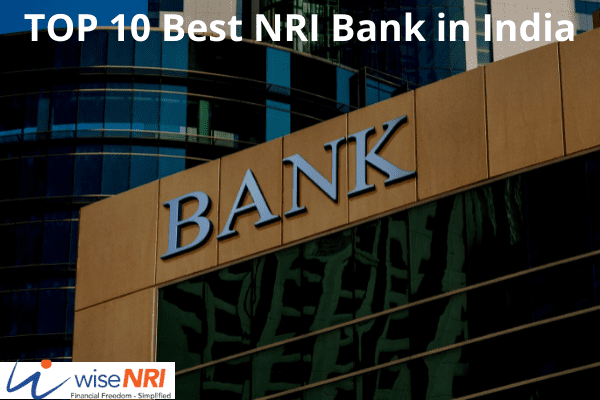 We strongly recommend that you read the first article to understand the methodology – "issues NRIs face with their banks."
Additional Services from Bank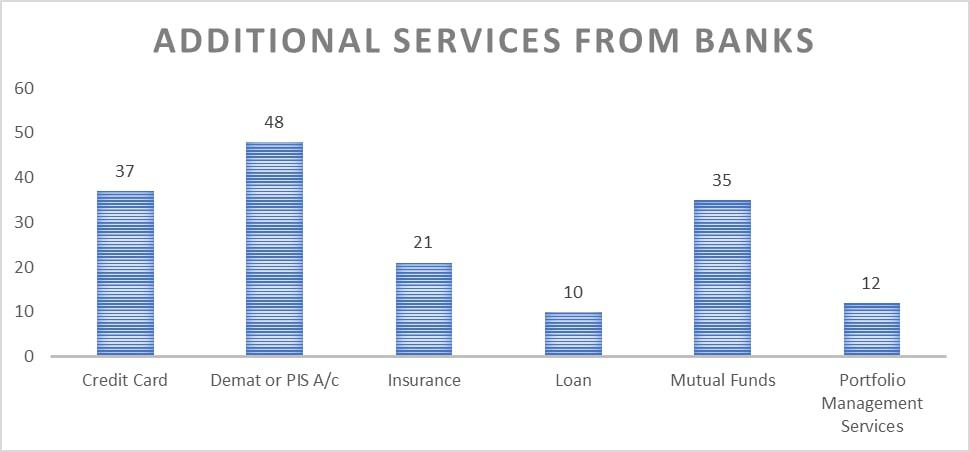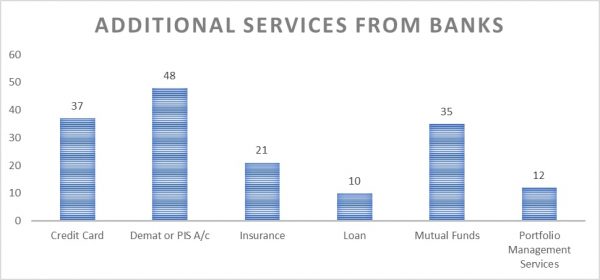 Must Read- NRE Vs NRO Accounts
Of the total 86 responses to this question, 7 customers only availed of 1 service from their banks – most of them had "Demat or PIS A/Cs" at 16 followed by "Credit Cards" at 12. 7 customers only had a "Mutual Fund" portfolio with their banks, 6 only had insurance, 2 only had loans, and none had only "PMS" services.
A higher incidence of the Demat and PIS services along with Mutual Funds shows that NRIs are invested in the India growth story and wish to participate in it.
Investment Services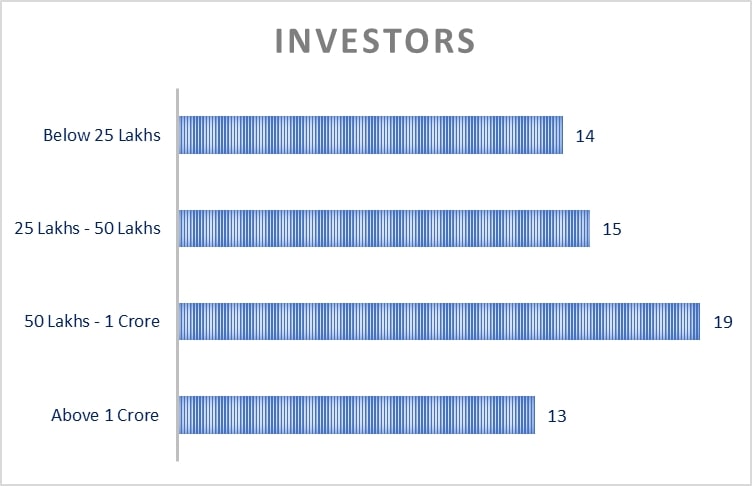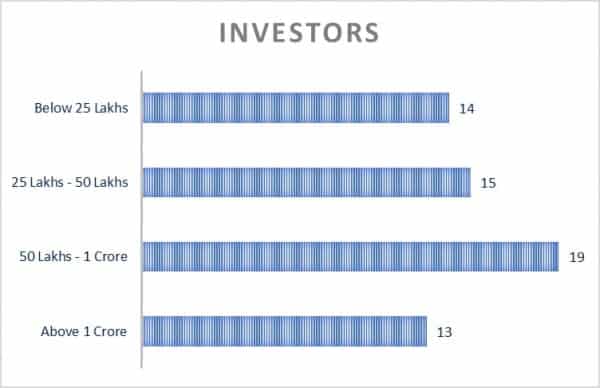 Most investors were from the above 50-lakhs annual income brackets at 52.45%. These are the NRIs with a sizeable investible surplus that their banks can channelize into Indian markets through their Demat/PIS or Mutual Fund services.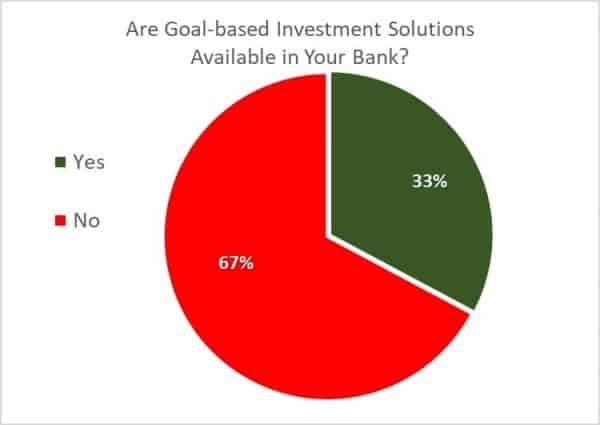 No wonder every 5 out of 6 NRI customers, or 84%, wish to change their banks! This goes on to show that investors have become savvy at least in the sense that they have started recognizing the value and importance of professional advisory.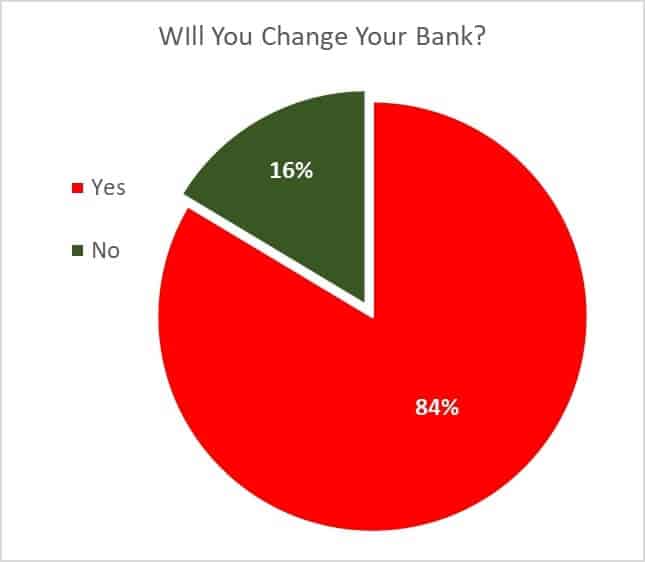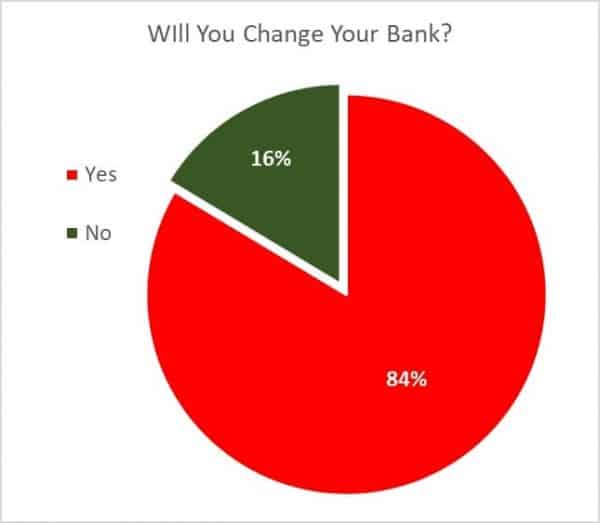 Check – All About Mandate Holder In Bank Account
Credit Cards and Loans
Credit planning is an integral part of your financial planning, and its effective management can give you the boost that you need. Taking a loan for business, building a property, or using a credit card for routine expenses is a financially sound decision – provided you are adequately insured, and your financial behavior is prudent.
A similar trend is visible in the credit relationship of banks with their customers.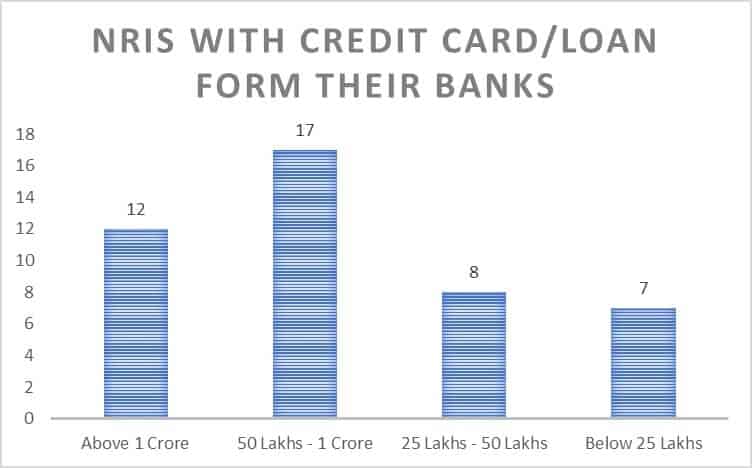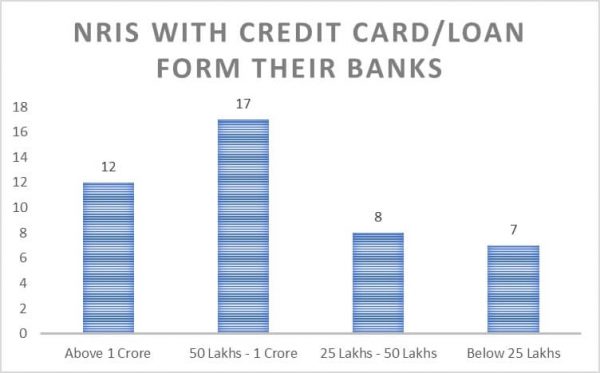 Must Read –  NRI credit cards In India 
The people with the most number of credit cards and loans from the banks belonged to the higher annual income levels – 25% earning more than 1 crore annually, and close to 39% earning between 50-lakhs and 1-crore annually. Together they constituted 66%, or two-thirds, of the total respondents with a credit card or a loan.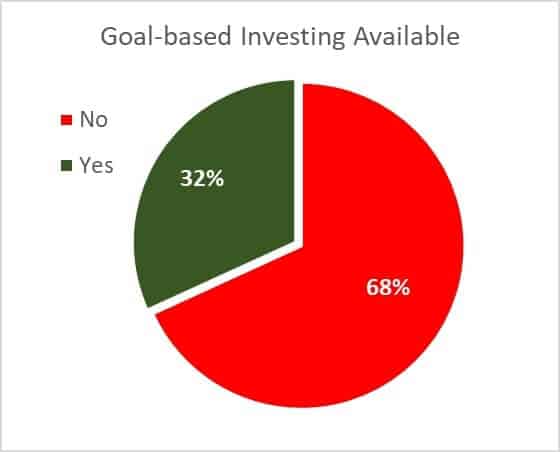 Once again, we see that the users of credit facilities are left wanting personalized goal-based investing services. This is also reflected in the fact that five in every six customers wanted to change their bank. Check – 7 things banker wishes NRIs should not know about Financial Planning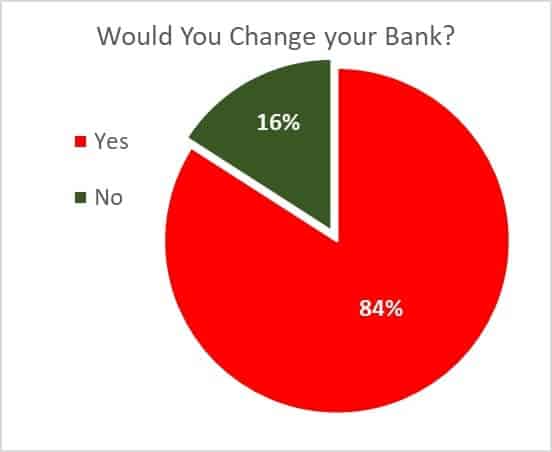 Investors now take financial advice from professionals who are privy to their financial conditions and expect their relationship managers to be on their side. If your relationship managers are acting only as sales agents, or they change frequently, then your customers will always be left high-and-dry.
Read – FCNR account for NRI
What Comes to Your Mind When You Think Best Bank for NRI in India?
On the perception range, there is usually one specific image or service that stands out for a bank. This one defining service is what anchors a customer to that bank, despite its many flaws and limitations.
We asked our respondents to identify their banks with one of the following defining perceptions that they associate with their banks.
Personalized service
Trustworthy
Innovative banking
Core banking
Wide branch network
These are the results that we got.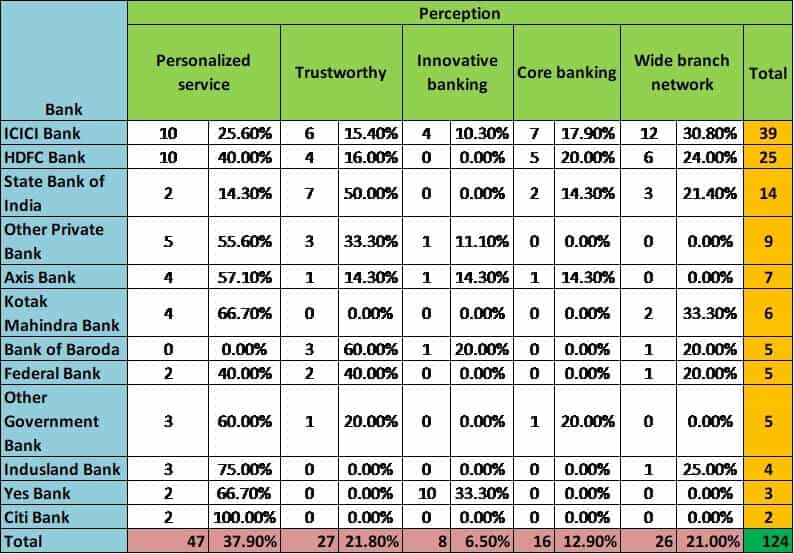 Read – NRIs Should Read This Before Making a WILL
The figures in percentage represent the proportion of customers who gave first preference to the said attribute for a given bank. For example, in the cell for ICICI Bank, 10 out of 39 customers thought of the bank for its "Personalized banking" services. This was equal to one-fourth or 25.6% of the total respondents for the ICICI bank.
In the two charts below, we present the comparative data only for the top five categories, as they represent 94 or more than 75% of total responses. Other banks' data is too small to be of any significance and hence left out of this analysis.
The major findings from the above table (for the top-five items only) and these charts are as follows:
There are four private banks (including the category for other private banks), and only one PSB, the SBI.
Personalized service ranges from 25% (ICICI bank) to 57% (Axis bank) among the four private banks. It is at an abysmal 14% in the SBI.
Trustworthiness is highest for the SBI because it is India's flagship commercial bank with a majority holding with the Government of India. It means it will be the last bank to fail in India – at least that is the popular perception.
According to the RBI data as of July 14, 2020, there were more branches of PSU banks operating out of India, but still, a very low participation rate indicates people do not rely on their services.
People give more weight to "Core banking" services as compared to "Innovative banking" services. The reason is simple – first, ensure that necessities are taken care of, then focus on fancy stuff.
For many NRIs wide branch network – meaning the possibility of having a foreign branch in their city of residence – was the most important criterion. The satisfaction of visiting a branch and conducting business must be very high on their minds.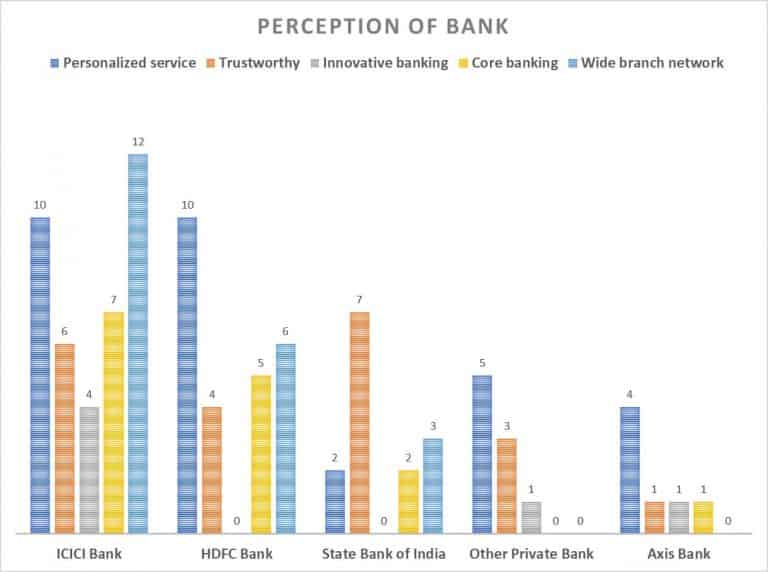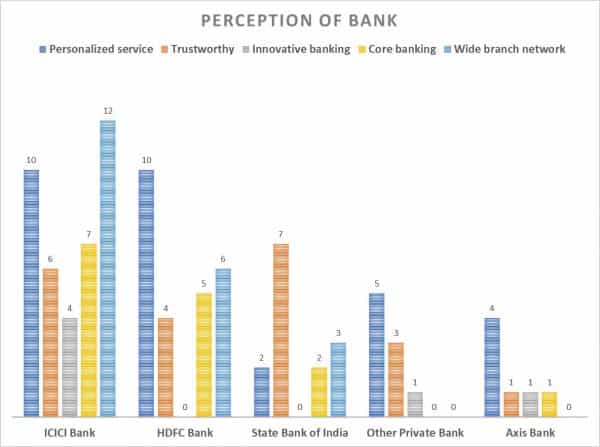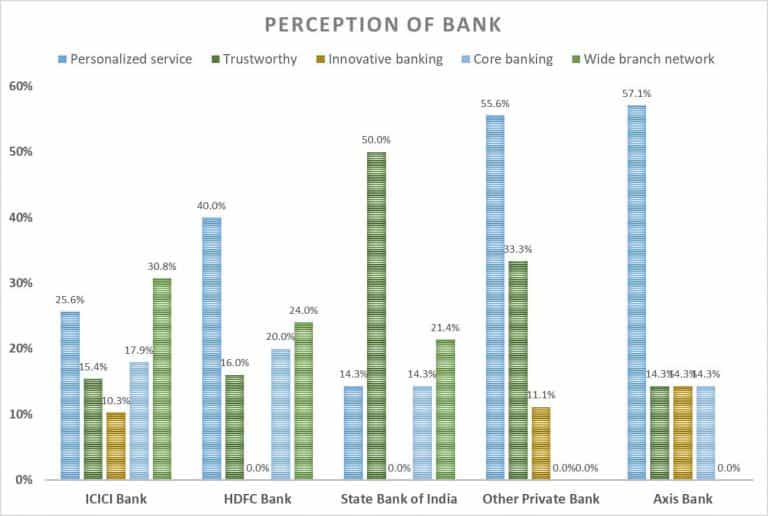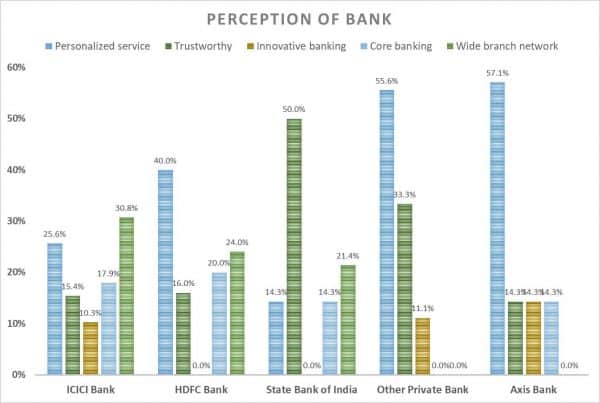 Must Read –Can NRI Continue With Resident Savings Account In India?
Things You Most Like About NRI Banks India
Out of 124 respondents identified one distinct feature of their bank is its most liked characteristics. The responses ranged from technology (internet and mobile banking) services to the presence of a branch, and from an approachable staff to a large branch network.
As this was a subjective answer, people could write anything. Here we present the most relevant findings:
For most private banks, technology services – Internet banking, phone banking, mobile app banking – were the key drivers and a distinguishing feature. They compensated lack of branch presence in the vicinity with technological access.
Most large public sector banks – SBI, Bank of Baroda, and Bank of India – are considered trustworthy by customers because of their government ownership.
In the smaller public sector and private sector banks, the staff was more approachable and friendly. That is the only way to retain your customers and get a positive reference from them.
Private banks were ahead of PSBs in introducing innovative features for their customers.
Smaller private banks were attractive to a few customers for their high-interest rates compared to other banks. In the current scenario of depressed rates (below 5%) on most deposits, who wouldn't want an extra 1.5 or 2-percent.
With many PSBs, one of the defining factors was their "Sarkari" attitude of inefficiency and ineptitude.
The Best Indian Bank For NRI
Finally, we are at the juncture to declare the best bank offering NRI banking services. Once again, we wish to state that these results are based on a small sample and are only indicative.
One of the questions that we asked our readers and clients was "Which is the best bank for In India?"
The analysis is for you to see.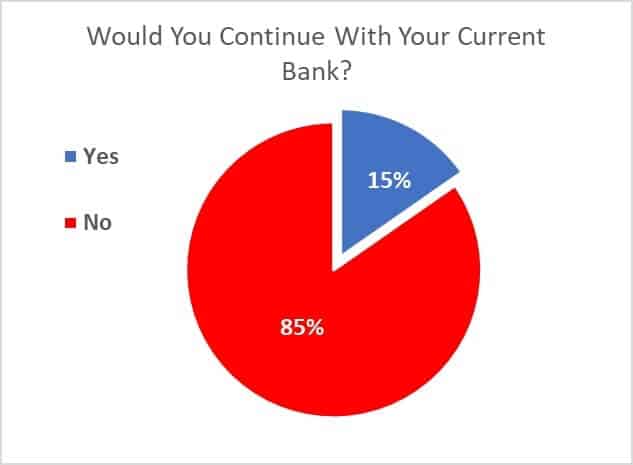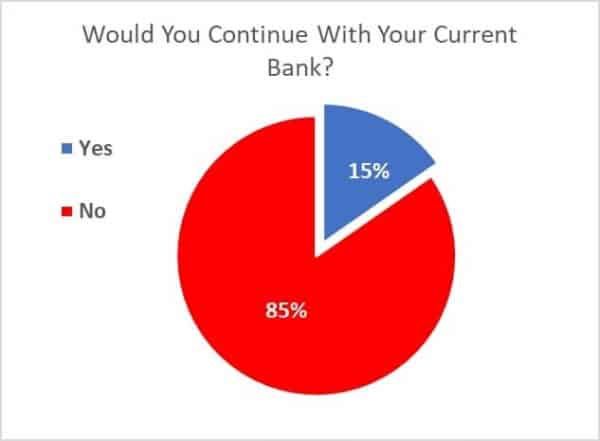 Must Read – What Is RFC Account or Resident Foreign Currency Account?
An overwhelmingly large number of people wanted to change their banking service provider. The reasons are many and the top three reasons are:
Unresponsive RM and staff.

Lack of financial planning services.

Inadequate technology solutions.
TOP 10 Best Bank for NRIs – Ranking
The below table indicates the number of customers who wish to opt-in for the services of another bank, versus those who wish to continue with their current bank.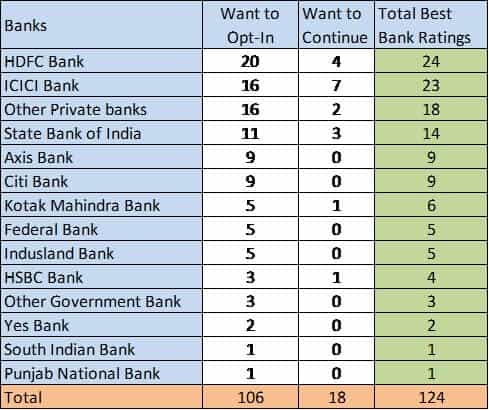 As is evident, HDFC Bank, ICICI Bank, and other private banks are at the top-3 positions where either their customers wish to continue their services or wish to start their banking relationships.
Most respondents, at 20 or 18.9%, with other banks wish to opt-in the banking services from HDFC Bank. ICICI Bank and "Other private banks" come second with 16 each (15.1% each).
The only PSB to make it to the top-5 list is the SBI with 10.4% of the respondents wishing to opt-in to its services.
Citi Bank and Axis Bank are tied at number five with 9 or 8.5% opt-ins for each of them.
The top-5 banks account could corner 81 or more than 75% of all respondents who wish to opt-out of their current banker's services.
ICICI Bank ranks at the top with the most number of customers who wish to continue with their current banks. It has 7 out of 18 or 38.9% such customers. It is followed by the HDFC Bank with 4 or 22.2% of customers willing to continue.
Conclusion
Banking today is no more an evil necessity where the customer had no choice and therefore would continue with the same banks for years. Today banking is about relationships, trust, and effective use of technology.
If your staff, especially relationship managers, can be a little more responsive, well-equipped, and the bank itself starts offering personalized services such as goal-based financial planning, they can attract HNI customers like NRIs.
If they do not, then such customers can take most of their accounts and new business to any other bank of their choice in no time. the customer is the king, especially those who earn in Dollars, Euros, Dinars, and Dirhams.
Most NRIs are not getting Financial Planning advice from their banks. But all successful investing is Goal Focused & Planning Driven.
If you agree – let's talk about YOUR Goals & Plan
Hope you agree with the survey findings of Best Bank for NRIs in India – please share in the comment section why you prefer your bank over other options.