2022 has arrived. Have you thought about your New Year's resolutions?
Do you incorporate money goals in your list?
Do you know there is something magical about new year's resolutions and the goals that you set on your birthday? Your mind considers this as a fresh start of your life & gives you the initial momentum required. But you need lots of discipline, willpower & support to achieve the key goals.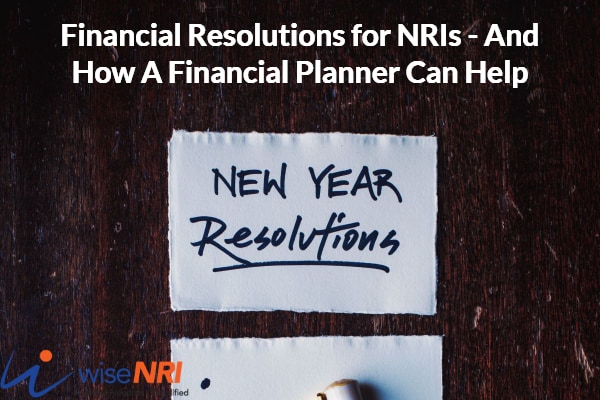 Financial Resolutions for NRI 2022
Read on to get an insight on financial New Year resolutions and how your financial planner can help you to achieve them. You must read – Financial Planning for NRIs & why it's so complex
Must Read – What can a mandate holder do?
1. Set Your Financial Goals
Financial goals are important for financial security. Setting your short-term, medium-term, and long-term financial goals will aid in the proper management of finances.
A financial planner will ask you crucial questions and make you think about your financial goals. They will ask questions such as –
Do you plan to buy a house in India or abroad?
Where are you planning to retire?
Will your children study in India or abroad?
What kind of lifestyle changes do you want now?
What kind of lifestyle do you envision for yourself after retirement?
Based on your answers, they help you define your financial goals. For example, if you want to live in a palatial house in India after retirement, your finances must be managed such that you can buy one. The planner will also be able to present you with a true picture of your finances so that you know the amount you can spend on such a house. The planner will also guide you to buy a property at the right time.
New Year Resolution – Set your short-term, medium-term, and long-term financial goals with your advisor. If they are set, review them with your advisor in January 2022 to see if any changes are to be made.
Planning for Retirement in India – Check This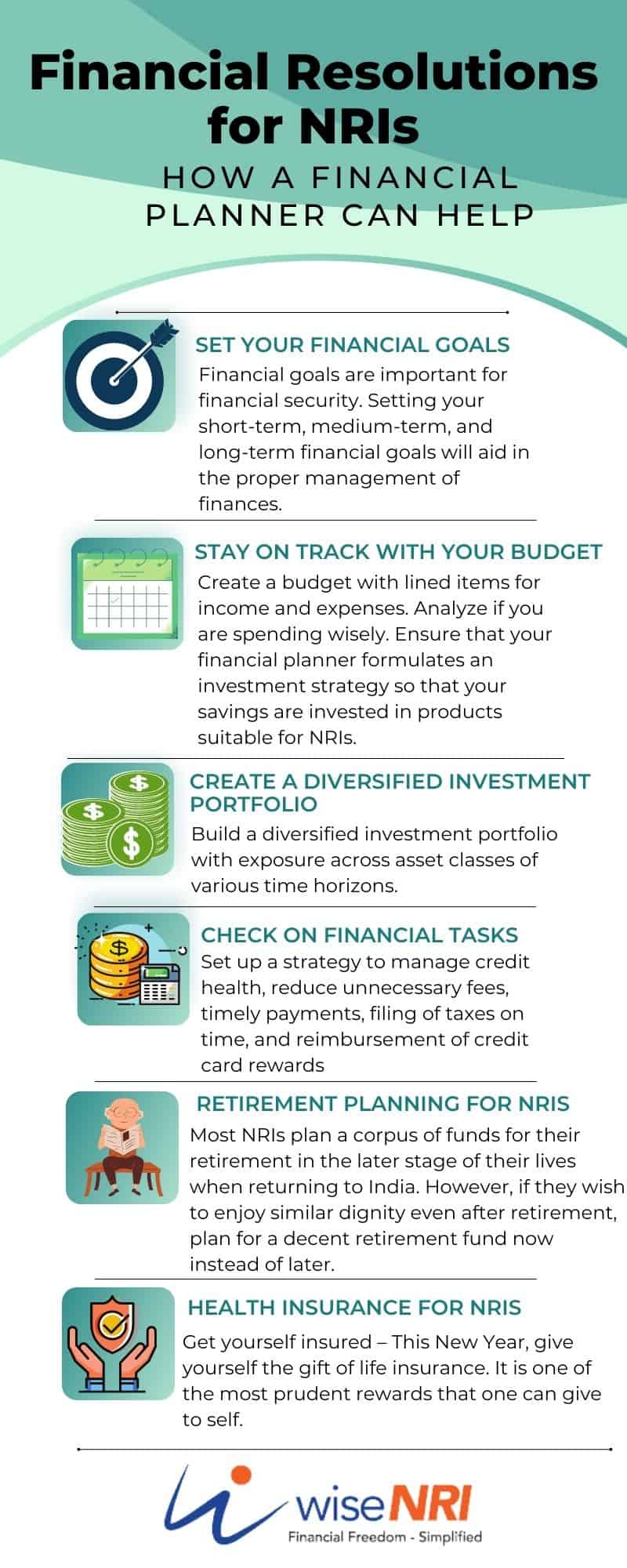 2. Stay On Track With Your Budget
It is so easy to overspend or go over the budget when on holiday or while buying Diwali gifts for near and dear ones.
A  planner will encourage you to create a budget. He will help you in listing down your total income, expenses, items such as grocery, dinner, Netflix payments, etc. This will determine your savings.
A budget can help in many ways –
Understand total income, expenditure, and savings.
Identify unnecessary expenses.
Calculate potential investment amount.
Compare estimated expenses and actual expenses.
Analyze when and where you splurge so that you can take measures to curb your excessive spending instincts.
New Year Resolution – Create a budget with lined items for income and expenses. Analyze if you are spending wisely. Ensure that your financial planner formulates an investment strategy so that your savings are invested in products suitable for NRIs.
Read – How can NRIs avoid LifeStyle Inflation
3. Create a diversified investment portfolio
Some rules and regulations are a little different when it comes to NRI investments. For example, PPF is a highly recommended investment tool but NRIs cannot start a new PPF account. Similarly, NRIs living in the United States and Canada have additional regulations regarding Mutual fund investments.
NRIs are also unclear about their investment strategy as they are not sure always as to where they will live in the long-term and which investment products are suited to them. This leads to under-investment and surplus liquidity. When you are under-invested, you will not create enough wealth and may not achieve all your financial goals. Too much cash in hand leads to loss of value and a tendency to overspend.
In an attempt to do "something" about wealth management, people copy a friend's strategy or act upon general advice given on TV channels and websites. This may not work out in the best interest of the person as each person's financial status is different.
"A competent financial planner will ensure that the portfolio is diversified and customized for your status as an NRI." wiseNRI
A financial planner will understand your financial status and goals and create a suitable investment portfolio for you. A competent financial planner will ensure that the portfolio is diversified and customized for your status as an NRI. The financial planner will maintain an investment strategy such that  –
There is no long-term exposure to illiquid assets in India if you are planning to be abroad for a long time.
There are no investments in instruments not allowed for NRIs. Investment rules change over time and the financial planner will track these rules and make changes accordingly.
If required suggest global investments based on your understanding, risk tolerance, and risk capacity.
New Year Resolution – Build a diversified investment portfolio with exposure across asset classes of various time horizons.
Check – Best Investment Options for NRIs in India
4. Check on Financial Tasks
As an NRI, it is difficult to keep track of financial transactions across multiple countries. A financial planner comes to the rescue here by assisting in small but important tasks.
They set up reminders for important tasks such as payment of premium, interim investments, and tax filing due dates.
They arrange for tax filing.
They conduct regular reviews of the investment portfolio and highlight when changes are required.
They help to manage bank accounts and credit cards. They give advice related to having many credit cards, unused bank accounts, and how to manage your money such that you pay off high-interest debt like credit card balances.
They advise on payment automation so that you do not miss due dates.
New Year Resolution 2022 – Set up a strategy to manage credit, health, reduce unnecessary fees, timely payments, filing of taxes on time, and reimbursement of credit card rewards.
5. Retirement Planning for NRI
It is one of the five things NRIs must do in 2022, most NRIs plan a corpus of funds for their retirement in the later stage of their lives when returning to India. However, if they wish to enjoy similar dignity even after retirement, it is essential that they build their plan for a decent retirement fund now instead of later and early in their career. Read More –Retirement Planning for NRI
New Year Resolutions 2022-  Set aim to increase your income, save more and spend less, and make smart investments for retirement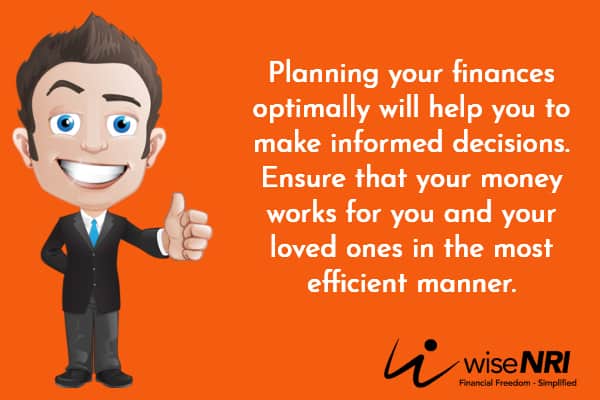 6. Health Insurance for NRIs
To face a wide range of uncertainties and threats that affect their financial budget in the long term, NRIs can take measures to protect themselves. They can choose from a range of NRI insurance policies.
There are various companies that are offering NRI health insurance, NRI life insurance, and many other types of NRI insurance policies
New year Resolutions 2022- Get yourself insured – This New Year, give yourself the gift of life insurance. It is one of the most prudent rewards that one can give to self.
Financial planning is a must to manage your finances in the present and future. Being an NRI, it is more important to track your financial status considering your home country and country of residence.
A financial planner will help to maximize your savings. Set up financial resolutions for 2022 and get appropriate advice from your financial planner.
You can mitigate financial stress and manage wealth such that you pave a path towards financial security and success.
"Financial matters are complex, more so if you are an NRI. But managing them is not impossible."
Talk to us about your Financial Plan.
Must share your Financial Resolutions in the comment section.