As financial advisors, we come across many instances where Non-Resident Indians (NRIs) have assorted investments, but they fail to take out an insurance policy in the country of their residence. Mostly the reason is stricter tax laws and costly insurance cover in countries like the USA, the UK, Singapore, and the Middle East.
Buying a good life insurance cover in India is possible for NRIs. Your insurance policies before your tax status changed to that of NRI would remain in force. Also, you can buy new or additional insurance cover after your status has changed to NRI.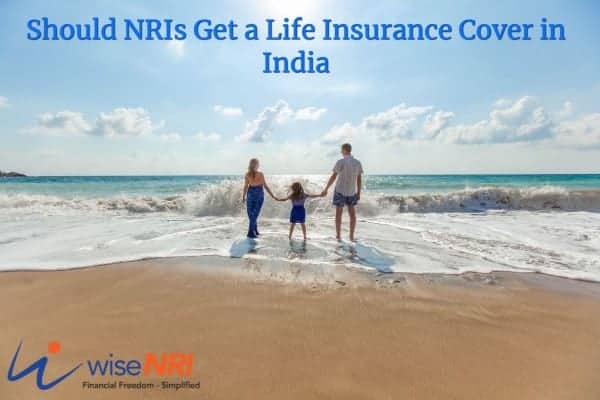 Must-Read – Health Insurance For NRI
Benefits of Buying Life Insurance for NRI
NRIs get many advantages if they buy life insurance from an Indian insurer, the major ones are listed below:
Cheapest premium rates among most developed and developing countries.
Multiple policy options for better financial planning.
Proactive IRDA and robust institutional framework favoring policyholders.
Assurance of many reputed brands back at home.
Secure financial interests of the family – in India or overseas with you – with inheritance planning as you can leave your dependents a substantial amount.
Life Insurance in India for NRI – Types
| | |
| --- | --- |
| Types of Insurance | Objective |
| Endowment Policy | Creates an endowment fund for you as well as dependents – both in maturity and death. |
| Money Back Policy | Periodic returns and insurance cover. |
| Retirement Plans | Build up a retirement corpus to buy an annuity and receive a lump-sum payment. |
| Investment Plans | Save for long-term investment returns. |
| Term Life Insurance | One of the simplest and best covers – pure insurance – largest cover at cheapest rates. Though, no returns if you outlive the policy. |
| Unit Linked Insurance Plans | Offer multiple investment avenues in equity and debt schemes with insurance. |
| Whole Life Insurance | Insurance cover till death with the option of periodic moneyback and maturity payment if you cross 100 years of age. |
We insist that you at least buy a decent cover in the form of term insurance plans that are available at one of the cheapest premiums in the world. Normally we don't suggest other life insurance policies or in simple words mixing insurance & investments.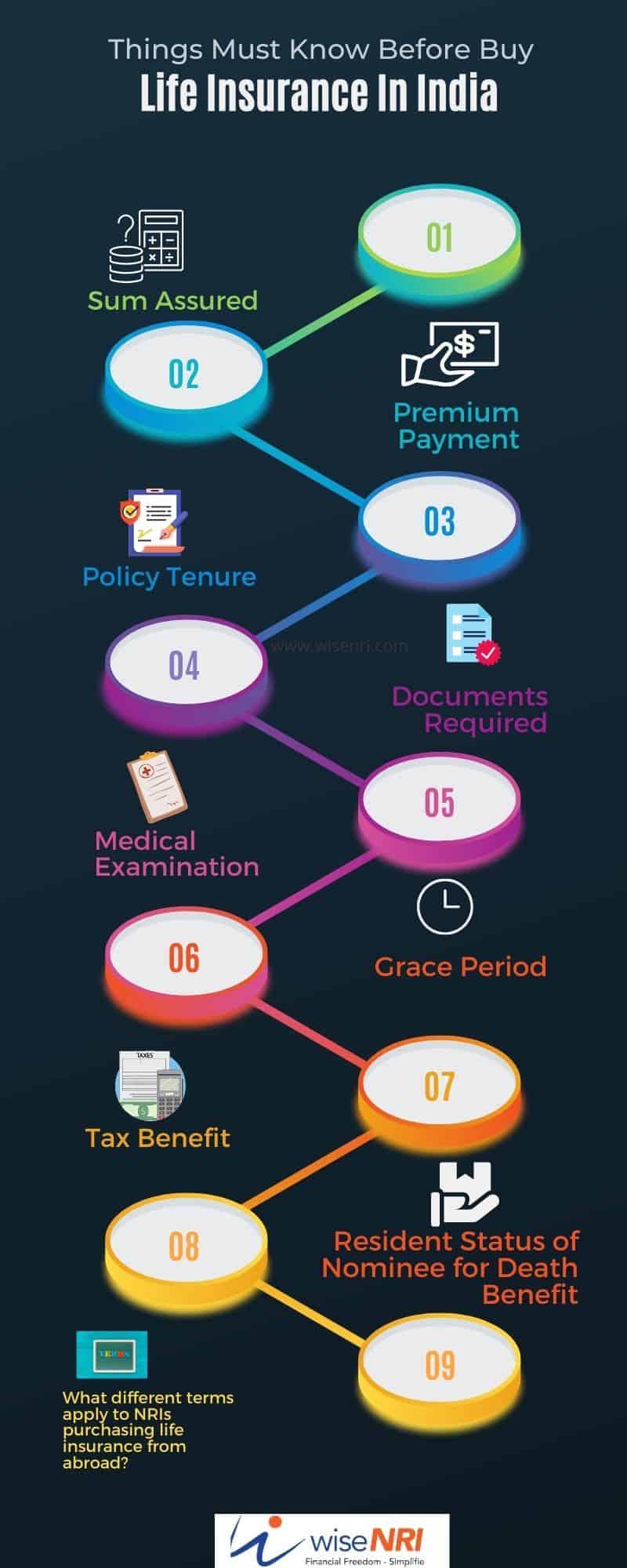 Must Check – Beware of Rampant Mis-selling of Expensive Insurance to NRIs
Life Insurance For NRI
You can either buy life insurance for NRI when you visit India next or avail the services of a financial advisor to compare and buy online life insurance for NRI from an Indian insurer. If you opt for the second route, verification from the Indian Embassy is required.
There are many things that you must know before taking out a life insurance policy from an Indian insurer. Let us discuss them one by one.
1. Sum Assured
LIC of India has a minimum sum assured of Rs. 10-lakhs, but many other companies have a lower threshold at Rs. 2-lakhs. The maximum sum assured depends on many factors and go up to a few crores of rupees.
2. Premium Payment
Premium depends on many factors like your age and health at the time of entry, payment frequency, sum assured, and riders. The premium for term insurance policies is most affordable as they are pure insurance policies with the least administrative charges.
Though insurance policies are denominated in INR, you can make payment for its premium in foreign currency. NRIs can also make payments for premiums using online banking or ECS mandate linked to their NRE or NRO accounts.
Your family members or financial advisor in India can also make a timely premium payment on your behalf if you want to keep the charges low.
3. Policy Tenure
Depending on the type of policy the tenure can range from 12 months to 25 years. At the time of taking the policy, the policyholder must be between the age of 18 and 60 years.
Must Check- How NRIs can complete KYC for Mutual Funds
4. Documents Required
NRIs need to provide some additional documentation, compare to RIs, with their completed application form for taking out an NRI life insurance policy in India. These are:
If In India

Self-Attested Passport copy.
Medical check-up report
Income proof
OCI or PIO card, if applicable
Foreign address proof document – recent utility bill, residence permit, bank statement
Any other document as needed.

If out of India

The above documents must be endorsed or attested by the Indian Embassy/Consulate.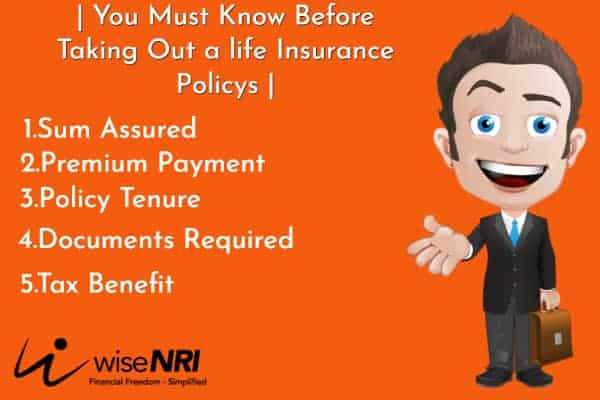 Check – 10 Best NRI Investment Options in India 2022
5. Medical Examination
Depending on the lifestyle, personal details, and age at the time of buying a policy, you may be required to undergo a mandatory medical check-up. For NRIs visiting India, they can simply visit the Doctor or Diagnostic center for the required examination at no extra cost to them.
If you are out of India at the time of buying the policy, many insurance companies accept standardized medical reports with prescribed examinations from a registered health practitioner. The report must be attested by the Indian Embassy, and you will have to bear the expense of the examination.
6. Grace Period
The grace period, for a premium frequency of 6 or 12 months, is 15 days. That is, if you fail to make the payment for your policy on or before the due date, you still have 15 days to do so before the policy lapses.
7. Tax Benefit
The tax benefits of up to Rs. 1.5-lakhs u/s 80c of the IT Act is available for NRIs as it is for resident Indians. This can help bring down tax liability on income earned in the NRO account held in India.
Payment received on maturity or death are also tax-free in India, but you may have to check the applicable laws in your country of residence.
8. Resident Status of Nominee for Death Benefit
Life insurance for NRI policy covers death anywhere in the world – with certain exceptions of war zones or indulgence in riskier activities. It does not matter if the nominee is an Indian resident, the death benefit will be credited to the NRO account held by the beneficiary.
The death benefit would be payable in the currency specified in the policy document. However, they can only repatriate the death benefit, to their country of residence, only up to the proportion of the premium paid in foreign currency.
Must Read – Gift by NRI to Resident Indian
9. What different terms apply to NRIs purchasing life insurance from abroad?
If an NRI is visiting India and wishes to buy a life insurance cover, then they will be treated at par with RIs. However, for NRIs abroad, there are some additional requirements to be followed.
Once you have completed the application form, you would do the following:
Get the medical examination report from a registered healthcare provider in the prescribed format.
The NRI would buy the policy from an insurer in India through "Mail Order Business"
You must get the policy document notarized at Indian Embassy.
As many companies now offer online insurance services, you can also choose that option. Some companies also have local business partners that sell insurance denominated in the local currency.
Term Insurance for NRIs
Indian citizens, NRI's (Non-Resident Indians) are eligible to buy Indian insurance policies of a certain period of time. As the name suggests, it has fixed periods and payments, which can be availed in case of death for financial protection. Below are a few types of term insurance NRIs Can Purchase –
1. ICICI Pru iProtect term insurance for NRIs
2. Kotak Mahindra E-term
3.  Bajaj Allianz Term Insurance Plan – iSecure For NRI
4. Amulya Jeevan Term Insurance for NRIs
Shortly we will Publish an Article on Term insurance for NRIs
Final Words
One of the biggest learnings of 2020 has been that misfortune can strike you in any form and at any time. You can never be too prepared, especially when comes to fending for your loved ones. Millions lost their lives in the pandemic and those without sufficient life insurance, at least for the bread earner, had to face a double whammy.
With a decent insurance cover, you can assure your dependents that you would take care of their needs even when you are not around and lead a stress-free life.
If you want to talk about your family's financial security – TALK TO US
If you have still some questions about NRI life insurance. Feel free to add Them to the Comment section.