Illegal encroachment and possession of property and land is not an uncommon problem. This is a grave problem across India.
This happens more in cases where the land or the property purchased is left unattended for any reason. The landowner is busy with work, maybe incapable to check the property regularly, moved to another place, or even passed away. Such plots of land and vacated premises soon become an easy targets for encroachment.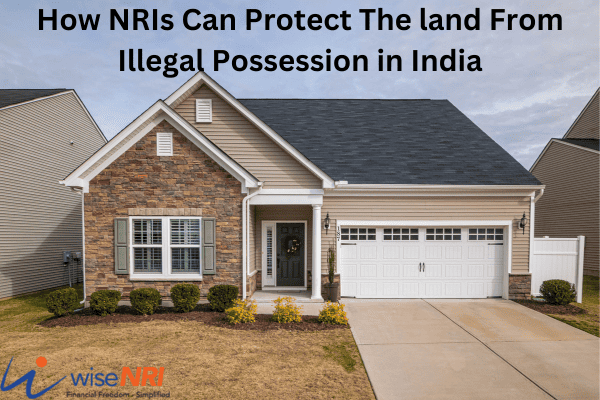 Must Read – NRI Investments in Commercial Property
The problem with NRI landowners and property owners is more severe as they do not have the time and means to check the property as often as possible. As soon as miscreants get to know about the residential status of the owner, the unoccupied houses and vacant land parcels of NRIs become a high-risk target.
Even if NRI property owners let out their property, the tenants might craft a sneaky design to illegally acquire the property.
We wish never face such an issue with NRI Property Disputes. But you also need to take some steps to prevent encroachment on and illegal possession of your land and property.
Is Your Property Vulnerable to Illegal Possession?
The reasons for the illegal possession of NRI property are not too difficult to understand.
NRIs are not physically present to take possession of the properties.
They are not in proximity to make frequent visits. The people living and working near the property can sniff them easily.
Many NRIs end up giving the control to manage their properties to their relatives or friends. There is nothing one can do if one turns greedy.
To save a paltry sum, many NRIs do not appoint a caretaker for the property or a guard for the land. This makes the property open game for squatters and miscreants. Encroachers come in soon to illegally claim it.
If the NRIs do not effectively manage the properties that are under caretakers or leased, the occupants might get nasty ideas.
Simply worded and unbinding rental agreements with tenants seem to be convenient and effective. Until they are not.
Not informing the local police station about the tenants or the vacant premises can invite trouble.
The local nexus of the land mafia and strong men can prove to be a strong resistance against which an NRI finds oneself defenseless.
How does NRI Property Gets Encroached?
Whether you gave property for rent or left it unoccupied, or have a vacant land parcel, you are not occupying it and are not in its physical possession.
The phrase "Possession is nine points of the law" shows how the judicial system gives the possessor of any property legal protection. Even if prima facie they seem to be in illegal possession. This is to avoid any incidents of unlawful acts such as violence against them.
But the same law is abused by the land and property mafia to harass the real owners.
These are some of the most common ways in which your land or property can get grabbed.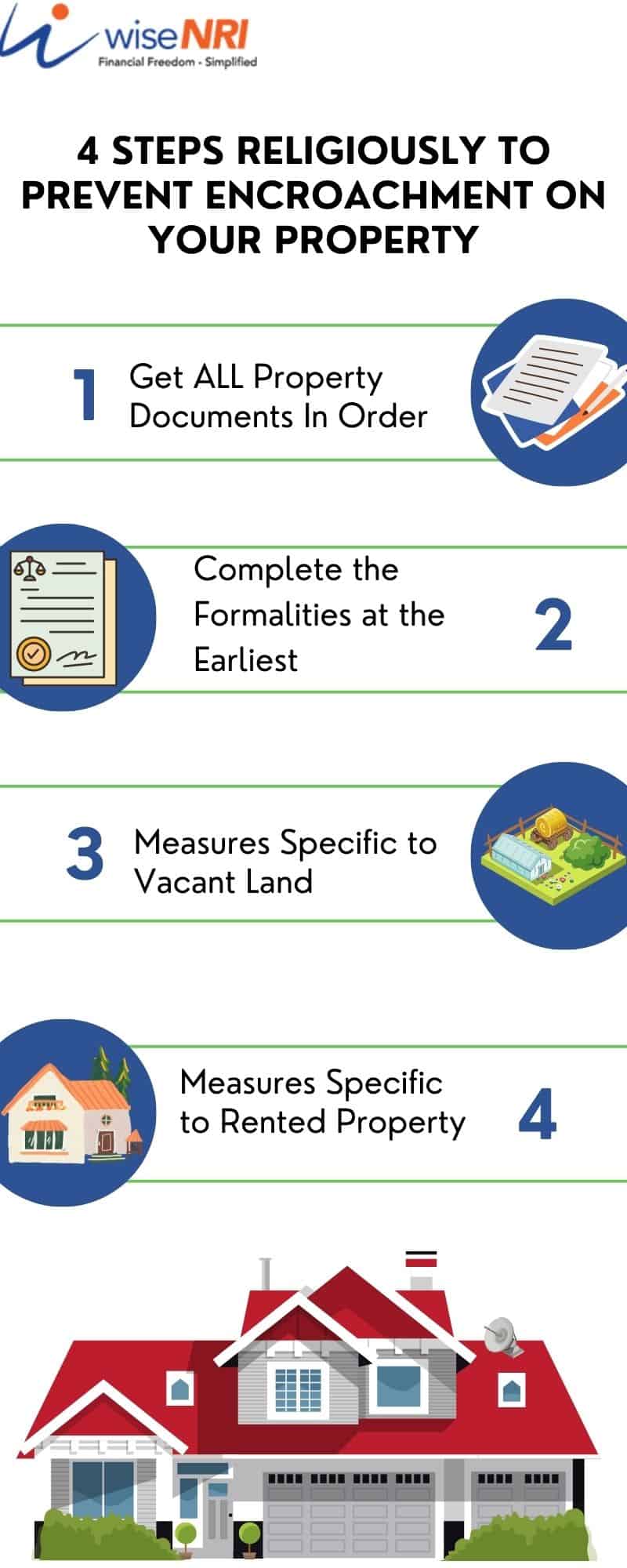 Must read- How can an NRI Transfer Inherited Property Titles in India
Tenant Occupation
The laws governing tenancy were made at a time when the property owners treated their tenants ruthlessly and did not provide any services. The legislature passed laws to give more protection to tenants to protect them from wrongful eviction by the landlords.
This very law can also shield illegal tenants who do not vacate the property upon completion of their lease period or do not pay rent. Many tenants forge documents like rent agreements and affidavits from the owners to occupy the property.
Fake Documents
For unoccupied properties or properties under the care of local people, fake documents provide an easy way to grab them.
Many people use these documents to construct, start their business, live on the premises, and rent it out. Sometimes, the audacious ones either take a loan against it or even sell it on the market.
Many squatters and encroachers also make it a point to cut a handsome settlement to restore the legal rights of the NRI owners or vacate the property. This falls into the category of coercion and extortion. Sometimes the owners are also forced to sell the property or the land to the encroaches in a distress sale at rock-bottom prices.
How Can NRIs Prevent Illegal Possession of Land & Property in India?
Take these steps religiously to prevent encroachment on your property.
1. Get ALL Property Documents In Order
With proper and complete legal documents, it would be easier to repel encroachers. With all clear legal titles and registered deeds, you have less to worry about fake documentation.
You must take the following steps:
As soon as you acquire the property – like purchase, a gift, an inheritance, or settlement – get the record mutations completed in your favour at the Revenue Department.
If you have inherited the property or received it as bequeathment in a will, then take the title deed in your custody along with the copy of the will. If the title deed is untraceable or lost, then immediately lodge an FIR with the police.
Next, a public notice, not a too-large one, in two widely circulated dallies is always in your best interests. With this, you are publicly declaring your rights over the property and warning any encroacher against illegally possessing it.
You must also obtain 'certified copies' from the revenue department, registrar's office, and local authorities of all documents including

Original purchase agreements with copies of cheques, bank transfers, and receipts.
Title deed.
Copy of will and in case of inheritance all documents showing your relationship with the deceased.
Municipality charges and property tax receipts.
Water and electricity bills.
Jamabandi (a Record of Rights issued by the revenue department in North India's Hindi Belt. They are known as 7/12 records in Gujarat.)
Keep original documents safe and always make physical and soft copies of all documents. As a safety measure keep an updated record of the documents with your legal or financial advisors.
2. Complete the Formalities at the Earliest
Sometimes while purchasing a local property, you may not even be in India. You may have issued a special or general power of attorney to a relative, friend, or legal representative to transact on your behalf.
Similarly, in the case of bequeathed or inherited property, you may not have all the documents readily available.
Make it a point to get all the documents, update all the records, and get them registered as soon as possible. Sometimes, a delay of even a few weeks is sufficient for the encroachers. You must obtain all necessary documents mentioned in point (4) above as soon as the deal goes through, the will is executed, or the probate court finalizes the inheritance.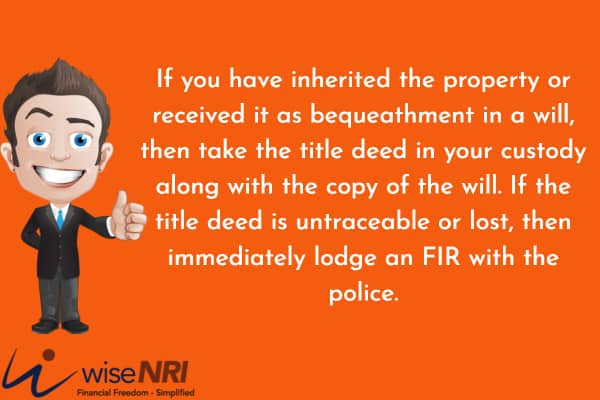 Must check – Why NRIs Should Consider Buying a House in India
3. Measures Specific to Vacant Land
Check your property during each visit to India.
Always issue a Special Power of Attorney in favour of your Indian contact for a specific transaction, property, period, or project.
Always build a boundary wall around vacant land.
Formally hire a caretaker or guard through a respectable agency. Get the caretaking agreement registered and police verification of the caretaker or the guard. In gated communities or society, the common guard is adequate.
In the case of constructed property, install CCTV with sensor-based alerts and live feed.
Keep close contact with neighbours. They will be the first ones to alert you of any suspicious activity.
Use Google Maps' satellite image to check unauthorized construction activity on your property.
4. Measures Specific to Rented Property
Even if you know your tenants, get the police verification done as it creates a formidable paper trail in your favor.
Always insist on a proper lease agreement registered at the local court or at least notarized.
If you have let out the property through a PoA holder, get all documentation from the PoA holder – rent agreement, police verification report, and ID proof of the tenant.
Make sure to renew the rent agreement on time.
If the rent is delayed, it is a red flag. Make sure there is a credible reason behind it and ask the tenant to give the reason in writing. You must timely issue a receipt to the tenant to create a proper paper trail.
Again, it is the neighbour who would alert you of any suspicious activities, so keep in touch with them.
If your tenant does not agree to a rent agreement or police verification only because you "know" them, it is best to avoid having them as tenants.
What Can NRIs Do if There is Illegal Possession on the Property?
There is not much you can do to get your property evacuated immediately if there is illegal possession on it.
In such an unfortunate event, it is best to take the legal advice of an advocate specializing in such matters. Meanwhile, you can do the following:
File a formal police complaint or FIR.
Start negotiation with the party in possession of the property in the presence of your legal representatives/advocates.
The documents that you have preserved over the years, will now help make your case strong in the legal fight and judicial process.
Conclusion
The legal process may be time-consuming, expensive, and cumbersome. This is because the tenancy laws are mostly tilted in favor of the tenants. Therefore, if you can prevent your property from becoming a target, then that is the best way to go about it.
If you would like to share your experiences regarding the illegal possession of land or have any questions – add them in the comment section.