Investing in a property is always considered a sound decision, especially in India. With its booming real estate industry and constantly growing economy, buying a house in India is becoming increasingly popular among Non-Resident Indians (NRIs).
Owning a property in India not only provides a sense of emotional connection to the homeland but also offers several financial benefits.
In this post, we will explore the advantages of buying a house in India for NRIs and provide essential information to help them make an informed decision.
Note: I have written this article as I am participating in a debate – my team (the affirmative) is supporting the resolution of buying a house in India as a great idea. (so take this article with a pinch of salt)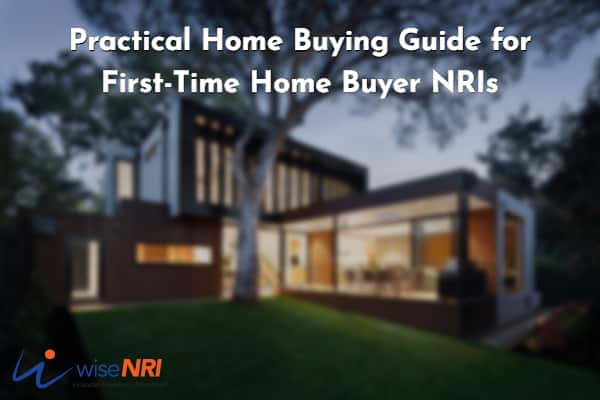 Check – Best NRI Investments in India
Practical Home Buying Guide for First-Time Home Buyer NRIs
Investing in a highly volatile market with many macroeconomic headwinds can be a nerve-wracking experience. Investors undertake any investment endeavour with the twin intentions of protecting their capital and producing positive real returns on the invested capital. And NRI (non-resident Indian) investors are no different.
Among all the available options for investing in India – from equities to debt and from gold to real estate – real estate is gaining traction among the new breed of NRIs. Within the real estate sector too, residential properties or homes are seeing faster growth than any other type of real estate.
10 Reasons To Buy Your First Home Now!
Here we are listing the Top 10 Reasons why NRIs Should buy their first home now – even in this rising interest rate market cycle.
1. Tangible Asset
Multiple economic and geo-political factors are still unfolding and can result in increased uncertainty. These factors may result in the interest rates remaining substantially elevated for a long time.
A home is a tangible asset that remains with you no matter what. If you think about it rationally, then you can benefit from this scenario in the following ways:
If interest rates are going to rise, then locking in the current rates would immensely benefit you.
If interest rates start falling after a while, then also you can benefit by transferring your loan to a lender offering lower rates then.
2. Assured Rental Income
Rental income from residential properties has increased significantly in metropolitan, tier-II, and tier-III cities. What is more important, many developers offer assured rental plans ensuring that you get a decent rental income from your home.
Therefore, even if you are not going to live in your first home bought in India, you can rest assured that it will not be a dead investment. In major cities, the annual rental yield in many localities is in the range of 2 to 3%, leaving a net positive income after covering property maintenance expenses. Bw Rents are better in commercial property. Check – NRI Investment in Commercial Property
3. Growing WFH and Urbanization of Smaller Pockets
The urban population of India was projected to cross 36% by 2022. And by 2047, in the 100th year of our independence, it is expected to touch 51%. With the growing urban population, it is obvious that it will be increasingly challenging to find a home in the city of your choice. The pandemic forced people to work from home (WFH) pushing the real estate demand.
Even today WFH is here to stay with an increased focus on the privacy of each family member. It means it is better to purchase a home now so that you can plan with adequate time in hand.
4. Stable Real Estate Market in India
In the western world, and especially the USA, credit, and job data have a direct and quick impact on housing prices. This is because most people use credit cards and have multiple loans like education & home loans. Therefore, a sudden rate hike impacts their home sales adversely.
To a large extent, this is not the case here. This is because a major part of the economy is still in the unorganized sector and people rely on conventional methods to finance homes – funds from family. Therefore, we do not witness a sudden surge or fall in home prices in the Indian residential space.
5. Become Joint Owners
NRIs can become joint owners of residential property in India with other NRIs. However, you cannot become joint owners of a residential property with a resident Indian (RI). All the joint holders of the property must either sign the sale agreement and registration papers or via their Power of Attorney (PoA) holder. Check – NRI Transferring Inherited Property
6. Depreciating Rupee ≈ Better Value
Despite all the gloom and doom in the markets, one key factor going in favour of NRIs has been the weakening of the Indian rupee against the US dollar and other major currencies. This presents a golden opportunity for NRIs wishing to buy real estate in India. with the INR weakening, you get more value for each USD (or AUD, EUR, GBP, etc.) you bring into India. Your increased purchasing power places you at the cusp of a major transition in property prices.
7. Your Partner in Retirement
A home is a personal space. This home might also be your investment toward your golden years. You can start spending time and creating memories in this house on your every visit. When your kids grow old enough to travel alone, they can also visit their relatives and have a place to invite their friends over. When you finally decide to hang your boots, you know a partner is waiting for you with open doors. Service – Retirement Planning
8. Hunt for Bargain Deals
Demonetization, the introduction of GST, and RERA (the sectoral regulator) have formalized the Indian economy at a fast pace. It means the shady cash deals are harder to get and with tight regulation governing the sector there is cost control in place too.
These elements have made prospects of investment in residential properties in India great. Higher rates also force real estate developers to release their inventory in markets fast to unlock the capital stuck in it.
9. Make Profitable Investments
As the current market prices are stable or depressed, you can easily find bargain deals. And like everything, the current market cycle would also turn. As the prices have been subdued for a long time, they will inevitably climb up faster in the next economic upcycle. By purchasing your first home now, you can capture the maximum benefit from the upswing in residence prices in near future.
10. Regulated Market and Reliable Real Estate Developers
Over the years the real estate development market has matured in India. Earlier there were a few reliable developers who commanded a premium, but today home buyers' risks have been greatly mitigated by the introduction of the RERA (Real Estate Regulatory Authority) in 2016.
Improved transparency, greater accountability, and quick grievance redressal in favour of the otherwise hapless home buyers have infused a sense of confidence in the market. Developers also now flaunt their RERA credentials to assure customer satisfaction giving NRIs a safe investment alternative.
Check – Can NRI buy Agriculture Land In India?
How Can NRIs Purchase Their First Home in India?
Bank Account
Before you plan to invest in Indian residential property, you must have sufficient funds in your NRO (non-resident ordinary) or NRE (Non-resident external) bank account. The funds in your NRO account can come from your Indian sources, while the funds in your NRE account can come from your foreign income.
Documents Required
Indian passport with proper Visa.
Certified copy of Work Permit.
Certified copy of Indian and Foreign address proofs.
Latest Income Tax Returns.
Pay slip and Bank Statement for the last six months.
Property-specific documents such as the title deed and NOC from society.
Registered General or Special Power of Attorney (PoA) – if you are not present at the time of the deal.
Read – NRI Real Estate Investments outside India – Pros & Cons
Conclusion
Come good times or tough – the residential property market has proven to deliver positive real returns for NRI investors of all generations. That is why in these turbulent and volatile times with rising interest rates, shaky stock markets, and suspenseful bond returns, the Indian residential space offers shelter while allowing capital growth and regular rental income.
If you are fixated only on the rising interest rates, then you are surely missing the forest for the trees. Remember, there would never be the perfect moment for buying a home – something or the other would always make the picture murky. So, it would be wise to buy your first home now rather than wait any longer.
Please share your views and experience of buying a house in India in the comment section.