A lot of NRIs want that after retirement they have their own farm hose in a small town but Can a NRI buy agricultural land in India?
Be it financial investments or property rules are a bit different for NRIs.
The rules related to transactions in  NRI agricultural lands, plantation properties, and farmhouses are different as compared to those related to residential and commercial property.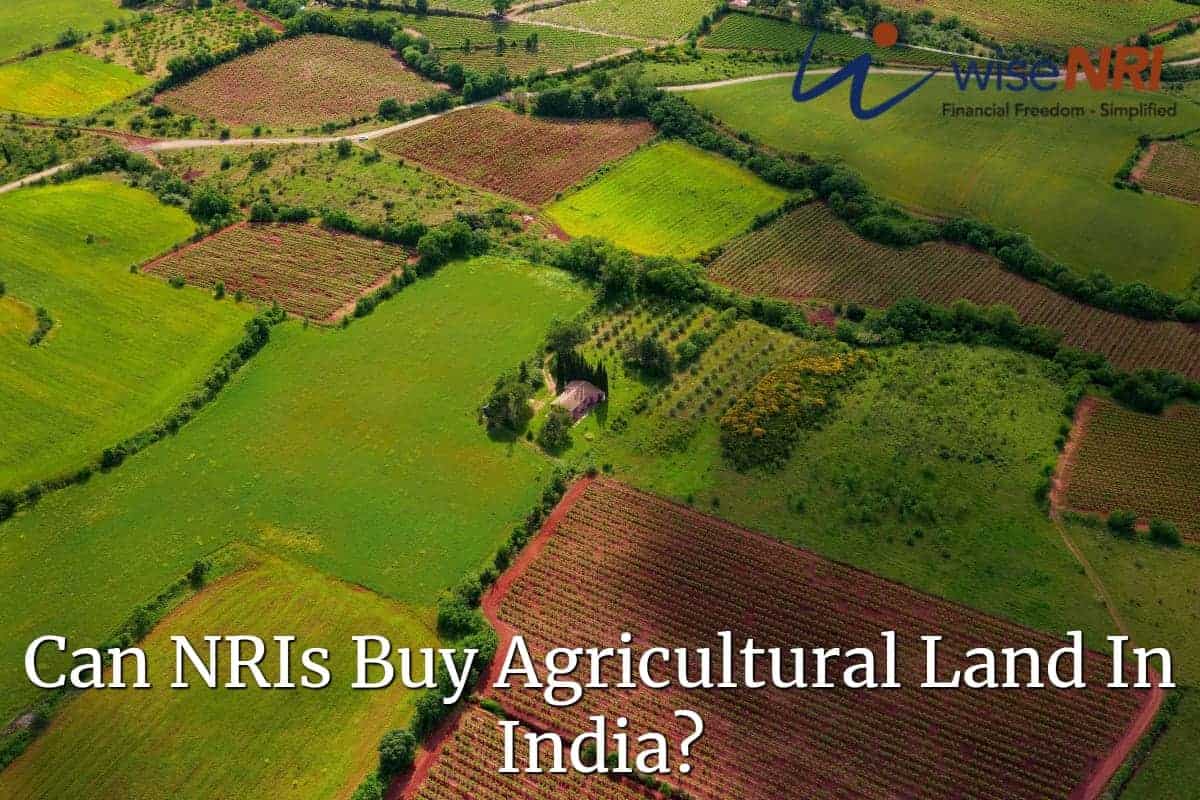 Also Check: Should NRIs Get A Life Insurance Cover In India?
Can NRI Buy Agricultural Land in India
Under the Foreign Exchange Management Act and the Foreign Exchange Management (Acquisition and Transfer of Immovable Property in India) Regulations, 2018, NRIs and OCIs are not allowed by law to purchase lands or plantation property, or farmhouses in India unless they acquire special permission from RBI.
Inheritance of Agricultural Land for NRI
NRIs or OCI can acquire agricultural land, plantation property, or farmhouse through inheritance from a person residing in India. An NRI can also inherit property from another NRI. But this is subject to certain regulations like RBI's approval.
Must-Read – Rules for OCI cardholders
Gift of Agricultural Land for NRIs
There is no restriction for NRIs and OCIs to get NRI agricultural lands, plantation property, or farmhouse as a gift from the person resident in India. (but consider Benami act)
"But an NRI or OCI cannot gift such property to another NRI. An NRI has to gift it to a resident citizen of India." wiseNRI
Sale Of Agricultural Land 
NRIs can sell agricultural land, plantation property, or farmhouse property provided the buyer is a citizen of India and resides in India. If the NRIs have purchased such lands with permission from RBI, they require approval from RBI to complete a sale transaction.
The sales proceeds can be remitted to an NRO account. The amount up to a maximum of US$ 1,000,000 can be repatriated. The repatriation process requires some documentation. The bank requires the submission of Form 15CA and Form 15CB, Will, legal heir certificate, and death certificate (in case of inheritance), and sale agreement (in case of sale).
Also Check: New Tax Rules for NRI in India
Taxation On Agricultural Land for NRI 
Rural agricultural land is not a capital asset hence capital gains tax is not applicable. However, if the agricultural land is defined as urban agricultural land, it is chargeable under capital gains tax.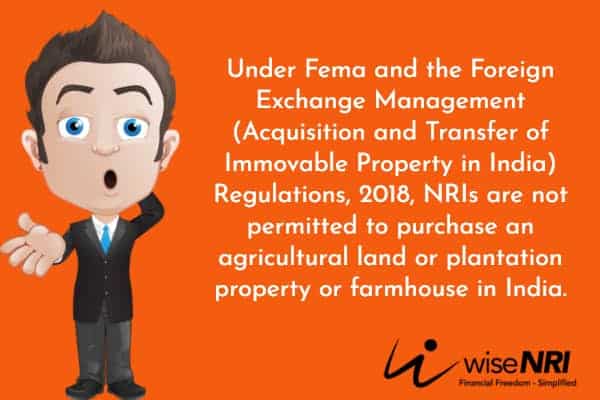 Also Check: 10 Best Investment Options For NRIs
Benami Transactions – NRIs
An NRI cannot buy agricultural land in the name of another person unless that person is a spouse, brother, sister, or lineal ascendant or descendant. It will be considered a Benami transaction which is illegal. (please consult a good lawyer as our knowledge is limited in this)
An NRI gives money to a friend or a son-in-law. This person uses the money to buy land, and the gains from that land are passed to the NRIs.  This is a Benami transaction, and the persons involved in it are punishable by law.
Land transactions can be tricky. The rules are different in different states. It might be difficult to have updated information as an NRI or OCI who is not always present in India. You have to research and understand factors like the legitimacy of land, compliances to be followed, etc. at the time of a property purchase and understand the rules for selling. It might be better to consult a real estate lawyer before entering into the transaction.
If you have any questions or you are aware of NRI agricultural land issues – add them in the comment section.