What is overseas citizen of India? OCI is immigration status. It is given by the Indian government to a foreign citizen of Indian origin. There are a few new rules – that I have added at the end of this post.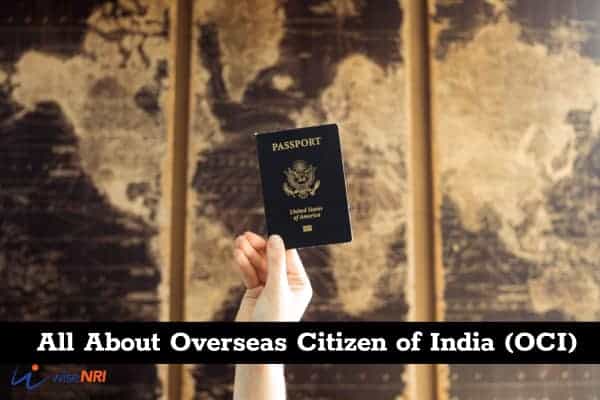 Who can become an Overseas Citizen of India?
A person who satisfies any of the following criteria is eligible to be overseas Indian citizenship (OCI)-
Is a citizen of India or eligible to become a citizen of India on or after 26 January 1950
Belonged to a territory that became part of India after 15 August 1947
Is a minor child of a person mentioned above
Is a child or a grandchild or a great-grandchild of a person mentioned above
Is a minor child who has one or both parents as citizens of India
Is a spouse of foreign origin of a citizen of India or spouse of foreign origin of an Indian overseas citizen, and is married for at least two years before the date of application for an OCI cardholder in India and such marriage is registered.
A person who is or their ancestors at any time were citizens of Pakistan, Bangladesh, China, and others as specified by the rules laid by the Government of India is not eligible to get overseas Indian citizenship.
Must Read – Who is NRI – New Definition & Scenarios
How to apply for Overseas Citizen of India status?
You can visit the site https://ociservices.gov.in/ to apply for overseas Indian citizenship. OCI application fees are ₹15,000 if the application is submitted in India and US$275 if applying from abroad.
Check out this link for more details on processing and documentation requirements.
Recently, a new rule has been established, which says that foreign nationals of Indian origin must have six months of continuous stay in India or their country of residence before they submit an OCI application.
 An overseas citizen of India benefits-
A person with OCI status gets certain privileges –
Multiple entries and lifelong visas to visit India;
Benefits that NRIs get in financial, economic, and educational fields
They need not register with Foreigners Regional Registration Officer (FRRO), Foreigners Registration Officer (FRO), or police authorities when they stay in India.
Parity with resident Indians in fees for domestic airfares, museums, historical sites, national parks, wildlife sanctuaries, etc.
Opportunities to work and study in India without requirements of special permission.
Must Read – NRI Checklist: Going To Be An NRI?
Are there any restrictions for a person with OCI status?
An OCI cardholder cannot –
Vote
Hold government jobs
Be a member of the Legislative Assembly or Legislative Council
Hold Constitutional posts
Purchase agricultural land or plantation properties
Work on research projects and missionary activities or undertake mountaineering, Tablighi, and journalism tasks without prior permission
What are the rules regarding taxation for individuals with OCI status in India?
If the overseas citizen of India resides in India for 182 days or more, they have to pay tax and file income tax returns in India for total income earned (Income earned in India and abroad). It is subject to the conditions of DTAA (Double Tax Avoidance Agreement).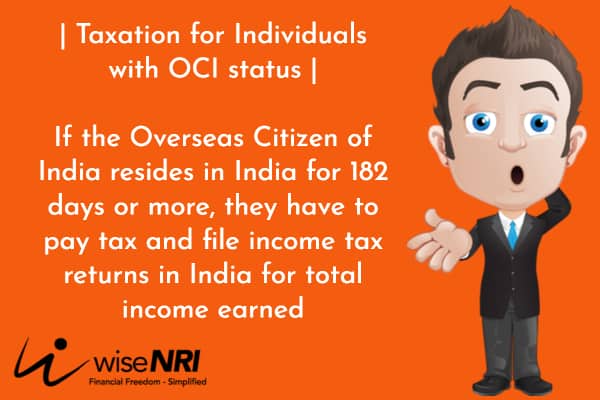 OCI cardholders who have lived for less than 182 days (in any financial year ) will have to pay tax and file income tax returns only on the income earned in India.
Must Check –Wealth Planning Checklist for NRIs
Indian government ch anges rules for OCI cardholders
Indian government changed rules for Overseas Citizen of India (OCI) cardholders. As per the new rules, any OCI cardholder who wishes to be involved in missionary, 'tablighi' or journalistic activities, he will have to obtain a special permission from the government. India's Ministry of Home Affairs made the announcement in this regard. In addition to this, overseas Indians will have to take permission for internship with foreign missions or need to visit a prohibited area.

The notification also has some benefits for OCI cardholders. It has given them parity with Indian nationals in domestic airfare tariffs or entry fees for national monuments, parks and museums in India.

New OCI card of India rules also turn the spotlight on the dual citizenship debate.
You can contact us for more information and financial guidance on various residential statuses such as NRI, OCI in India, RoR, RNOR, and Residents.