NRIs can buy property in India The property can be residential or commercial. NRIs are allowed to take a loan in India and buy property as well.
NRIs usually buy a house for investment or for the purpose of self-occupancy when they are in India. In many cases, a person would have bought a house as a resident and his status would have changed to NRI later on.
As an NRI, what can you do to this property? You can either keep it locked and use it when you are in town or rent it out to earn some income.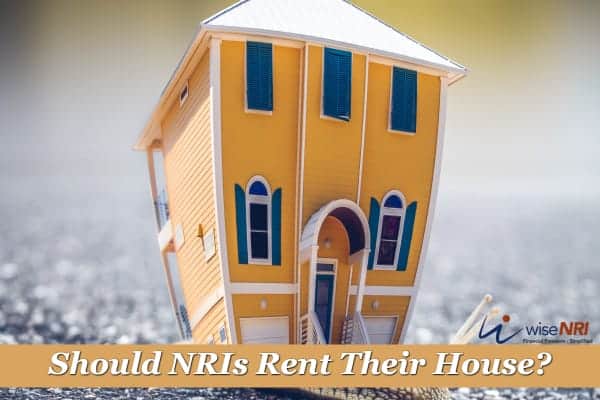 Read –  India Tax for NRI on Indian Income
NRIs Rent Their House & Tax on Rental Income
Let us look at the implications of renting out your house when you become an NRI –
Receipt of NRI Rental Income
An NRI is allowed to receive a rental income. It can be received in the NRO account. It can be received in the NRE account if the rent is being paid from an NRE account.
Both NRI and tenant should have PAN. The tenant should also have a TAN (Tax Deduction Account Number). The tenant should also submit form 15CA and/or 15CB as per certain conditions of the payment.
Tax On Rental Income In India for NRIs  
The tenant can get TAN online via the NSDL website. Once the tenant obtains TAN, the tenant has to deduct TDS, pay it online and pay the balance to the NRI as rent. TDS on house rent payment has to be deducted at 31.2%.
The NRI can claim the following deductions –
Standard deduction of 30% on taxable rent
Deduction of Property Taxes paid
Deduction for principal repayment under Section 80C. Stamp duty and registration charges can also be included here
Deduction for interest payment for a home loan for the purchase of the property.
Post these deductions, the rent will be added to the overall income and taxed as per the tax slab applicable to him/ her.
Read – All About TDS for NRI
Taxability of Rental Income In Country of Residence
Many countries have Heavy tax on residents on their global income. So as an NRI, you will be paying NRI rent tax in India as well as in your country of residence for rent received in India. We generally do not like paying tax and I am sure most of us will dislike paying it twice.
To avoid double taxation, India has signed a treaty called the Double Tax Avoidance Agreement (DTAA) with many countries.  Individuals can use the provisions of this agreement to avoid double taxation.
Rental Yield
Rental yield means what percentage of rent is paid in comparison to the value of the property. For Example, if a property is valued at Rs 1 Crore & rent is Rs 2 Lakh – rental yield is 2%. (2/100)
NRI Pays huge rent outside India so they think let's earn some in India but unfortunately, rental yields in India are very low 1.5% to 2.5%. (In developed countries like the US & Australia it's 5-6%)
NRI Property Management
Managing property is a big headache for everyone – for NRIs it's nightmare. Finding the right tenants, legal issues & maintenance of the property sitting outside India is not easy. You may be surprised that there are companies that are providing NRI property management as Service.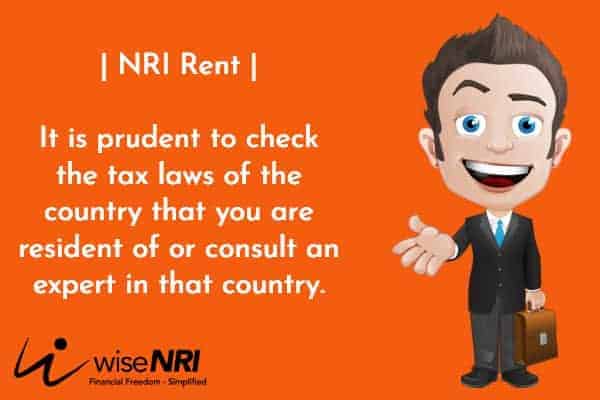 Check – Tax Rates for NRIs on Indian Income and Investments
NRI Rental Income
Two Examples To Make The Concept Clear
1) Ajay lives in Singapore. He has a house in Mumbai that is rented out. He earns a rent of Rs. 25,000 per month. He earned Rs. 12,500 in the financial year as interest income. How much tax does he have to pay?
Here is a working of his tax liability –
Particulars
Amount (₹)
Total Annual Rent Payable
₹ 3,00,000
TDS Payable
₹ 93,600
Net Rent Paid to Ajay
₹ 3,00,000 – ₹ 93,600 = ₹ 2,06,400
Total Income for the financial year for Ajay
₹ 2,06,400+ ₹ 12,500 = ₹ 2,18,900
Taxability in India
NIL

 

If total income in a financial year is less than Rs. 2,50,000, the tax liability is zero.

Taxability in Singapore
No tax will be payable for this income in Singapore**
2) Nandini lives in the US. She had purchased a property in India using a home loan. She pays interest on the home loan. She has rented out the apartment to her friend. The annual rent is less than the annual home loan interest payment. What is Nandini's tax liability?
Nandini can consider the difference between the interest and rent received as 'loss'. It can be set off against other income heads in the tax return and tax can be paid accordingly. If that is not possible in the current financial year, the loss can be carried forward up to 8 years to set off against any income received.
She does not have to pay tax on the rental income in the US though she has to declare it. She will get credit for any tax paid in India.
The tenant and the NRI are responsible to pay the requisite tax else either or both can be penalized for tax evasion. You have to understand the taxation rules thoroughly before filing your income tax returns.
**Note – Consult a CA for Tax Issues
Should NRIs Rent Their House?
It is always nice to earn some extra money in the form of rent. It is even better to think that your investment in the house is working for you and not lying idle. Moreover, if the tenant is a considerate person, the house will be maintained well. It will be in a usable state.
But there are many factors to consider while renting it out. If you are abroad, there will be no one around your property to manage or supervise it. Moreover, there will be costs involved in maintenance and repairs. You will have to deal with your tenant and that requires time and effort based on how considerate the tenants are. When you are back in India for a vacation, you will have to look for alternate accommodation as you will not be able to live in your house.
Alternatively, there are big tax implications for selling the house as there would be capital gains. You will have to use time and effort to manage ways to avoid the tax.
"Look at the pros and cons of renting/selling your house in India and decide on the basis of what suits you the best." wiseNRI
Please share your views regarding NRI renting a property in India & tax on rental income in India.