When people move from one country to another, they often face a lot of confusion about how taxes work. This is especially true for Non-Resident Indians (NRIs) who live in one country but still have to pay taxes in another country, like India. The rules can be difficult to understand and change frequently, which can make it hard for NRIs to manage their money effectively. But by learning about NRI TDS, NRIs can better handle their taxes and make the most of their finances.
What is TDS – India
TDS or Tax Deducted at Source is a tax collection mechanism in India where a person or company responsible for making certain types of payments like salary, rent, interest, commission, etc. is required to deduct a certain percentage of tax at the time of payment and deposit it with the government. This mechanism is also used for NRIs and in most cases harsh in comparison to resident Indians.
In This Article, we have covered everything you want to know about Indian TDS:
TDS on NRI
TDS on sale of property by NRI
NRI TDS on all types of investments and incomes
Simple Process Of Refund of Tax
Few other tips & tricks
TDS in India
Income earned or accrued by NRIs in India is subject to tax in India. Section 195 of the Income Tax Act covers Tax Deducted at Source (TDS) on payments/interests received by non-resident Indians (NRI). The rates and conditions for TDS are different for Non-Resident Indians compared to Indians.
Let us see the TDS for NRI on different sources of income & how to get back TDS amount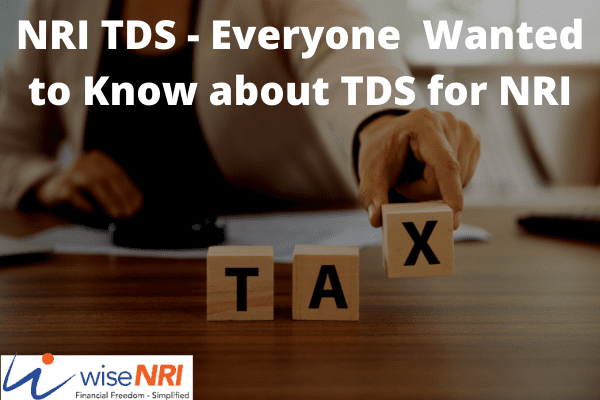 Must Read – How Can NRI Save Tax?
TDS for NRI
If an NRI earns income in India, they are liable to pay income tax if the total income for the financial year is more than Rs. 2,50,000. Some of the forms of income that are subject to tax in India (TDS for NRI is charged on most of these)
Interest income earned on bank savings and deposit accounts (NRO accounts)
Rent earned on property owned in India
Payment received for services rendered in India
Profits earned on the sale of bonds, mutual funds, and shares
Sale of property/gold etc. owned in India
Read – Tax Rate for NRI on Indian Income
TDS on NRI property sale
Whether a resident or nonresident – if you are selling a property there will be capital gain tax. But when NRI sells property there are TDS deducted by the buyer – if the property is sold within 2 years of purchase (short term gain) 30% & if it's sold after 2 years of purchase TDS rate is 20%.
| | | |
| --- | --- | --- |
| Nature of Capital Gains | Description | TDS Rate on Sale of Property by NRI |
| Long Term Capital Gains | Property held for more than 2 years | 20% |
| Short Term Capital Gains | Property held for less than 2 years | Income Tax Slab Rates of Seller |
How to reduce TDS on property sale by NRI
If you're an NRI selling a property in India and want to reduce your TDS liability, you can file an application in Form 13 with the Income Tax Department. This application is for obtaining a Certificate for Nil/Lower Deduction of TDS, which can significantly reduce your TDS liability. As the form filing process can be complex, many NRIs opt to hire a Chartered Accountant to handle it for them.
TDS on Tax on Interest earned from Bank Accounts
TDS on NRO fixed deposit interest
Interest earned on a Non-Resident Ordinary Account (NRO) is taxable. A TDS of 30.90% is applicable to it. If the Interest amount is Paid more than 10 Lakh, TDS Will be 33.99 %
TDS on NRE fixed deposits
Interest earned on Non-Resident External (NRE) FD and Foreign Currency Non-Resident (FCNR) accounts is not taxed in India. Therefore there is no tax deducted at the source.

Detailed Post – NRI Mutual Fund Taxation in India
TDS on Dividend
Earlier there was no tax and therefore no TDS was deducted on dividends earned on equity shares and mutual funds. But in 2020 union budget tax on dividends was introduced & for NRIs it's 20%.
TDS on Capital Gains
If an NRI earns short-term capital gains by selling equity shares or equity mutual funds, the gains are subject to 15% TDS. Equity mutual funds are mutual fund schemes that have 65% or more investments in equity. You can check the below table for TDS on capital gains Non Residents:
| | | |
| --- | --- | --- |
| Type of Fund | Short term capital gains | Long term capital gains |
| Equity Funds | 15% | 10% |
| Other Than Equity Funds | 20% | 10% (for unlisted) & 20% (for listed) |
Short-term gains are profits made by selling equity shares or equity mutual funds within a year of purchase for other funds it's 3 years.
Budget 2023 – Previously, the government had set a TDS rate of 30% for debt mutual funds. However, this has now been reduced to 20% or possibly even lower, depending on the Double Taxation Avoidance Agreement (DTAA) in place between India and the country of the investor.
Must Read – NRI taxes India
TDS on Insurance Policy
To simplify matters, here is a brief overview on taxation rules that have been amended recently and impact NRI policyholders –
Payments made by policyholders of Life Insurance, Annuity Products, Pension Plans, and Health Insurance products who are NRIs will be subject to TDS. Life insurance policies that are exempt from this are those policies that are exempt under section 10(10D) of the Income-Tax Act 1961.
The policyholder will need to submit the following documents to ascertain the applicable tax rate
– Tax Residency Certificate (TRC), duly verified by the Government of the country of which the policyholder is a resident.
– Self-attested Form 10F (since the TRCs issued by different countries may not contain all the particulars mandatorily required to be included under section 90(4) or 90A (4) of the Income-tax Act.
The Indian Central Government has entered into Double Taxation Avoidance Agreement (DTAA) with many countries so that a taxpayer (who is a resident of one of these countries) can claim beneficial provisions either of DTAA or of the domestic law to be applicable.
The rate of TDS will be determined as per rules of Income Tax Act 1961 and DTAA with the residence country of the policyholder if it has been signed. For availing of the benefits of DTAA, a policyholder needs to submit a Tax Residency Certificate containing defined particulars and other required documents. The maximum rate will be 30% + surcharge and education cess.
Read – Tax for NRI on Indian Income
NRI TDS on Other Income
One can earn income through other means such as rent or income from professional services. Here are the TDS rates for such other income –
| | |
| --- | --- |
| Income | TDS |
| Rent | 31.2% |
| Professional Services | 10% |
| Royalty | 10% |
| Technical Fees | 2% |
| Any income that does not fall in any of the above categories | 30% |
Important Points To Remember –
An education cess of 4% is applicable to all the TDS.
If the income earned is more than Rs. 50,00,000, a surcharge of 10% is applicable.
There is TDS on rent paid by individuals more than 50000 per month (when the landlord is resident) – but in the case of the NRI landlord, there is no lower limit.
If you buy any property or make an investment when you are a resident Indian but earn income when your status changes to NRI, then the rules applicable to NRI will be in force for tax matters.
NRIs have to file an income tax return if he/she has earned income of more than Rs. 2,50,000 or any income via short-term or long-term capital gains.
Sometimes it is a challenge for Non-Resident Indians (NRIs)to handle taxation matters when there are amendments to existing rules and provisions.
Read – Tax Strategies For NRIs
How to avoid TDS on NRO account?
There's a common query that can NRIs submit form 15 G & avoid TDS. TDS is not the final tax that one has to pay but people would like to avoid the hassle of claiming the refund. Forms 15 G & 15 H are allowed for resident Indians but unfortunately, this benefit is not available in the case of NRIs.
"In a few cases, if you want to avoid TDS – The form 10 F & Tax Residency Certificate (TRC) can be useful." wiseNRI
NRI TDS Refund
It is a rule that any payment made to an NRI is to be made after the deduction of tax at source (TDS). In many cases, NRIs have to pay income tax for global income earned in the country of residence. This results in double taxation for the amount earned in India. NRIs can claim a refund of TDS or excess tax paid in two ways –
File IT returns for the relevant financial year.
Utilize the Double Taxation Avoidance Agreement (DTAA) to avoid paying excess tax.
File IT returns for the relevant financial year
File income tax returns. You can visit this website to file your returns. The excess tax, if any that was deducted will be the amount due for refund.
Here are some details on the filing of IT returns –
A non-resident or a person not ordinarily resident in India, earning income in the form of salary and interest, is required to furnish a return of income in ITR-2 form.
If the NRI earns income in India via business/profession, ITR-3 has to be filed.
If the NRI earns income from business & profession (opted for the presumptive income scheme as per Section 44AD, Sec 44ADA, and Section 44AE), ITR-4 can be filled. There are some exceptions to the rule –

Income > Rs. 50,00,000
Business turnover > Rs. 2,00,00,000
Own foreign assets and/or capital gains
Earn agriculture income > Rs. 5,000
Earn income from more than one house property
Earn income from winning Lottery or Horse racing
Individuals who are directors in a company
Individuals who have investments in unlisted equity shares
The Tax Refund for NRI is processed by the Income Tax department within a few months (3-6 months) of filing returns. Refunds are made in electronic form, directly to the bank account of the taxpayer and in some cases an interest of 6% p.a. is given.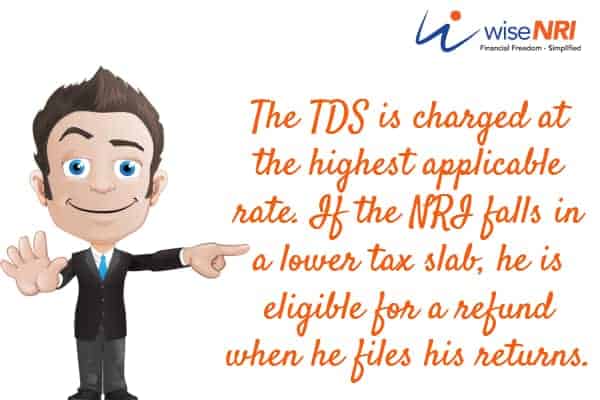 Check – How to File Return Online.
Utilize the Double Taxation Avoidance Agreement (DTAA) to avoid paying excess tax
DTAA is a tax treaty signed between India and other countries so that people do not end up paying tax on the same income twice in different countries.
There are three ways to avail the benefit of DTAA –
1) Exemption Method – Here, you are taxed in one country and exempted from tax in the other. Tax is deducted at source as per the rate applicable as per the DTAA agreement between India and the relevant country.
2) Deduction Method – The NRI pays tax in the country where income is earned. This income is subtracted from the total income and tax is paid as applicable to the difference.
3) Availing Tax Credit – The total global income is taxed in the country of residence of the NRI. Then tax relief can be claimed from the country where the income is earned.
The NRI should have the Tax Residency Certificate (TRC) and Self-declaratory-cum indemnity form to avail of DTAA.
Taxation rules for NRIs are not simple. Moreover, there are new changes in taxation introduced almost every year. Do understand the regulations properly and file your returns on time using the right documentation. If you are unsure, consult with a financial planner or tax expert who has experience dealing in personal finance matters of NRIs.
Hope this clarifies matters related to NRI TDS Refund. Feel free to ask your questions in the query section.