Are you an NRI looking for effective tax planning strategies? Are you unsure about your tax obligations in India? We've got you covered! In this post, we will share five simple yet powerful tax planning tips specifically tailored for NRIs.
Whether you are wondering about NRI taxes in India, tax planning for NRIs, or whether you should pay tax in India as an NRI, this guide will provide you with valuable insights and practical advice. Let's dive in and explore the world of NRI taxation and tax planning together!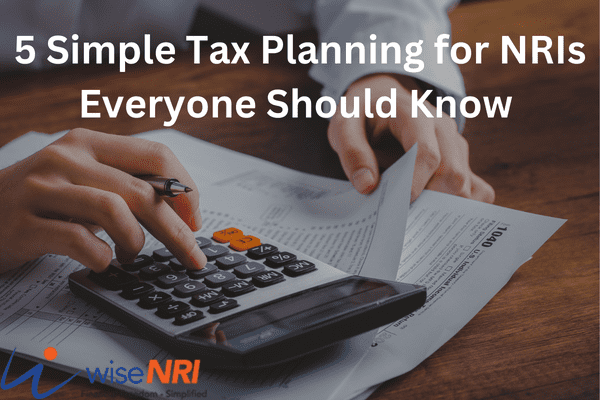 Check –
NRI Latest Tax Rates
NRI tax planning
As a Non-Resident Indian (NRI), you are subject to taxation laws applicable in India.
There are a few advantages and many disadvantages of the taxes policy for NRIs. But you can make the best use of these tax strategies for NRIs
Advantages of Tax Planning for NRIs 
Interest earned in NRE savings accounts and FCNR accounts is taxes-free.
Taxes on capital gains earned from the sale of house property is exempt if the gains are invested in a house property or capital gains bonds within a certain timeframe.
NRIs are taxed only 20% on income received on certain investments such as shares in an Indian company, deposits in banks and public companies, and central government assets and securities. If this is the only income earned, the NRI is not required to file IT returns.
Disadvantages Tax Planning for NRIs 
As a senior citizen NRI, you will not get the higher exemption limit enjoyed by senior citizens who are residents. If your income in India exceeds Rs. 2,50,000, you have to pay taxes.
Rental income is subject to 30% TDS.
Long-term capital gains on the selling of house property attract 20% TDS.
It is important to strategize our financial planning and tax planning for NRI so that we pay the right amount of tax.
Must Read – NRI TDS in India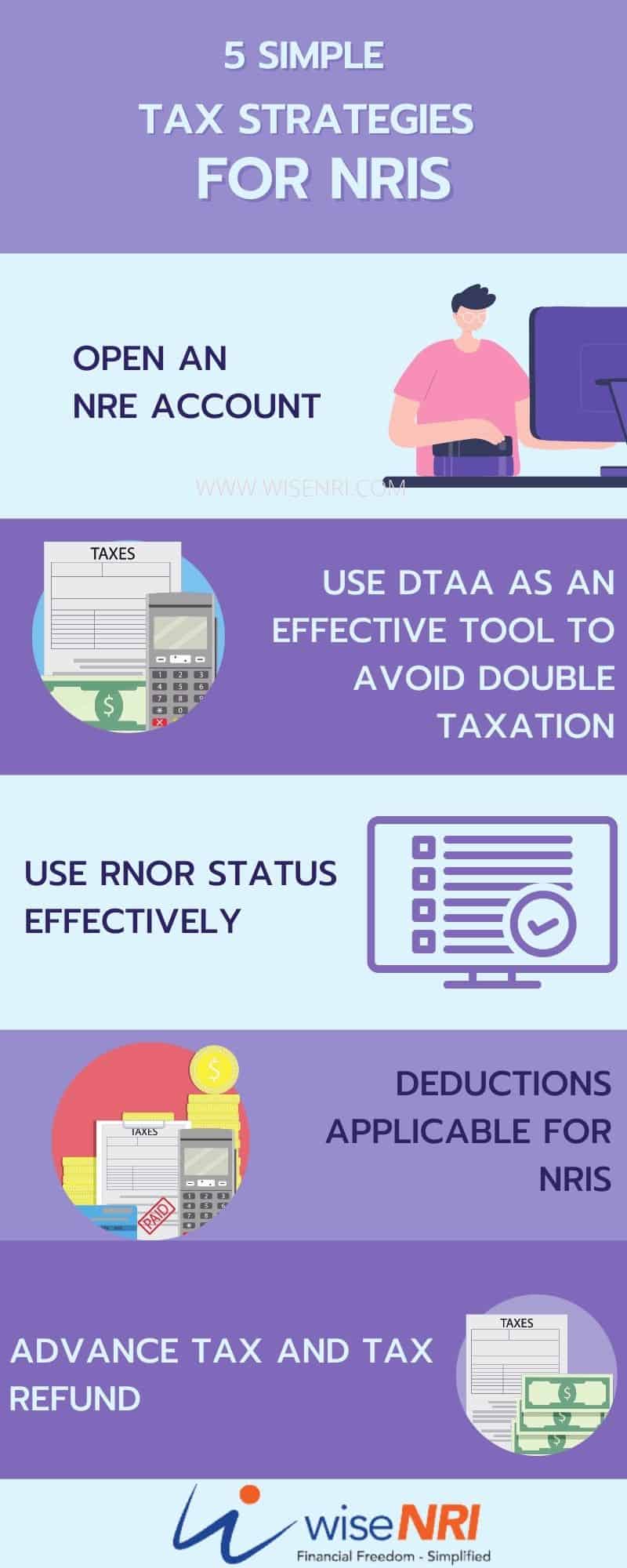 Detailed Post – NRI Mutual Fund Taxation
5 Tax Strategies NRIs Should consider 
 1) Open an NRE Account
An NRE account can be saving, fixed, or recurring deposit account. The principal and interest amounts are exempt from tax in India.
You can also repatriate principal and interest components from India to your country of residence without any tax liability. All popular banks in India offer NRE account services.
Must Read – How can NRI save tax in India
2) Use DTAA as an effective tool to avoid double taxation
Nobody likes to pay taxes twice on one income source. Therefore India has signed a treaty called the Double Tax Avoidance Agreement (DTAA) with many countries. Individuals can use the provisions of this agreement to avoid double taxation. You can claim relief from double taxation in three ways –
The exemption method follows the TDS method. You are taxed in one country and exempted from taxes in the other.
The deduction method ensures that taxes are paid in the country where income is earned and is subtracted from the total global income. Then tax in the other country is calculated on the difference between income earned and tax already paid in one country.
The tax credit method provides relief up to the extent of taxes paid in one country.
"DTAA Application Form – Form 10F should be obtained from the income tax department and verified by the government of the country where you reside." wiseNRI
Also, Check – What is TRC? (Tax Residency Certificate)
3) Use RNOR status effectively
If you have just returned to India, you can make use of the Resident but Not Ordinarily Resident (RNOR) status.
A person with the 'RNOR' status will have to pay tax only on income received or accrued in India.  Income earned abroad will not be taxed in India. Withdrawals from accounts abroad, rent received abroad and capital gains earned abroad will be tax-free in India. The RNOR status can be used to your advantage for three financial years from the date you returned to India.
4) Deductions applicable for NRIs
Most deductions allowed for residents are allowed for NRIs with respect to taxes calculation. So you can get the deduction for the following –
Interest paid on home loan for home and loan in India.
Premium paid for health insurance of self, spouse, children, and parents
Interest paid on education loans
Donations under Section 80G
Interest income on NRO savings bank accounts up to a maximum of Rs. 10,000
Use these deductions wisely to optimize your taxes paid.
For example, if you know you are going to return to India and want to own and live in your own house, you should consider buying one using a home loan. If you have dependent parents in India, you should buy health insurance for them.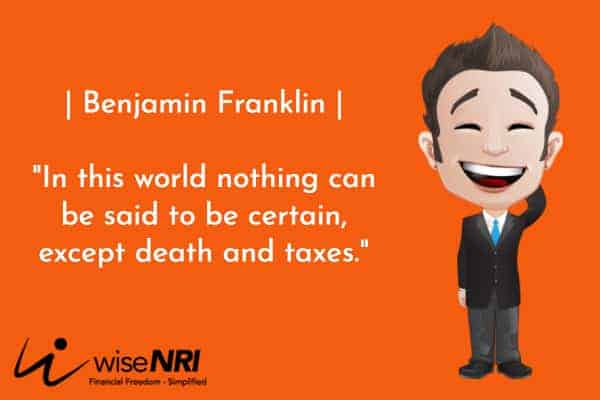 Check – All about FCNR Deposit for NRI
5) Advance Tax and Tax Refund
As an NRI, you are also liable to pay advance taxes. If your tax liability in a financial year exceeds Rs 10,000, you have to pay advance taxes. If you have missed paying it, you will have to pay interest. Advance tax can be paid on or before 15th June, 15th Sept, 15th Dec, and 15th March.
Similarly, you are entitled to a refund in case you have paid excess tax. The excess tax is automatically refunded to you provided you have filed your IT return and verified your IT return within the given deadlines for the financial year.
Check – NRI Gift Tax
You have to be careful while managing your taxes. As an NRI, you have to manage taxes in more than one country. This takes effort, time, and knowledge of tax regulations.
You may take the help of a financial planner or tax advisor if you are not comfortable managing it on your own. Once you are confident, you may even opt to do it yourself.
Please add your tax strategies for NRI  which can be useful for other NRIs. Also, feel free to add your questions in the comment section.