I am not sure about you, but our clients hate paying taxes. And if I say paying double tax – they will run to the Himalayas & may become a sage. Let's check how NRIs can avoid double taxation.
What is double taxation? 
If you are an Indian and a resident in another country (NRI)  with multiple sources of income across both the countries, you can get taxed twice – once in your resident country and once in India. There are other ways to get double taxed too.
For example, if you stay in India and work as a freelancer for a company based in the United States, your income can be treated as taxable income in both countries. In India, you are a resident earning income and in U.S., your income can be subject to tax as the source of income is from U.S.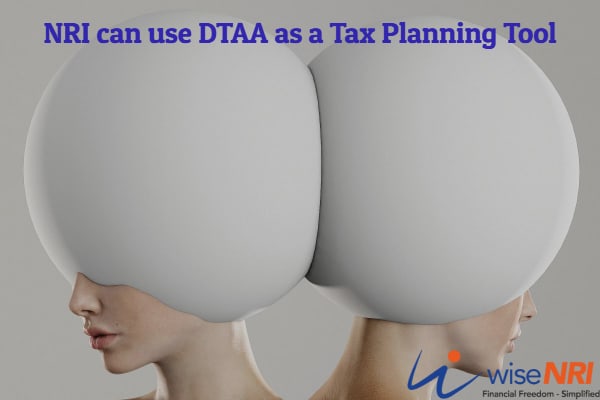 Read about – NRI TDS
What is DTAA?
Paying taxes twice on one income source is not in the individual's best interests. Therefore India has signed a treaty called the Double Tax Avoidance Agreement (DTAA) with many countries.  Individuals can use the provisions of this agreement to avoid double taxation.
How to avail of DTAA benefits?
You can avail of DTAA benefits in the following manner –
Check if the DTAA agreement is in place between the two countries in question. You can check here to find out if DTAA is applicable to the country in question.
Submit the following documents on time –
Tax Residency Certificate – You have to get a tax residency form from the government of the country you reside in. It has details like name, status, nationality, address, tax information.
DTAA Application Form – Form 10F should be obtained from the income tax department and verified by the government of the country where you reside.
Self Declaration and Identity Form – A declaration stating which country you reside for the relevant financial period and that DTAA is applicable in your case.
Self Attested copy of PAN Card
Self Attested copy of passport
Must Read – NRI Mutual Fund Tax
How is the DTAA benefit calculated and provided to an individual?
There are primarily three methods to claim relief from taxes under DTAA –
1) Exemption method
2) Deduction Method and
3) Tax credit method.
The exemption method follows the Tax deducted at Source (TDS) method. Here, you are taxed in one country and exempted from tax in the other. Tax is deducted at source as per the rate applicable as per the DTAA agreement between India and the relevant country.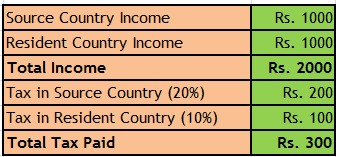 Let us look at an example. Here we assume a tax rate of 10% in resident country and 20% in source of income country.
In the deduction method, tax is paid in the country where income is earned and is subtracted from the total global income. Then tax is calculated on the difference and paid in the home country.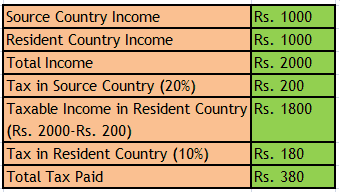 In the tax credit method, total global income is taxed in the country where you reside. Then tax relief can be claimed from the country where the income is earned.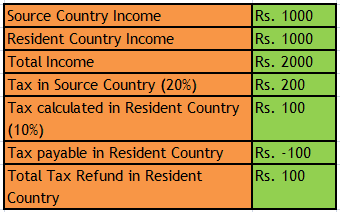 You can select the taxation method that is most beneficial to you. Example, you choose the exemption method if you have already paid taxes or use the deduction method when the tax rates are high in the other country that you are not residing in.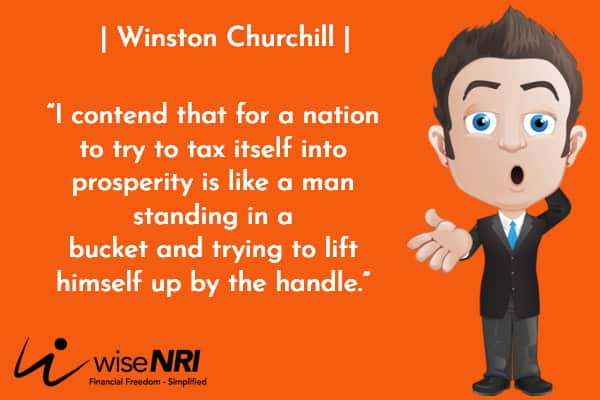 DTAA is a provision that can be used to reduce tax burden. You should not evade paying tax but plan your taxes such that you pay as less as possible within the legal domain.
If you are an NRI please share your experience with DTAA or taxation in your country.