Many people live in countries other than their own to earn money by way of jobs, business, and investments. Here comes the requirement for a Tax Residency Certificates India as it's commonly called.
People may have a secondary source of income in the country where they are citizens, but do not reside permanently. They may also have income as a result of some operations in both jurisdictions. Taxation of income for such people can be a nightmare as no country would like to forego its share of revenues, and the person concerned may end up paying double taxation.
Each country has its own tax laws, with some countries like the USA also having state income taxes applicable, and the criteria for "residency of the assessee" for taxation purposes may vary considerably. One must remember that the main criteria for "taxes residency" is the physical presence within a jurisdiction for the most part of the taxes assessment year.
In this Article –
What is Tax Residency Certificates?
What is the Double Taxation Avoidance Agreement (DTAA)?
How DTAA helps avoid double taxation?
How to get a Tax Residency Certificate in India?
Validity of the Tax Residency Certificates.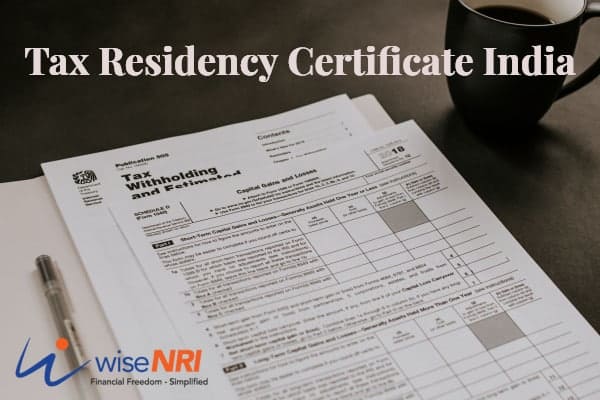 Check – How NRIs can save tax on their income in India
What is Tax Residency Certificates?
A Tax Residency Certificate India is a certificate issued by a competent tax authority to give you the status of "Tax-Resident" of the concerned country. Such a TRC certificate is needed to segregate your incomes and taxes on them on the basis of their point of origin even if they are moved from one jurisdiction to another.
Tax Residency Certificate India – rules for NRIs
For individual non-Resident Indians, their tax residency is dependent on the number of days they have stayed in India within a financial year (April 1 to March 31). Typically, u/s6 of the IT Act, 1960, one is said to be a Resident Indian (RI) for taxes purposes, if s/he was in India for more than 182 days in the given fiscal year.
A HUF is to be Resident Indian in a given financial year in all manners, except only when during that year its effective control and management was situated outside India.
Read – NRI TDS & Simple Process of Tax Refund
What is Double Taxation Avoidance Agreement?
The income earned in one country, say the USA, will obviously attract applicable income tax there. But it will be a double whammy if you would have to pay tax in India again on the post-tax income if you brought it to India for building a house, spending on family, or simply making an investment!
When you earn your income from two countries, your income may be taxable in both of them in accordance with their domestic taxes laws. To promote cross-border investments, migration of talented labor, and help their citizens avoid paying double tax on the same income, countries sign the Double Tax Avoidance Agreement or the DTAA with each other.
Double Taxation Avoidance Agreements between two countries have the objective to avoid taxing the same declared asset twice by both countries. The rules for DTAA applicable for NRIs are defined u/s 90 & u/s 90A of the Income Tax Act, 1961. The changes in these rules (and their explanations) are notified by the Central Board of Direct Taxes (CBDT) that comes under the Ministry of Finance, Government of India.
The provisions of DTAA allow you to benefit by subjecting your income only in one country and making it tax-exempt in the other automatically. A TRC comes in handy to help establish your residency tax certificate and apply the relevant DTAA rules for the application of tax jurisdiction.
As per the most common practices under the DTAAs income is taxed by the country where the individual was tax-resident normally for the said financial year – it can be the source country if the person was not resident in India for at least 182 days or will be India otherwise.
To understand better, suppose you are a resident of the USA (NRI) and also have income in India, then as an NRI, you would be liable to pay the tax on such income in the "source country" (India) and also in the "home country" (USA). If there is a DTAA in place between the USA and India, which fortunately is, you would pay the tax only in one country, and not both of them.
How DTAA helps avoid double taxation?
With the DTAA in place with most countries where a substantial NRI population lives and works, almost every NRI can take advantage of its provisions in more than one way:
It grants an exclusive right to tax to only one of the countries in the agreement.
In case both countries have the right to tax then there are provisions to limit the tax rate in both countries.
It also grants the NRIs the right to obtain a tax credit in India for taxes paid in the source country.
Check – India Tax For NRIs – On India Income
Incomes covered by the DTAA
Depending on the specific DTAA between India and a country the incomes covered may be slightly different, but for the most part following incomes are covered:
Interest income on deposits.
Dividend income.
Salary – from part-time and full-time jobs.
Capital gains – short-term and long-term both.
Consultancy, patent & license fee, and royalty income.
Income from the business.
Miscellaneous income.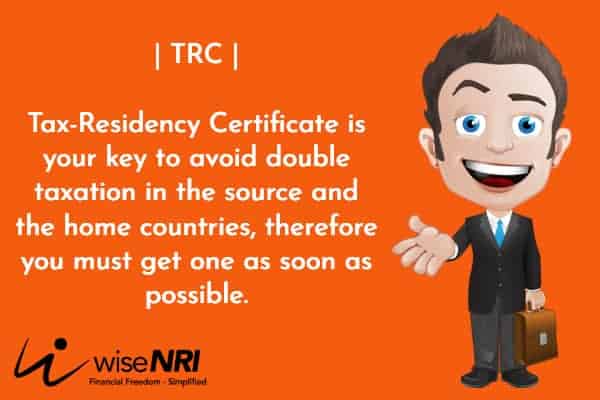 How to obtain a Tax Residency Certificate India 
Now it must be clear that a Tax-Residency Certificate is your key to avoid double taxation in the source and the home countries, therefore you must get one as soon as possible. To obtain one, you may approach the competent Income Tax authority of the country where you reside, like the IRS in the USA or the HMRC in the UK, to obtain a TRC.
You must check with your financial advisor, the CA, or the CPA to avoid missing any deadlines and lapses in the procedure to obtain a TRC. Your financial advisor or the local bank, where you have your local bank account, may help you with the format to apply for TRC in the country of residence.
How to get a Tax Residency Certificate in India
As NRIs need to obtain the TRC in their respective countries, and the exact minutiae may be different everywhere, here we present a guide to obtain a TRC certificate in India for any "tax-resident of India" (TRI from hereon).
Residency Certificate Form 10F: A TRI needs to submit Form 10FA to the competent IT authority in India. If you have received your TRC from the country of your residence, then you will need to submit it to your bank and taxman in India to avail the benefits of the DTAA. For e.g., if you do not submit your USA TRC with Indian IT authorities or banks, there is a TDS of 30% applicable on interest, which might not be refundable. But if you submit the TRC in time, the effective rate would be only 15%, a 100% savings.
Check – Tax-free incomes for NRI
Tax residency certificate for NRI requirement in India
Mandatory details in a residency certificate.
U/s 90(4) of the IT Act, a TRC (for NRI individuals) must have the following details:
Name of the assessee.
Status of the assessee – individual, company, firm, etc.
Nationality of the assessee.
Unique Tax Identification Number (TIN) of the assessee in the country of residence or a unique personal ID number for identification used by the Government of the country in case the TIN is not available.
Period for the applicability of the residential status.
Residential Address of the applicant for the period during which TRC is applicable.
A TRC with all these above details and duly verified by the Competent Tax (or Government) authority of the country of residence must be submitted by the NRI to tax authorities in India and vice-versa.
In case if any of the details are missing in the TRC, anyone submitting their TRC in India needs to submit information sought in Form 10F India u/s to the taxman. Other countries also have similar provisions.
Validity of the TRC
A TRC is issued fresh for each financial year for which it is applicable and is the only document acceptable by governments all over for granting benefits under the DTAA provision. Therefore, it becomes necessary to obtain a fresh TRC each year and submit it to the tax authorities and/or banks.
Hope this article clarified to you what is TRC or Residency Certificate. Please share your views & experiences getting an India tax residency certificate or from any other country.