Money is an emotional topic for most of us. When one is in a bit of a financial spot, people do turn to their family and friends for help (especially if you are an NRI).
Most of us try to help too because we care for them and refusing can lead to complicated situations.
The pandemic has led to layoffs, business problems, salary cuts, meaning more people are in difficult situations. Moreover, it is too easy to borrow or lend money too with various mobile apps. It almost gives you no time to think!
But most wiseNRIs will agree with me when I say, it is a financial blunder to lend money to family members or friends.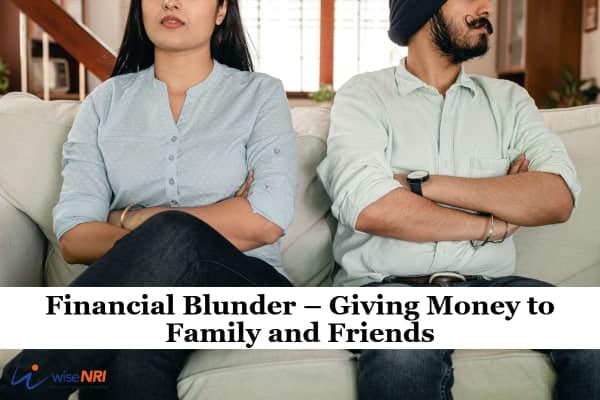 Also, Check – How to Fix common Mistakes of NRIs
My Story
In 2019 one of my relatives asked me to give some amount to him as he required that for his existing business. The amount was significant (and there was no emergency) so we decided to politely say no – that impacted our relationship but that was expected. Last month he expired fighting covid. Can you imagine what would have happened to my funds? NPA
It's not that we don't support our family members or friends in their needs but for us, it's still a financial decision.
I have worked with many NRIs who due to emotional reasons (pressure) gave a lot of money to their family members or supported their friends in starting their businesses – in most cases, end result was the loss of Money & Relationship.
In hindi there's saying
 गाँठ का देय और बैरी होय or उधार दीजे, दुश्मन कीजे
(किसी को उधार दे कर आप उससे दुश्मनी पाल लेते हैं – By lending to someone, you take enmity with him)
WHY it's a Financial Blunder
It is difficult to ask for repayment of loans from family members or friends. It gets awkward and can result in the relationship being strained.
The borrower does not like to be reminded about repayment by a family member or friend and the lender cannot accept the fact that the loan repayment is not a priority for the borrower.
You may not ask for any interest on the money lent. This can lead to problems later on especially when there is a delay in repayment or you have an immediate or urgent financial need.
You may need the money. If there is an emergency and you are short of money and your money is not repaid, it can lead to a sticky situation for you.
If you think in a Falling interest rate scenario it's wise to lend money to your know people – it's huge blunder.
Check – NRI bonds in India.
HOW
If you have decided to go ahead and lend money to your family or friend, ensure that you follow the right strategy so that all parties get a fair deal. You should strike the right balance between the financial aspects of the transaction and your relationship.
Also, Check – Overseas citizens of india 
WHAT – Assess the financial request
When your friend asks for a loan, do not immediately transfer the money to their account. Ask for some time and evaluate some aspects. Check if your friend borrows money all the time and if they repay on time. Scrutinize the use of the loan. If it is for an emergency or business expansion, you can consider it but a small amount. If it is for consumption purposes or bad money habits, you can think of rejecting the request as it can lead your friend to a worse position.
How much can you trust the person? Preferably, lend money to people you know very well and trust that they will sincerely try to return the money.
You should be clear on how you will feel if you do not get the money back or if you have to make multiple reminders about repayment. Try to assess the frame of mind your friend will be in when they cannot pay the money back or when they get repeated reminders. If the loan will put an undue strain on your relationship avoid it.
Check your financial status. Avoid lending if you have any financial requirements arising in the near future or do not have an emergency fund stacked up. Do not rely on the money coming back to you to fulfill your financial needs in the future.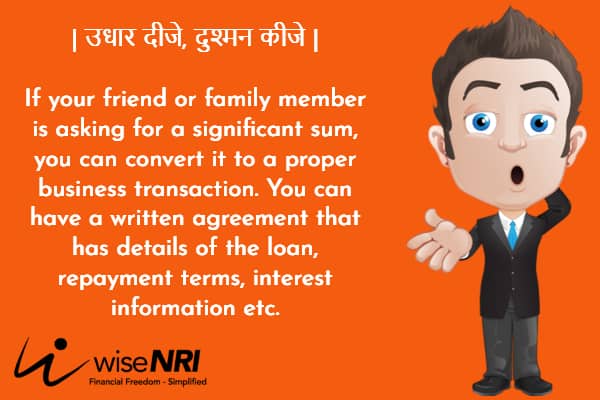 Must Read – Top Personal Financial Magazines in India
Ask The Right Questions
You have the right to know where your money is going, especially if it is a large amount. Find out the reasons for the loan and check out alternative solutions together, if possible. You can also ask about repayment and interest involved. Ask your financial planner how the loan will affect your financial books and his or her opinion on the loan.
Lend money that you can afford to lose
A bank might ask for collateral and a credit score while giving a loan. But on a personal basis, this is not possible. If you cannot avoid giving the loan, lend money that you can afford to lose. Extend financial help up to the extent that it will not mess up your finances. Treat the money given as a gift. If the money comes back to you, it is a bonus! In this way, you will not harm your emotional well-being.
Check – How can NRIs manage Financial Uncertainty
Document the terms and conditions
If your friend or family member is asking for a significant sum, you can convert it to a proper business transaction. You can have a written agreement that has details of the loan, repayment terms, interest information (govt may not allow you to give money as interest-free – talk to your CA), etc. Sometimes, an informal e-mail or message to record the loan is sufficient too. Do remember that this can get awkward. It depends on your relationship and the maturity levels of both of you. If both parties can keep the emotional and financial aspects separate, the transaction can be successful.
Read – Financial Must-haves for NRIs
RULES
Here are some rules to follow when you are lending to family and friends
Avoid getting into monetary transactions with family and friends. You can politely decline the request. When you decline 2-3 times, people will not ask you.
Expect and prepare yourself for various scenarios like delay in repayment, zero interest, and no repayment.
Lend money that you can afford to lose.
Inform your spouse and financial planner about the loan. (if you are not involving your spouse in these decisions – it's financial infidelity & can spoil your relationship)
Do not lend money, however grim the situation may be if it will put your finances in jeopardy.
It is difficult to see loved ones in financial trouble. But money transactions with them are tricky, especially when they are desperate. Both parties have to be careful, mature, and transparent about them. If either party is unsure of the commitment involved, it is better to not get into monetary dealings.
If you would like to discuss your personal finance with us – check this.
If you have experienced Financial Blunder – NRIs Giving Money to Family and Friends this in past -please add your views in the comment section.