Some of us may have more time in our hands because of the lockdown. College students do not have to go to classes in college or private classes. Restaurants and malls are shut down. So most employees are at home and patrons are forced to cancel their visits.
We can utilize this time to gain some knowledge of personal finance and economics. The Internet, as usual, has an overload of information. It is easy to get confused and overwhelmed by the amount of information.
Best Magazine for Finance in India  
Though the lines are blurring between magazines, news portals, and newspapers, I have tried to demarcate the sources as many people want the best in different categories –
Check – Which Is the Best Bank for NRI In India?
Best Financial Magazines about money 
Outlook Money
Outlook Money is a popular best financial magazine. It covers news and views on mutual funds, insurance, equity, real estate, and banking. Outlook money magazine that specializes in personal finance. It also has a feature for queries related to personal finance magazines. It is offered in Hindi and English.
Economic Times Wealth ( ET Wealth) 
The newspaper, Economic Times publishes a magazine -'ET Wealth' on a weekly basis. It focuses on personal finance. It has a lot of content on how current affairs affect personal finance. These magazines about money information on taxation, stock markets, insurance, investment instruments, and credit. It has a lot of real-life examples of people and their financial status and issues and how these issues can be resolved. You can access past issues of the magazine as well on the website.
Must Read – NRI Save For Early Retirement
MoneyLife
Moneylife is the best financial magazines that aim to disseminate business news and also promote financial literacy. It has articles and unbiased views on investments, taxes, and advice related to personal finance. The magazine delivers a lot of content on promoting awareness of regulations and on the protection of interests of investors and consumers.
The Moneylife advisory offers weekly Stockletters based on selected investment portfolio types. Each has a summary of the market trends, stock recommendations, etc. Readers can also buy the Stockletters that are appropriate for them.
Financial Portals
It is my 'go-to' portal when I want to check current economic news or want to check the performance of stocks or mutual funds. It publishes comprehensive data on stocks, MF schemes, debt instruments, taxes, IPOs, insurance, and commodities. You can make your investment portfolio within the website and track prices and performance with the information there. It also provides video content and podcasts. Moreover, you have the option to subscribe to different packages that give you access to premium articles, knowledgebase, trade calls, and expert analysis.
Must Read –How NRIs Can Choose The Best Financial Planner in India
This website is a comprehensive portal for investment knowledge. It focuses on mutual funds. It has information on other investment avenues such as equity. There is information on personal finance and retail investors can download reports on various topics such as insurance, savings, etc. It provides a stock advisor component for retail investors and products that provide data, analytics, and content to professionals such as investment analysts, investment firms, financial advisors, and banks. It does not focus much on news related to business and the economy.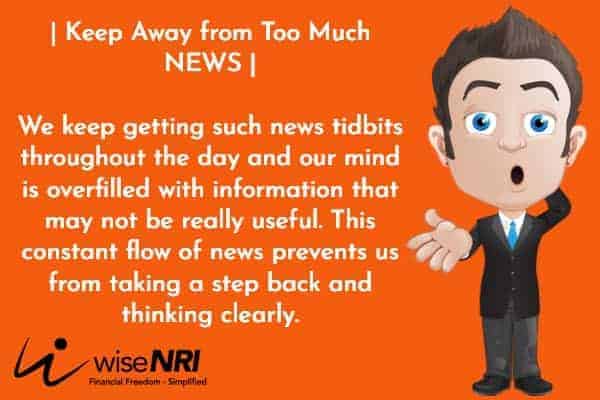 Check – How Can  NRIs invest in stocks?
Best stock magazine India
People who are interested in investing in direct stocks can consider Dalal Street Investment Journal or Capital Market – these are the most-read investment magazines in India. You may be surprised that they started publishing these magazines much before any other personal finance magazine was there in the market.
Financial Newspaper
Economic Times
This newspaper focuses on the Indian business scenario. It also covers political news and other news of national interest. There are editorials and opinion pieces that provide in-depth insights. You get a sense of different viewpoints on various topics. It also covers information on stocks, mutual funds, real estate, etc. There is a range of financial calculators that you can use. It includes a feature called – 'ET Portfolio'. You can create your entire investment portfolio there and add your financial goals and targets and link them to the portfolio.
Must Read – Resident Foreign Currency Account
LiveMint
It is similar to Economic Times but focuses more on news related to banking, mutual funds, markets, insurance, and companies. It features a section on personal finance with relevant articles and a Q&A section. The newspaper, livemint is different from Economic Times. It covers more topics and additionally gives a more global view. It is also a no-frills and fuss newspaper. It has many opinion pieces and editorials on climate change, technology, judiciary, politics, education, and economics. The weekend edition, of course, has an expanded coverage area. It has lots of articles for leisure reading and touches upon different aspects of life such as technology, music, fitness, etc. It has recently tied up with the Wall Street Journal and paid subscribers can get access to content from the Wall Street Journal and some other premium content generated by livemint.
Livemint writes lots of content for NRIs including a query section – this can be useful for you – Link
Business Standard
Business Standard is another popular financial newspaper. It offers in-depth, serious economic news. The standard of content is higher as compared to the Economic Times. It gives a detailed overview of markets, companies, technology, and sports. It gives detailed information like prices, historic prices, financials, comparison with peers, etc. on stocks.
You can subscribe to the premium package of Business Standard. It provides access to exclusive content – Insights, Features, Comments, and Portfolio Analysis.
Warren Buffet and Bill Gates invest a substantial amount of time in reading despite their demanding schedules. You and I can emulate them and develop a reading habit so that we become well-informed, knowledgeable, and intelligent citizens and investors.
This post is written by Vidya – she is an NRI
"If you like taking the collaborative approach with your planning, and you don't want to read all the information & manage your own investments."
Talk to us about Your Finances
If you have any inputs or suggestions for this post – add them in the comment section.