India is an attractive destination for investors. There is potential for good returns in the Indian stock markets. Therefore, NRIs, PIOs, and OCI cardholders also want to participate in the Indian market to earn income and grow their wealth.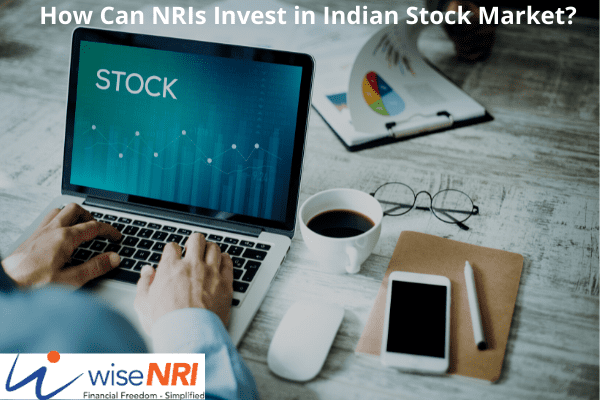 Read –Investment restrictions for NRIs In India
How Can NRIs Invest in Indian Stocks?
NRIs, PIOs, and OCI cardholders can purchase shares of an Indian Company through Indian Stock exchanges. They need to have a portfolio investment scheme (PIS) account for their transactions.
NRIs can invest in equity shares of listed and unlisted companies, subject to certain conditions laid down by RBI.
How can an NRI, PIO, or OCI cardholder invest in Indian stock market?
NRIs, PIOs, or OCI cardholders can open an NRE or NRO account along with a PIS (Portfolio Investment Scheme) account in any designated branch of a bank that is authorized by RBI to manage PIS. They also have to open a trading account with a registered broker. (PIS is not required for Mutual Funds)
They can contact the relevant bank and fill in the requisite forms and submit documents as required. The typical documentation required is-
Passport
Photographs
Bank account statements
Depository account statements
Valid visa and/or PIO/OCI card (as applicable)
Proof that the person is born in India,
PIS Permission Letter from the respective designated bank
PAN Card and
Proof of address for an overseas address

Read – How Change in Residential status affects different Accounts
What are the rules regarding NRI investing Indian stock market?
Indian Stock market Invest by NRIs, PIOs, and OCI cardholders are subject to certain conditions –
Intra-day trading is not allowed. Transactions in the cash segment have to be settled by delivery.
Short-selling is not allowed which means securities should be available before executing any sell order
There cannot be transactions in securities that are on the RBI ban list.
The payout on the sale of securities should be transferred to the respective NRE or NRO account based on whether the purchases were made on a repatriation/non-repatriation basis.
Must Read – HSBC Report Review
What are the taxation considerations on investing in stock markets in India?
The present long-term capital gains tax rate is 10% on listed shares. This is applicable to stocks that have been held for more than 12 months. This applies to gains over Rs. 1,00,000 in a financial year. Gains up to Rs 1,00,000 in a financial year are exempt from tax.
The short-term capital gains tax rate is 15% and that is applicable for shares held for 12 months or less.
The dividend rate of tax is 20% for non-residents and this has to be withheld by the company while making payment of dividends,
The taxation is subject to the provisions of the respective Double Taxation Avoidance Agreement (tax treaty), as applicable.

Is repatriation of sales proceeds allowed?
If the NRI/PIO, sold shares that were held on a repatriation basis, the sale proceeds (after deduction of taxes) can be credited to his NRE /FCNR(B) accounts of the NRI/PIO. The sales proceeds of shares held on a non-repatriation basis can be credited only to NRO accounts.
What other information should I know about NRI Invest in the Indian Stock market?
NRIs can have two trading accounts each on an NRE and NRO basis.
NRIs can invest in futures & options using funds held in INR in India on a non-repatriation basis, subject to the limits defined by SEBI.
There is a ceiling on the extent of NRI invest in the Indian stock market.
NRIs can continue to hold securities purchased as resident Indians, even after they have become non-resident Indians, on a non-repatriable basis.
People who have their status changed to 'resident Indian' have to inform about it to the bank branch where they have the PIS account and the DP where they have their Demat account.
NRIs have many investment options in India, and they should make use of these options to their advantage so that they can earn returns and build financial assets. also if you have any questions about "investing Indian stock market" you can add them to the comment section.