Investments made by non-resident Indians (NRIs) are usually treated as 'foreign investments' and are governed by the Indian foreign exchange regulations. Over time, these regulations have been liberalized, but there are some avenues wherein NRIs cannot invest or partake in like resident Indians. We have highlighted the restrictions on NRI investments here: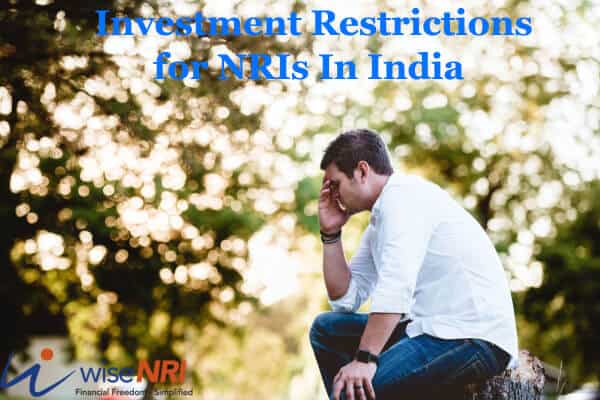 Check – 10 Best NRI Investment Options in India
Investment Restrictions for NRI
NRIs cannot have residential banking accounts. When a person becomes an NRI, the banking accounts have to be converted to an NRO account.
As an NRI, you can continue with the PPF account that you opened when you were a resident Indian. However, the PPF account cannot be extended after the maturity period of 15 years. An NRI is not allowed to open a PPF account in India.
If you are an NRI from the USA or Canada, there are restrictions on investments in mutual funds. Many mutual fund houses do not accept NRI investments due to extensive documentation because of FACTA compliance regulations.
NRIs cannot invest in the equity market or mutual fund schemes using their residential Demat account. They have to open a Portfolio Investment Scheme account (PIS) with a broker and use that to buy and sell investments.
Even with a PIS account, NRIs cannot engage in all trading activity. For example, NRIs cannot engage in intraday trading in stock markets. Short selling is not allowed for NRIs. As an NRI, you can invest in only up to 10% of the paid-up capital of an Indian company. NRIs may be barred from investing in certain stocks and sectors, as per RBI mandates.
NRIs are not allowed to trade in currency derivatives and commodities.
NRIs and OCIs are not allowed by law to purchase lands or plantation property, or farmhouses in India unless they acquire special permission from RBI.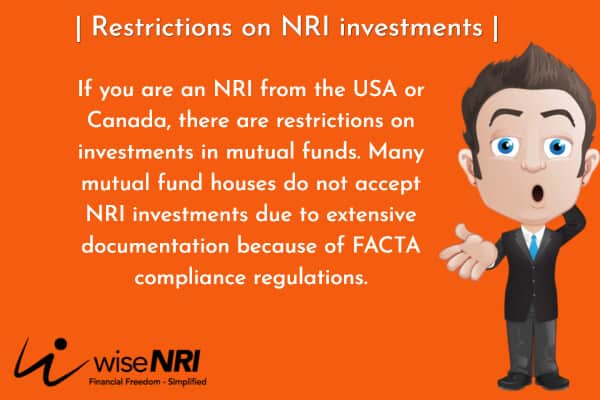 Must Check –NRI Investments in Commercial Property
So How can NRIs invest in India?
You can open a Non-Resident (External) Rupee Account (NRE), a Non-Resident Ordinary (NRO), and/or Foreign Currency Non-Resident Account (FCNR) account with an Indian bank to manage your money in India.
An NRI between the age of 18 years to 60 years can have an NRI NPS account with a POP (Point of Presence) in India. NRIs can also open an eNPS account with a PAN card or an Aadhaar Card.
NRIs from most countries can invest in mutual fund schemes. These are some of the Mutual fund houses that accept investments from NRIs, even from the USA and Canada:
Aditya Birla Sun Life Mutual Fund
SBI Mutual Fund
UTI Mutual Fund
ICICI Prudential Mutual Fund
TATA Mutual Fund
L&T Mutual Fund
PPFAS Mutual Fund
Sundaram Mutual Fund
Reliance Mutual Fund
Franklin Templeton Mutual Fund
Check – NRI KYC For Mutual Funds
Do check with the mutual fund house before you start the process of investing on regulations related to Investment restrictions for NRI.
NRIs can invest in equity by opening a PIS account that is associated with an NRE or NRO account.
NRIs can invest in equity futures and options using an NRO account and getting a Custodial Participant (CP) code.
NRIs can purchase immovable property such as residential or commercial property in India.
NRIs can subscribe to corporate deposits, NCDs, and PSU bonds issued in India if the issuer specifically enables the 'NRI Window' in an offer.
Though there are some Investment restrictions for NRI, NRIs can invest in India. There are some processes and documentation that you will have to follow to invest once you become an NRI. But once the initial work is done, it is pretty seamless, and participate and take advantage of the India growth story.
All successful investing is Goal Focused & Planning Driven. All failed investing is market-focused & return-driven.
If you agree – let's talk about YOUR Goals & Plan.
If you have any questions or views related to investment restrictions for NRIs – add them in the comment section.