In the course of my career path of financial planning and advice, I have taken courses, received degrees, and also completed technical courses. They provide a solid foundation so that I can service my clients in the most competent way.
But another great teacher in life is 'Experience'. The experience of interacting with NRI clients in 10 years,  managing portfolios, making investments, and handling various financial situations is irreplaceable. Managing finances for an NRI is different in some aspects as compared to financial management for Indian residents.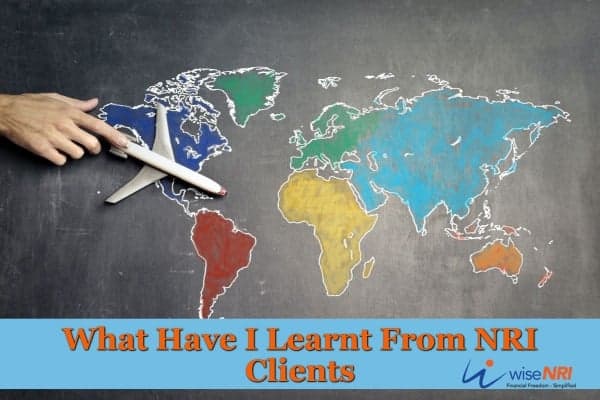 Few Learnings from NRI Clients
I have learned valuable lessons from my NRI clients  Experience- sharing a few of those
1) Risk Management
As I managed money for clients from different parts of the world – the Middle East, the UK, Far East, and the US, I learned about global markets and how economic forces in one part of the world affect other countries. I understood that I have to manage their money in multiple currencies. Their investments and expenditure could be in more than one currency and their income could be in one currency. This meant I had to budget and plan considering multiple currencies and also include risk management measures for currency fluctuations.
But if you think I can guide you on the best times to transfer money to India – you are wrong. Timing the money transfer is similar to timing equity markets 🙂
Check – Financial Planning for NRIs – how it's different & complex
2) Investments and Taxation
NRIs are more attuned to long-term investments. They are fine with holding on to their investments. But at the same time, they invest in an ad hoc manner. When they visit India, they make a few lump sum investments and then forget about it.
As a financial adviser to NRIs, I have understood to educate them on regular investment plans such as SIPs and also investing in products suited to their financial objectives and financial status. For example, pension plans may not be suitable for them. I have to manage their investments taking into consideration the different taxation structures as compared to residents to be able to maximize their investment returns.
Let me accept we are not CAs & understanding is limited when it comes to tax laws. But let me share that even most of the CAs don't understand NRI Taxation – at least our knowledge is better than them or our ability to find the right answer is better.
Read – 5 Financial Planning Moves for NRIs in 40s
3) Every potential client cannot become a client
I learned at the very early stage of my career that we should choose our clients – then only it can be a lifelong relationship.
In the eagerness to grow your business, you will be tempted to take on every prospect as a client. It may not work out well always. When you meet a client, try to understand if you would like to work with them. Get answers to questions like –
Why do they want a financial planner?
Why did they leave their previous planner?
What are their money objectives?
Do they have extreme reactions?
What is your gut feeling about the client?
If you get a good feeling about the client and are convinced that the relationship will be positive, onboard the client.
"In our case, one clear red flag is if the client only wants to talk about investment & investment returns – we prefer to focus on goals & then talk about assigning resources to achieve those goals." wiseNRI
4) Onboarding & Managing Process
The onboarding process for an NRI client takes longer than the process for a resident Indian. There is a lot of documentation involved, many signatures are required and verification of documents is needed for investment accounts. Some of these things are possible only when the NRI client is in India. Another option to kickstart the process is to send them all the documents via e-mail and they can either complete it, sign it and get it with them on their trip to India, or courier the documents to you.
As we are Virtual advisors from the day we started our Financial Planning practice in 2009 – we adopted the best available technology & tools. We were able to virtually advise, online implement & monitor things even in the pre WhatsApp era.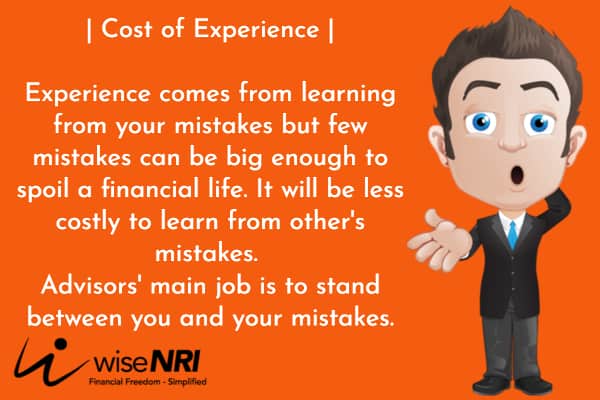 Must Read – How NRIs can choose the right Financial Planner
5) Extent of expertise
There are two kinds of NRI customers. One set is usually well-informed about investment options in India and their place of residence. The other set does not know the scenario in the Indian market and just depends on hearsay. You have to understand the type of NRI.
The well-informed NRI would require a financial adviser who is experienced and has expertise in dealing with economic conditions in multiple countries and understand tax structures in India and his place of residence. They also look for investment products beyond the traditional products and go for high-value investments if they are convinced of the product. If you are not an expert in financial matters in the country of residence of the NRI, it is better to be upfront about it and get them an investment advisor who can manage that aspect of the financial plan. We openly suggest to many prospects that they should hire a Certified Financial Planner in their country of residence if they plan to retire outside India.
The other set of NRIs requires handholding in every step. You will have to set their financial objectives, manage their investments such that they are not overweight on any one asset. Their taxation and documents have to be managed appropriately. For example, they might not understand the need for insurance. You will have to patiently explain why it is necessary for the long run especially if they plan to return to India.
As you get more experienced, you will learn more. Similarly, I think these lessons have helped me to understand NRI client needs better & provide them the right solutions & guidance.
If you have any questions related to your financial plan or you would like to share your experience working with a Financial Planner – please add them in the comment section.