Single parents have double the responsibility – They have to take care of the family, manage finances and ensure they give their children the best education, experiences, and opportunities possible. As a single parent who is an NRI, it is more challenging. You are in a foreign country with little or no help. How can NRI manage finances wisely to secure your and your children's financial future?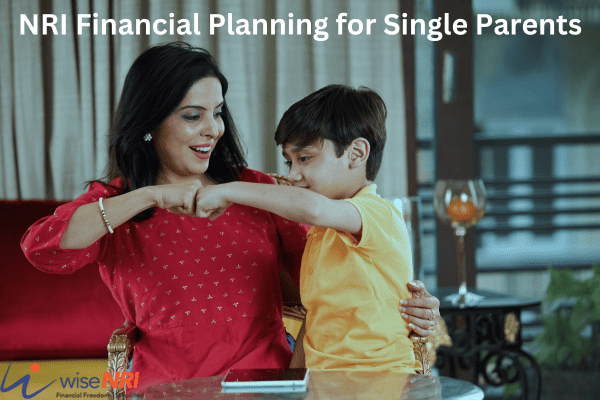 Must read – Financial Planning for NRIs – How it's Different and complex
As a single parent, your top priority is undoubtedly the well-being and security of your children. Financial planning offers you the opportunity to lay a strong foundation for their future, regardless of geographical boundaries.
Here are some financial planning tips for NRI single parents that may help you with securing your child's financial future:
1. Follow a Budget
Creating a budget and following it is critical as there is no other person to share costs. Track spending for a few months and then set up a budget for fixed and variable expenses and try to follow it. Over time, you may find ways to cut down costs.
In some countries like Singapore, living expenses are high, and therefore, single parents must look at different ways to save money. Also, depending on the children's age, teach them the importance of budgeting and explain the rationale behind certain financial decisions.
2. Avoid Debt
We live in an evolving and connected world where social-political and economic changes in one part of the world affect other parts. It means the state of your job, business environment, inflation in the place you live, etc., are unpredictable. With children who are solely dependent on you, avoiding liabilities and paying off debt as soon as possible is better. Pay off debts with high-interest rates (e.g., credit card balances). Pay more than the minimum amount, if possible, on other debts so that you can fast-track your payment.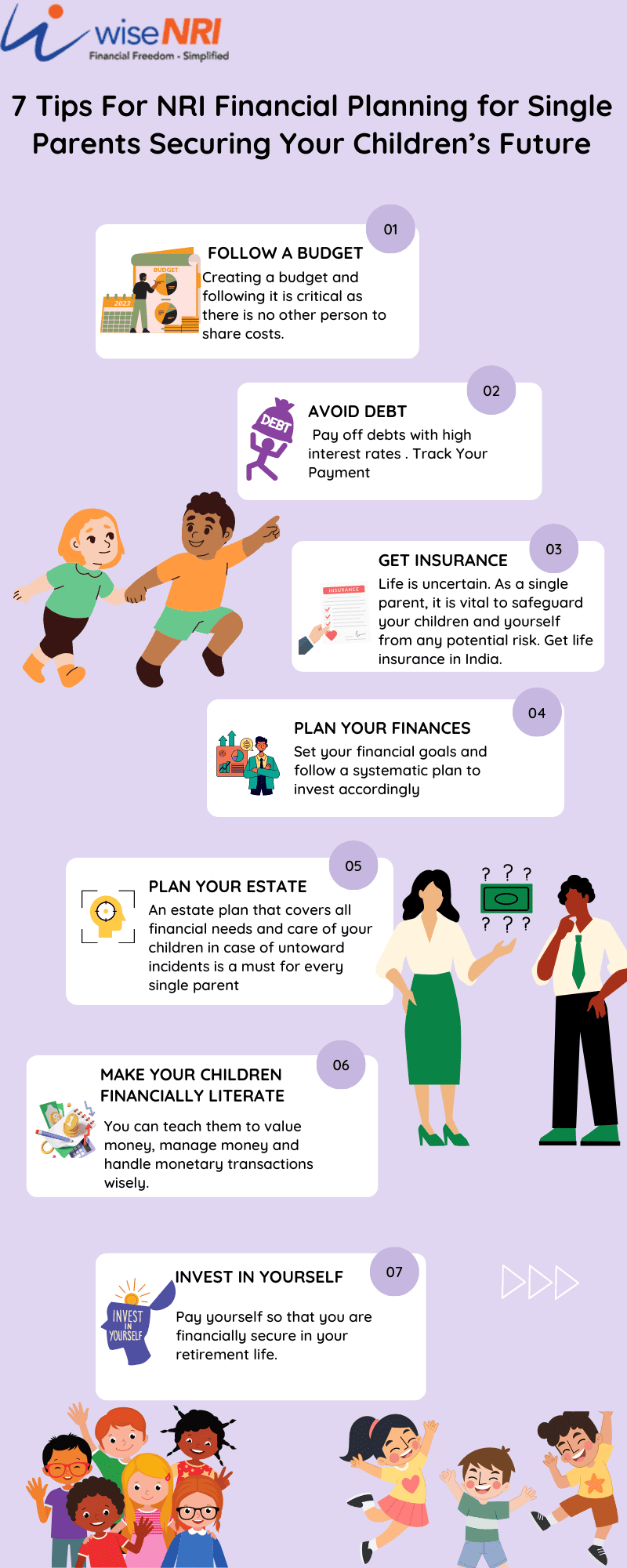 Check:  How NRIs can choose Financial Planner in India
3. Get Insurance
Life is uncertain. As a single parent, it is vital to safeguard your children and yourself from any potential risk. Get life insurance in India. You can nominate your children as beneficiaries if they are major or if you think you will live till they turn major. Else, you will have to nominate a guardian and ensure that the claim proceeds go towards your children's living expenses and care. Depending on the rules in the country you reside in, figure out about life cover there as well. Check your health insurance. Does your company provide health coverage for you and your children? If not, have an adequate health cover that indemnifies the risk to life and covers the cost of medical treatments and healthcare for you and your children. Ensure that the documentation is clear to avoid issues during the claim if the need arises.
4. Plan Your Finances
Being the only financial provider is a huge responsibility, and it is critical to plan your finances. Set your financial goals and follow a systematic plan to invest accordingly. Invest in different assets based on your goals, financial capability, and risk level. Remember that NRIs cannot invest in all products in India and, if possible, invest in global products to create a diversified investment portfolio. With the correct planning and execution of finances, you can create wealth, generate returns and achieve your financial goals.
Read – Benefits of early Financial Planning for NRIs
5. Plan Your Estate
An estate plan that covers all financial needs and care of your children in case of untoward incidents is a must for every single parent. Here are some steps to plan your estate appropriately –
Create a will listing all your assets clearly and how you want to transfer them. Divide them clearly between your children, so there are no ugly situations in the future.
Create a trust and choose a guardian for your child so that children can be provided for and your assets will be safeguarded and used per your instructions for your children's health, education, and other needs.
Ensure you have a power of attorney, i.e., authorize another person to manage your financial affairs if you become unable to do so yourself. The person should be trustworthy, dependable, and have common sense.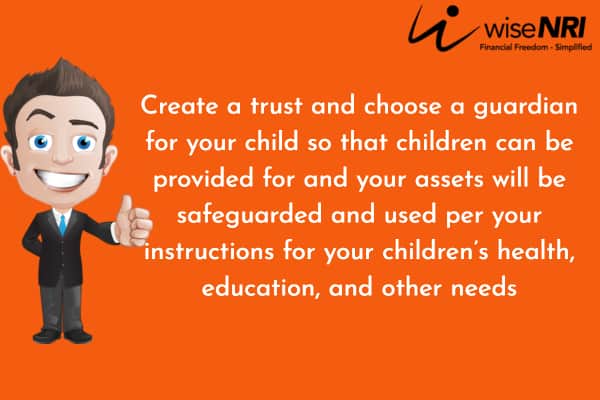 6. Make Your Children Financially Literate
Being the only parent working hard to make a quality life for you and your children, you can be a role model. You can inspire your children to be financially disciplined and learn the essentials of financial planning from a young age. You can teach them to value money, manage money and handle monetary transactions wisely.
Must Read – Best investment options for NRIs
7. Invest in Yourself
You are the sole breadwinner, and you need to remain relevant in your profession. Spend time learning new skills and caring for your physical and mental well-being. While catering to your children's needs is of prime importance, do not neglect your needs. Remember that no bank or financial institution gives a retirement loan. Pay yourself so that you are financially secure in your retirement life.
Parenting is a journey filled with love, sacrifices, and the responsibility of nurturing your children's dreams. Financial planning equips you with the tools to fulfil these responsibilities effectively.
We have considerable experience in financial planning for NRIs. Connect with us if you want to take control of your finances.