NRIs can open an FCNR account in a bank in India that serves as a Fixed Deposit Account in the country. It was an attractive investment for NRIs as they can retain money in foreign currency and earn good returns too. But right now FCNR rate is close to zero so what should NRIs do.
Recently I got a query "Can you please advise on the Rupee Multiplier (FCNR forward contract in JPY) where the interest rate is 8.9% with IndusInd bank. Is there any demerit for the same.."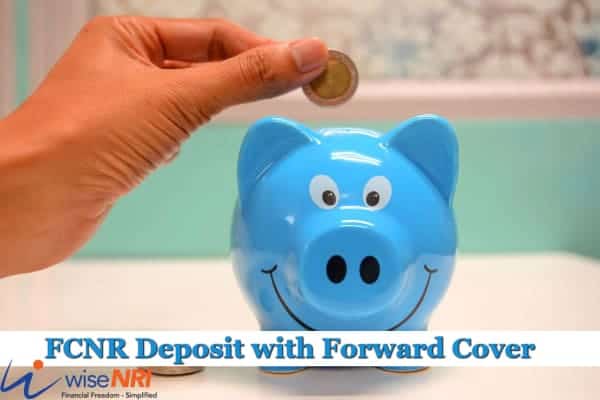 Must Check – Investment options for NRIs
FCNR Deposit  with Forward Cover
A forward contract is an agreement between two parties to exchange certain items of value on predetermined terms.
Many banks offer a structured product, usually known as FCNR Deposit with Forward cover that combines the features of an FCNR account and a forward contract.
Here, the bank will open an FCNR account in the NRI's name in a foreign currency. The typical currencies used are USD, Euro, Pound Sterling, Japanese Yen, Australian dollar, and Canadian dollar.
The bank will then draw up a contract with the NRI to exchange the foreign currency to INR at a defined conversion rate at the time of maturity. The bank will have a right over the deposit as collateral as well.
Why is the product an attractive proposition?
There are many advantages to the product –
Usually, you will earn a premium on the exchange rate today.
Your investment will be protected from fluctuations in the exchange rate.
The risk involved is low
Banks offer different tenure and investment amount options.
If your intention was to have money in INR, it serves the purpose as the maturity amount is returned in INR.
Earnings are allowed to be fully repatriable on maturity.
According to banks, FCNR with forward cover are tax-free.
The below screenshot is from Axis Bank's site – they call it NRI-pro foreign currency deposit (Kotak Bank calls it Rupee Advantage Plan)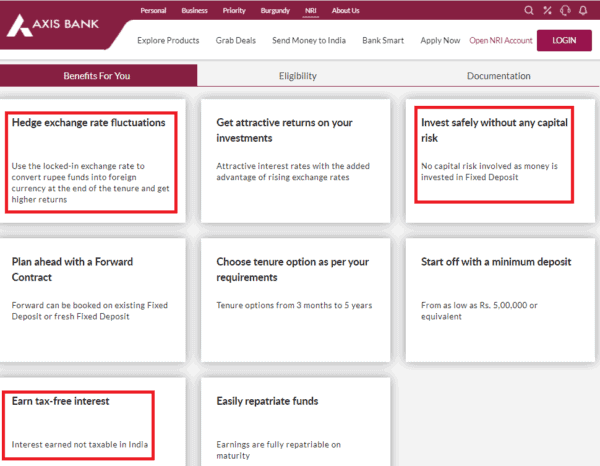 Why is it not an attractive investment option?
The exchange rate is predetermined. This will work if INR appreciates against the foreign currency. If the foreign exchange rate turns favorable, you will be stuck with the forward rate and make an opportunity loss.
For example, if you invest US$10,000 (~ ₹74,500) in USD and lock in the exchange rate at ₹76. But at the time of maturity, it is ₹80. You will lose ₹4,000.
Some banks might allow you to break the FD or exit the forward contract, but you may have to pay fees or a penalty.
It is a suitable investment only if you want money in INR, else it is better to invest in a straightforward FCNR deposit account.
Some tax experts are of the opinion that the amount gained due to the difference in the exchange rate might be taxable in India though banks sell the product as a tax-free product. You might want to consult your financial professional or a tax expert to understand the tax liability. Regarding taxation abroad, it depends on your country of residence, etc.
Read – Simple Tax Strategies for NRIs
Taxation issue – FCNR Forward Cover
Recently one of our clients was offered an FCNR deposit with forward Cover (that bank calls it Yield Maximizer)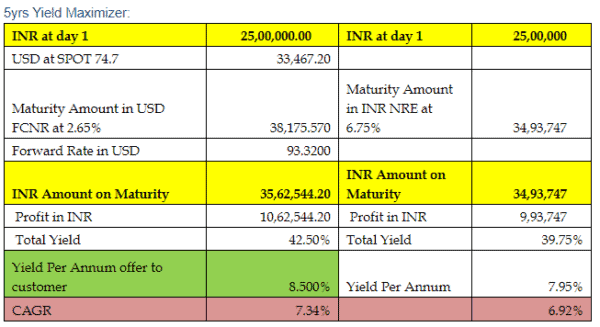 So I got the email from the client to evaluate that. I took this as an opportunity to clarify regarding taxation… my interaction
Hemant – Can you ask them what will be the taxation?

Client – They say that it is tax free. The returns are guaranteed as they will book forward and will sign a binding contract.

Hemant – Have they given this in writing " They say that it is tax free. The returns are guaranteed as they will book forward and will sign a binding contract. " – if yes please share.

Client – Not yet. But when we book, they will sign a contract. I can ask a draft when we think of doing it. For Tax, they will make the payment in NRE account and not deduct TDS is what I understand. But they cannot give in writing that it is tax free.

Hemant – You can ask for a draft so we can have a better understanding. If they can't give in writing that it's tax-free – means it's taxable.

Finally an Email from bank:

What will be the taxation? – The said investment is non-taxable in India as the proceeds invested will be from NRE account and in FCY (FCNR)

What's the risk?- No risk as the yields offered is as per the contract and the objective of the investment is to give assured yields with no currency risk

What will happen if the dollar is 60 or 90 at the time of maturity?- The currency exchange rate current and forward is fixed and will not get impacted with fluctuation in currency valuation. It covers the risk of currency fluctuation.
So according to the bank, it's tax-free (at least in India) – I still will suggest you to consult your CA before investing. I have read the whole contract but they have not used the word TAX in that.
Check –NRI TDS & Simple Process Of Tax Refund
Currency Risk & Premature Closure Risk
You should consider FCNR forward contract as buy & hold till maturity – else there can be significant losses.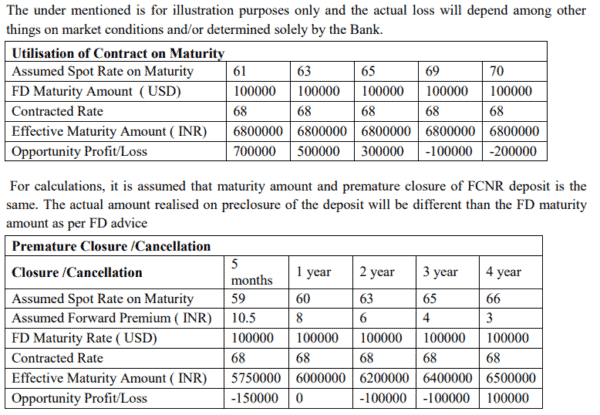 Conclusion
I will say this product is not bad. The product was very lucrative when Indian currency was struggling in 2012-13 – returns were like 14%. You should only think of investing in the product if you believe the currency movements will be in your favor as an NRI and the yield difference between NRE FD and FCNR Deposit with forward cover is significant. Moreover, you should have clarity in the tax matter.
Please share your experience with FCNR Deposit with Forward Cover or some similar product.