Traveling abroad for superior medical, dental, and cosmetic care from highly qualified medical professionals is increasingly a viable option. Patients travel to and from all over the world to get the best possible medical care at an affordable price.
India, because of its superior tertiary medical infrastructure and experts, is becoming an attractive option for some of the most cutting-edge medical procedures. Even the residents of many advanced countries like the US, the UK, Canada, Australia, the Middle East, and many more come here to benefit.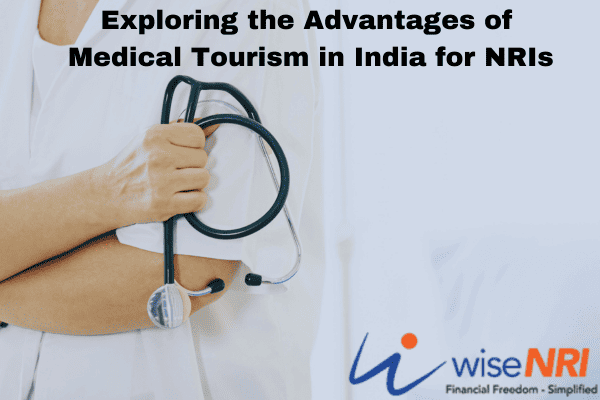 Must Read- Health Insurance for NRIs
When it comes to foreign residents benefitting from medical services in India, once again Non-resident Indians or NRIs lead the way. By virtue of their families being here as well as their awareness about the cost differences in the treatment of most ailments, they prefer to get major medical producers done here.
Top 6 Advantages of Medical Tourism for NRIs
There have been many reasons for the growth of inbound medical tourism in India. some of the most notable ones are:
1. Public-Private Partnership
The healthcare industry in India has made considerable progress over the past decades, contributing as a major source of revenue with high growth potential. The Indian healthcare industry is supported by public as well as private providers.
2. Universal Healthcare Coverage
The marked improvement in the medical infrastructure and education is a direct result of the evolving national health policies. The ambitious target of achieving structured Universal Health Coverage (UHC) has resulted in the rise of super-specialty hospitals, wellness centers, and rehabilitation centers across the country.
3. Best Quality and Affordability
Sometimes, despite medical insurance the healthcare facilities in advanced countries are unaffordable for many people, including NRIs. The availability of modern medical technology combined with best-in-class care stands India at a good stead. NRIs can get the best care from world-renowned experts at a fraction of the cost of treatment in their country of residence.
4. AYUSH Procedures
While low costs are the main reason for traveling abroad, some medical tourists also come to India because some specific procedures are not often available in their resident country. These include the AYUSH or Ayurveda, Yoga & Naturopathy, Unani, Siddha, and Homeopathy treatments.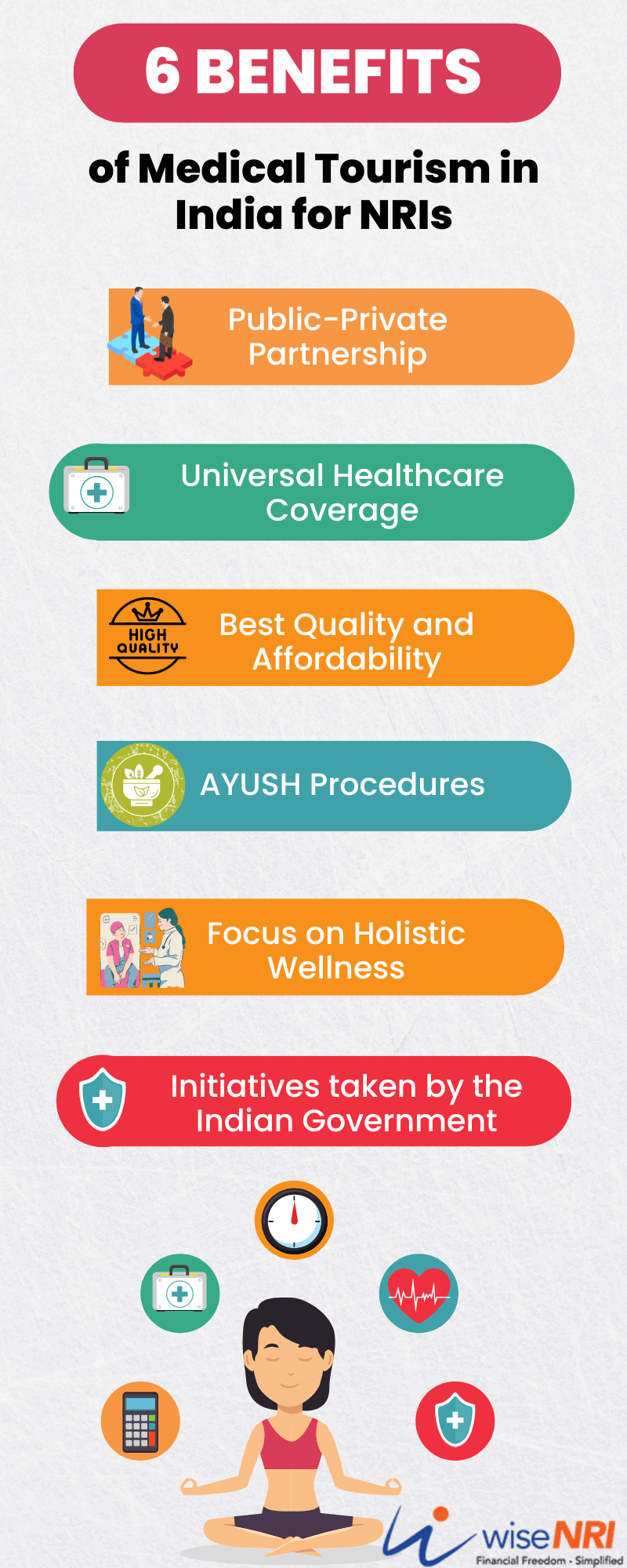 5. Focus on Holistic Wellness
According to the 2022 report by the Ministry of Tourism, despite COVID-19-related restrictions, India was ranked tenth in the Medical Tourism Index (MTI) for 2020-21 out of 46 destinations by the Medical Tourism Association. The Heal In India program is one of its kind where the focus is not only on medical tourism but on holistic wellness by promoting wellness tourism in India.
6. Initiatives taken by the Indian Government
To develop India's medical tourism industry, the Ministry of Tourism has launched several programs:
Special arrangements are made NRIs and foreign nationals coming to India specifically for medical treatment by way of issuing a "Medical Visa."
Medical Value Travel (MVT) and Wellness Tourism is marked as one of 12 Champion Services Sectors benefitting from a USD 641 million special fund established in 2018.
The e-Tourist Visa, introduced in September 2014, has been extended to cover medical visits.
The Marketing Development Aid (MDA) Scheme offers financial aid to authorized travel operators that have partnerships with recognized medical facilities.
There are regular promotions organized by the Ministry of Tourism in target countries including partnering with healthcare providers and insurers overseas.
All About – Life Insurance for NRIs
Is Medical Tourism covered by NRI Health Insurance
Indian Medical Insurance
Yes, NRIs can certainly buy health insurance coverage in India and can also use the policy to file a claim. If they are staying mostly overseas but travel frequently to India, they can use this policy for covering their medical bills.
To buy a medical cover, they will need to furnish the following documents:
Address proof for their local address
NRI status details including a copy of the Passport with properly stamped Visa(s)
Income proof
NRO bank details
Immunization details
Medical history records (if applicable)
As is the case with any medical insurance they may have to undergo any mandated pre-policy medical examinations.
Foreign Medical Insurance
Many NRIs are covered by medical insurance from their overseas employers. In many countries, even self-employed professionals and businesspersons are also required to get medical coverage.
Depending on the employment terms, premium liability, and medical conditions covered, you may also consider adding a Medical tourism clause in your health insurance policy taken there. You must specifically understand the clauses related to the medical conditions covered under the medical tourism section of the policy.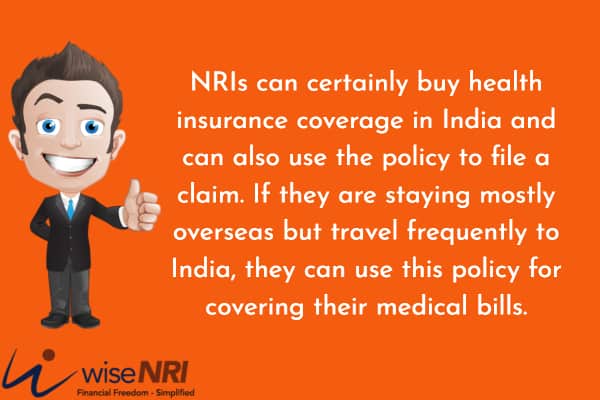 Beware – Mis-selling of insurance policies to NRIs
Important factors while Buying a Health Insurance Policy
Health Insurance for Family in India
Consider buying a separate policy to cover family members in India. Some companies may inflate the premium on all members of the policy even if only one or a few of them travel/reside abroad.
Travel Insurance
Medical insurance is not a replacement for travel insurance coverage. Travel insurance covers many other aspects like credit card theft or fraud, loss of passport, loss of baggage, etc. Therefore, always buy separate travel insurance if you are traveling internationally.
Indian Policy for Overseas Medical Expenses
Some policies in India may cover your medical expenses while you are overseas. Though these policies may demand a hefty premium, they can certainly add an extra layer of protection in unforeseen situations.
FEMA Rules
The Foreign Exchange Management Act (FEMA) rules allow an NRI to repatriate the claim amount outside of India up to the amount of the premium paid in foreign currency.
Tax Advantages
Health insurance premium payments made from an NRO account are eligible for deductions under Section 80D of the Income Tax Act (under the old regime). The exemption limits are as follows:
25,000 per annum for self-and family.
50,000 per annum for self-and family, if you are a senior citizen.
Conclusion
It is a smart move to leverage the superior healthcare facilities in India because of the cost arbitrage that the country offers. If the world is looking at us then why not us Indian? We are not ranked among the top 10 medical travel destinations in the world, for no reason.