RNOR (Resident But Not Ordinary Resident) is not very well know even in NRI circles. A few days back when I wrote a post about "status of NRE FD after return to India" – I got a few emails & comments that they have not heard about this.
Surprisingly even bankers don't provide this information to NRI returning to India after a long stay. This increase the tax liability of NRIs which he would have saved legally.
So I thought to cover this in detail including RNOR India tax & also added a calculator.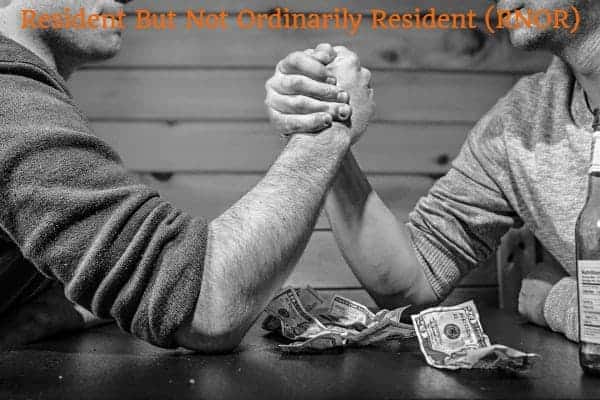 Must Read- Singapore CPF
What is RNOR Status?
RNOR stands for Resident But Not Ordinary Resident. It is a residential status given to certain people. Here are the conditions of determining whether a person is RNOR or not –
If the person is a resident Indian, he/she will be given the RNOR status if –
A resident Indian can be given an RNOR status if
He/She has NOT been a resident in at least 2 out of the last 10 years.
OR
He/She has been in India for a period of 729 days or less during the last 7 financial years
If the person is an NRI who has just returned to India, he/she will be given the RNOR status if –
If the NRI has been outside of India for 9 out of the last 10 years, he can be an RNOR for 1 year.
If the NRI has been in India for a period of 729 days or less during the last 7 financial years, he can be an RNOR for 3 years.
Let us make this simple with an example. Ms. Shweta left for the United States in 2001. She returned to India on June 30th, 2017. She will be considered as an RNOR for the financial year April 2017-March 2018.
What about 2018-2019?
She has been in India from June 30th, 2017 to March 31st, 2019. That is a total of 639 days which is less than 729. Therefore she will be treated as an RNOR in the financial year 2018-19.
By March 31st, 2020, she would have been in India for 1005 days and therefore she will be treated as a resident Indian for the financial year 2019-2020.
This flowchart can help you to understand RNOR Status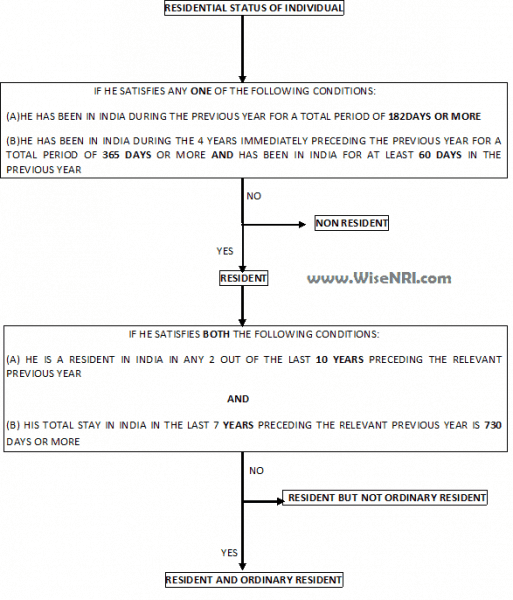 RNOR Status Calculator
I don't think after this explanation any calculator is required but if you still want you can download this simple calculator.
Must Read- NRI Home Loan 
RNOR Tax Benefits
The government gives certain benefits to returning NRIs by making them residents but not ordinary residents for some time. From a taxation perspective, an RNOR will have a similar status as that of an NRI status.
So the person who is an RNOR will have to pay tax only on income received or accrued in India. The income earned abroad will not be taxed. So not ordinarily resident Indian income tax can be substantially lower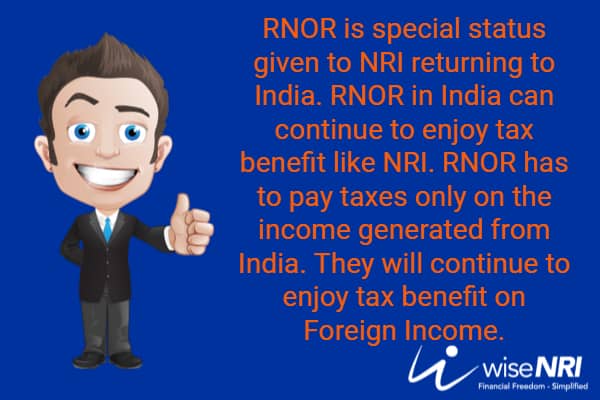 Read – NRI returning to India
Why do NRIs get the RNOR Status ( resident but not ordinary resident)?
This helps the NRIs to bring back their financial gains abroad without tax liability. The person with RNOR status does not have to pay tax on –
Interest on FCNR deposits and NRE deposits if you convert that to RFC.
Withdrawals from offshore retirement accounts
Rent received abroad
Capital gains made abroad
Interest or dividend received from investments in deposits and securities abroad
Once the NRI becomes a Resident Indian from an RNOR, all income whether earned in India or abroad is taxable unless concessions and exemptions are granted under the Double Taxation Avoidance Agreement, if any, between India and the previously residing country, are applicable.
Check your residency status every year so that you are aware of it and pay tax and file returns appropriately
If your status gets converted to Resident Indian, inform the bank so that your bank accounts (NRE and NRO) are designated as resident bank accounts. Your investment accounts should also be converted to resident accounts. The deposit accounts in NRE (but should be converted to resident) and FCNR accounts can be continued till maturity, transferred to Resident Foreign currency accounts, or closed down.
Any income received overseas becomes taxable based on Once your status changes to Resident, all your overseas income becomes taxable. wiseNRI
Also, you have to intimate your bank about the changed residency status and convert the existing NRI-specific accounts to resident rupee accounts.
How change in residential status impact investments
What is an RFC account?
An RFC account or Resident Foreign Currency account can be opened by a person who has the status – RNOR. Foreign funds can be brought to India in any currency you wish to and can be deposited in this account. NRE/NRO/FCNR savings accounts and fixed deposits can be converted to RFC accounts and RFC fixed deposits. Any interest that you earn in the RFC account while you have the RNOR status is tax-free in India.
It is useful as you need not to bear the effort and cost of currency conversion. It is easy to transfer these funds abroad if you move to a foreign location again.
I know RNOR is a complex topic – I have tried my best to simplify this. If you still have any questions on Resident but nonordinary resident Indian status – please add them in the comment section. Please also share your experiences.