I keep getting questions on RBI's LRS Scheme & is Liberalised Remittance Scheme is available for NRI.
So in this post, I have touched What is LRS Scheme? is its purpose, how much money can be remitted, requirements & a few other important questions.
What is LRS Scheme?
The Liberalised Remittance Scheme (LRS) is a facility provided by the RBI that allows resident Indians to remit a certain amount of money during a financial year to another country. The amount can be used for investment and expenditure.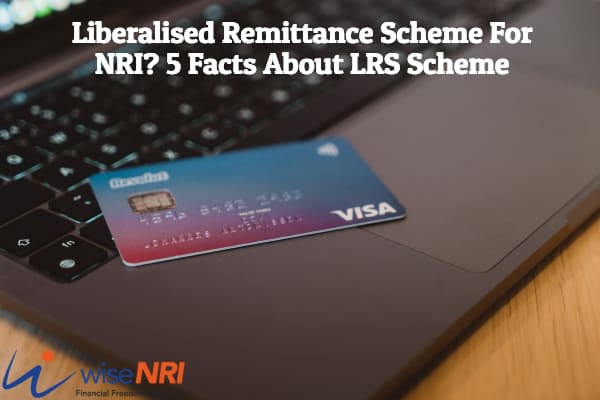 Read About – How can NRIs transfer Funds to India from Overseas.
5 Facts about LRS Scheme for Indian investors Should Know
1. Liberalised Remittance Scheme is available for NRI
2. Limits
3. Current account transactions
4. Capital account transactions
5. Are there any restrictions on the usage of the money remitted
1. Liberalised remittance scheme for NRI?
Can NRIs use this scheme via their bank accounts in India?
The LRS scheme strictly applies to Indian residents only. NRIs will not have any resident savings accounts. They will have NRE, NRO or FCNR accounts only. They can remit amounts abroad from NRO, NRE and FCNR accounts subject to rules and requisite documentation –
They can remit up to US$ 10,00,000 from an NRO account
There are no restrictions on remittance from an NRE or FCNR account
The Liberalised Remittance Scheme has helped Indian residents manage monetary transactions abroad that have made their lives easier. The money can be used for medical expenses, education, and other purposes. It is also a great way to diversify your investment portfolio as you can invest outside India as well.
When was liberalised remittance scheme for NRIs introduced?
LRS India was introduced in 2004 & at that time limit was just $25000. The limit is substantially increased over a period of time.
Read – NRI Checklist
2. How much money can be remitted and what is the allowed frequency of transactions?
Resident individuals can remit up to $250,000 per financial year. This can be done in any number of transactions as long as the total amount does not exceed the limit. They can use the amount for both current account and capital account transactions.
What currency can I use?
Any freely convertible foreign currency can be used in this scheme.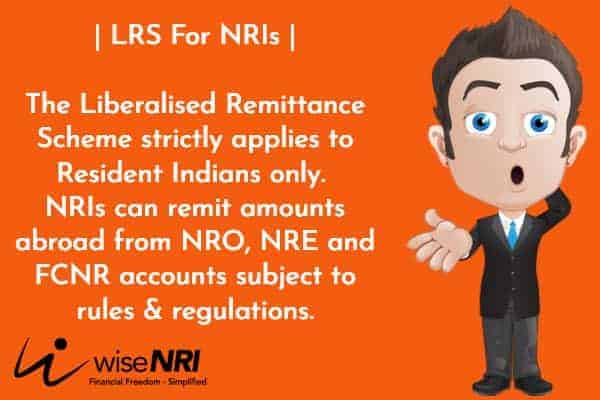 Read – Best time to send money to India
3. Current account transactions
Private visits to any country (excluding Nepal and Bhutan)
Gift/Donation Include rupee gift to  (NRI)/ (PIO), who is a close relative
Emigration
Overseas Business trip
Medical treatment outside India
Purchasing of objects of art
Maintenance of close relatives outside India
Going outside India for employment

Pursuing studies outside India

Any other current account transaction which is not prohibited
4. Capital account transactions
Purchase of property outside India
Investment in shares, securities, mutual funds, etc. outside India
Open account, maintain and hold foreign currency accounts with a bank outside India
Extending loans including loans in Indian Rupees to Non-resident Indian /PIO who are close relatives, subject to stipulated terms and conditions.
5. Are there any restrictions on the usage of the money remitted?
Some transactions are not allowed under the Liberalised Remittance Scheme For NRI –
Buying and selling of foreign exchange abroad
Purchase of lottery tickets or sweepstakes
A gift from one Indian resident to another Indian resident, in foreign currency to be credited in the account held abroad under LRS
Some types of income are not allowed to be transferred abroad, and there are restrictions on remitting money to certain countries.
The LRS scheme is not available to the Association of Persons, Body of Individuals, Company, HUF, LLP, Partnership Firm, Society, and Trust.
Must check- How to Apply For NRI Credit Cards in India
What purposes can the money remitted be used for?
The money can be used for different purposes such as –
Education abroad
Donations
Maintenance expenses of close relatives abroad
Investment in equity, debt, or property abroad that follows prescribed regulations.
Travel for business, conference or training
Travel and expenditure for medical reasons for self
Travel as a companion for a person who is going abroad for medical treatment
Emigration purposes
Provide a loan to a close relative who is an NRI as long as no interest is charged, and the loan is at least for a year.
"Under LRS Indian Resident Parents can gift money to their kids who are NRI/OCI/PIO." wiseNRI
Should the resident individuals repatriate the accrued interest/dividend on deposits/investments abroad, over and above the principal amount?
The investor can retain and reinvest the income earned from portfolio investments made under the LRS scheme.
What are the requirements to make a remittance under the LRS?
The individual will require PAN and KYC completed. The individual should have maintained an account with the bank through which the remittances will take place for at least a year. The bank should conduct the necessary due diligence for the opening, maintenance, and operation of the account.
Hope this article cleared your doubts regarding liberalised remittance scheme for NRI. If you still have any questions – add them to the comment section.