Let us face it. Money is important for a good life. But it is not just important to earn money. It has to be utilized in the best possible way so that the money is not wasted away.
It has to be directed into proper investments so that it can earn more money & help you in achieving your goals.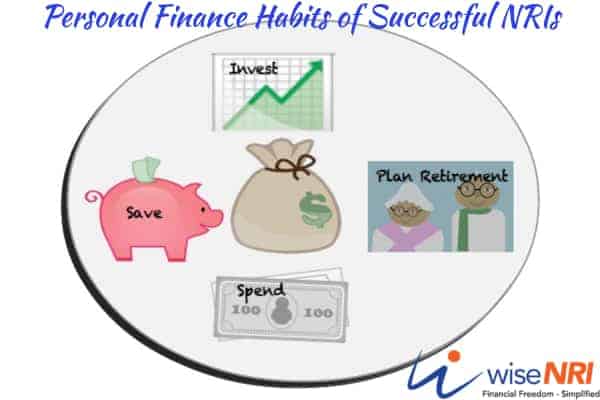 Read – Best Magazine for Finance in India
Here are Some Personal Finance Habits for NRI
1. Save, Save, Save
Non-Resident Indians send the maximum money into their country as compared to non-residents of any other country. In 2021 they sent close to USD 69 billion to India!
NRIs are big savers. The Indian habits of frugal living and saving stay well-entrenched among NRIs.
Naresh had been in Dubai for 10 years in the early 2000s. Though there were a  lot of gadgets and lifestyle-enhancing products available, he resisted the temptation to buy them. Instead, he sent a lot of money to his family in India and also invested in products in India.
If you have an impulse to spend money or are tempted to buy something, wait for some time. Most times, the impulse passes away making you financially more responsible.
2. Invest in India
The Indian market is a good investment vehicle for the long term. It is a developing market with potential for growth.
Moreover, the stock market, Mutual Fund industry, and the debt instrument market are well-developed. The right investments have given optimum returns in the long run. Most financially successful NRIs have long-term investments in India which have helped them build their wealth.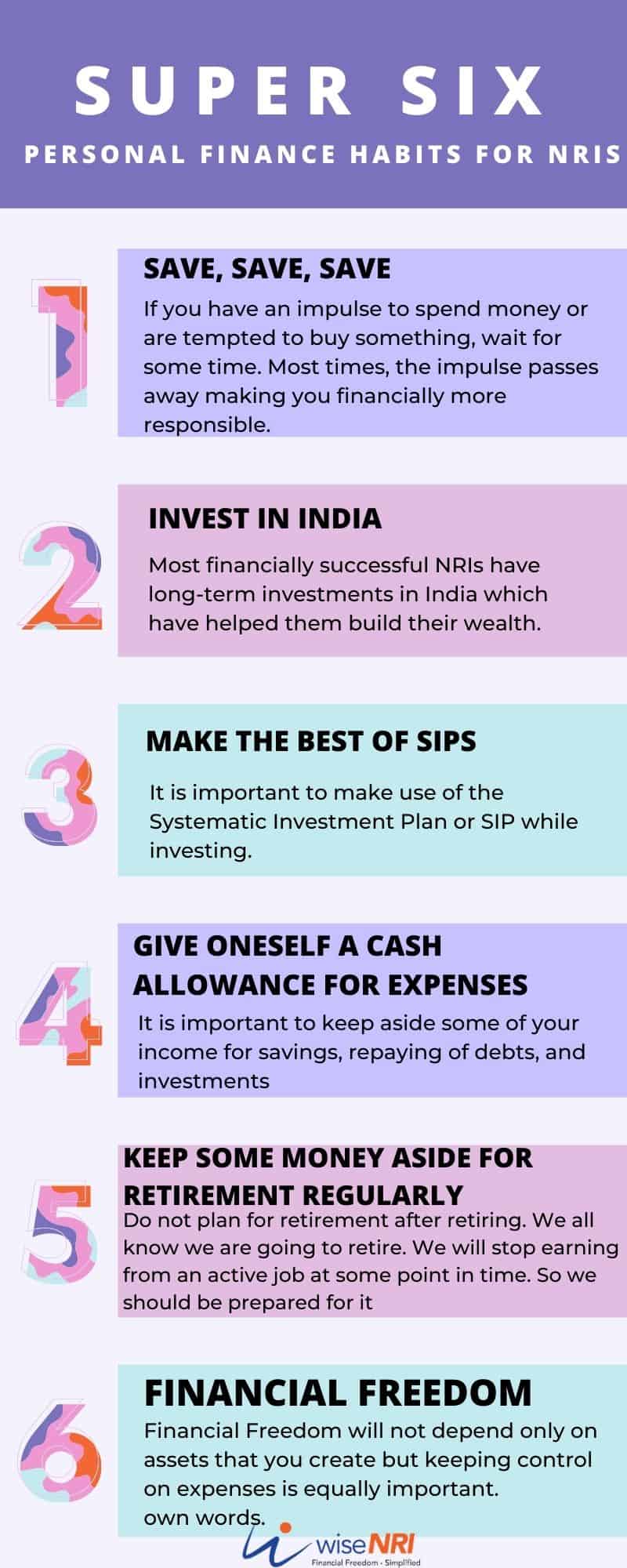 3. Make the best of SIPs
It is important to make use of the Systematic Investment Plan or SIP while investing.
Mutual Funds offer SIP wherein you can invest a small sum regularly over a period of time in a product. This strategy can be used in other investment products as well. This averages out the market fluctuations and allows for affordable chunks of investments. Moreover, you do not have to "time" the market.
Must check  – Personal Finance in the USA – Shared by an NRI
4. Give Oneself a Cash Allowance for Expenses
Shireen works in Singapore. The cost of living there is high. At the same time, the shopping and dining options are amazing. Moreover, everything is so easily accessible. She spent a lot of money in the first 3-4 months of her stay there.
But then as she saw her savings dwindling, she decided to rein it in. She divides her salary into different components such as savings, expenditure, emergency, etc. She uses only the money allocated to expenditure to take care of her needs and wants.
It is important to keep aside some of your income for savings, repaying of debts, and investments. The remaining money can be used on spends. This will help to put a limit on unnecessary expenses.
5. Keep Some Money Aside For Retirement Regularly
Do not plan for retirement after retiring. We all know we are going to retire. We will stop earning from an active job at some point in time. So we should be prepared for it. NRIs usually have a high income. An NRI earning in US dollars or UK Pounds has the potential to build a big retirement kitty.
NRIs can invest in products in their resident country and also in India provided they follow the laws and taxation rules. In India, they can invest in mutual funds and stocks. They can invest in NRI FD accounts. So when you are working abroad you can –
Plan your short-term and long-term goals
Invest in suitable products after thorough research and analysis. If you are not comfortable making these decisions on your own, you can hire a financial planner or wealth management firm who has expertise in NRI Financial Planning. They can take care of investments, taxation, personal financial management, and portfolio management.
Check – Planning for Retirement in India
6. Financial Freedom
I have kept the best one for last.
Successful NRIs understand that it's important to make hay while the sun shines. So they give priority to financial freedom – they focus on prioritising goals & aggressively accumulating to achieve them. We have an NRI client who achieved Financial Freedom at the age of 32 – Soon I will try to interview him & share on wiseNRI.
In simple terms, financial freedom means when you have sufficient assets that can take care of your expenses.
Financial Freedom will not depend only on assets that you create but keeping control on expenses is equally important. The below picture explains how one can achieve financial freedom – Income, Expense, Assets & Liabilities.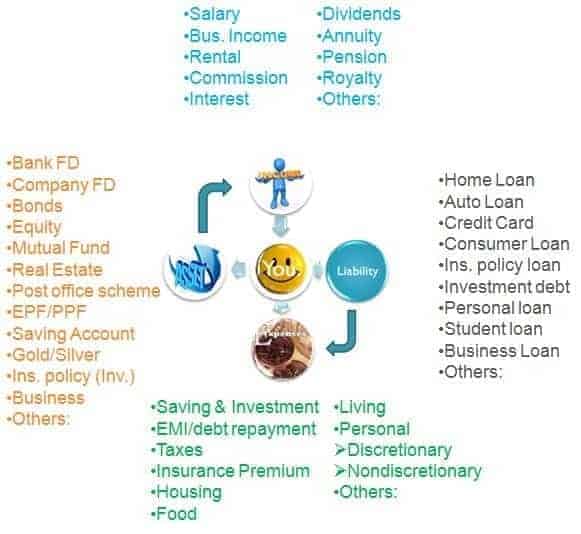 Here are some more Tips and Tricks For Good Personal Finance Habits for NRI –
Track your expenses and make changes if you feel they are going beyond your means
Do not fall for well-marketed investment products. Invest in products that align with your financial needs and financial plan
Review your investment portfolio on a regular basis
Follow these Personal Finance Habits for NRI and you will have a rewarding and successful financial life.