NRIs have many questions & at least I haven't found a single source where they can get all the answers – and then I started WiseNRI. I keep getting a lot of questions from NRI clients & blog readers so I am sharing the most frequently asked questions by NRIs.
You can also ask questions in the comment section.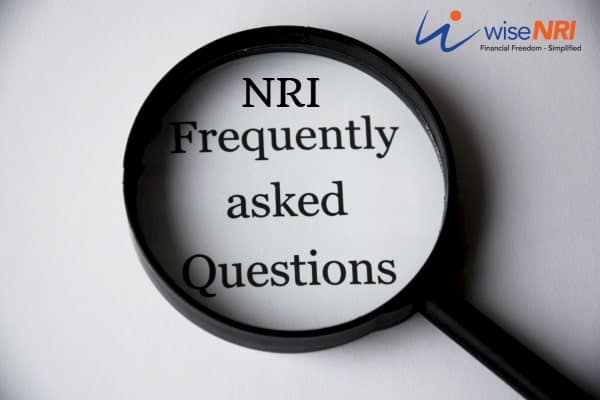 Must Read- Who is NRI – New Definition & Scenarios
NRI Questions And Answers
1) I am an NRI. How can I e-file my tax returns?
As an NRI, if you earn income in India and it exceeds Rs.2,50,000, you are liable to file tax returns. You can file your returns online. The process is as follows –
Register on the Income Tax India Website
Choose the correct ITR form.
You can e-file your returns or download the relevant ITR complete and upload it.
Verify the ITR-V. It can be verified by printing it out, signing it, and sending it via normal post or speed post to CPC Bangalore within 120 days of submitting the form. The address is –
Income Tax Department – CPC
Post-Box No – 1
Electronic City Post Office,
Bangalore – 560100, Karnataka
You will get an acknowledgment on receipt of the form.
It can also be verified using a digital signature.
Must Check – How to File an Income tax return for NRIs
2) Can I buy real estate in India as an NRI? Are there any restrictions?
There is no restriction on NRIs for buying residential or commercial properties. But NRIs cannot buy agricultural land or plantation property or farmhouses in India. NRIs can avail of loans for the purchase of real estate and are provided the same tax benefits that are provided to Resident Indians for the purchase of the property.
3) I will be sent abroad for an assignment/project for the short term. How will my income be taxed?
Going abroad on assignments and projects is exciting. You get to work with people from a different culture and you get the opportunity of visiting a new country. Usually, people get a tidy sum which can be added to their savings. If the assignment is for a duration of 3 months to one year, you will get your salary in India and an allowance.
If you stay in India for 60 days or more, the salary and the allowance are taxable unless the allowance is paid for expenses incurred above and there are valid receipts for the same.
If you go abroad on a long-term assignment which means the duration is one year to three years, then you are on the payroll of the company unit abroad. During this assignment, if you stay in India for less than or equal to 182 days, you will not pay tax on income received abroad. If you stay in India for more than 182 days, you will be liable to pay tax on the income received abroad.
If you pay taxes abroad, you will have to check if you can avail of tax concession or exemption under DTAA.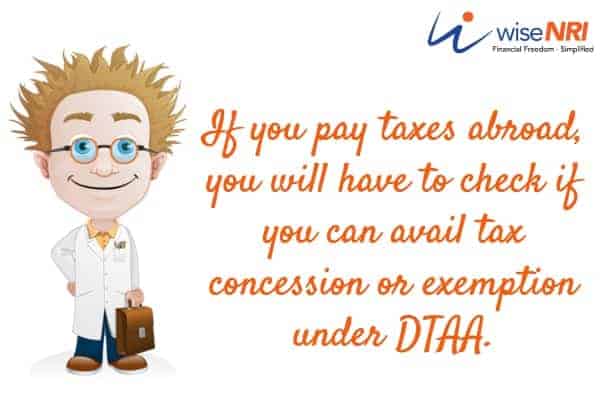 4) As an NRI, what are some of the investments that I can make in India?
You can invest in equity shares and mutual funds. But you cannot short sell or be involved in intraday trading. You can invest in fixed deposits in FCNR deposits and  NRE accounts. You can also invest in real estate, gold, etc. Investments in bonds issued by the Government of India, public companies, and private companies are also permitted. If you think you will retire in India, you can invest in National Pension Scheme (NPS) too.
Check – 10 Best NRI Investment Options in India
5) I am an NRI. Can I transfer the proceeds of the sale of property received to the country I currently reside in?
If you purchased the house when you were a resident Indian, then the sale proceeds need to be credited to the Non-Resident Ordinary (NRO) Account.
If the property was purchased out of income earned in India or using a home loan taken in India and sold when you are an NRI, the amount must be credited to the NRO account.
If the house is purchased by using funds earned abroad, then the repatriation can be only till the extent of the funds used for purchase. The excess sale consideration over the amount paid in foreign exchange can be remitted out of the NRO account subject to USD 1 million per financial year per person. This is limited to the sale of two such properties.
Must Check- Home Loan Checklist For NRIs
6) When do I not need to file an Income Tax Return?
As an NRI, if you have invested in certain assets and TDS has been deducted and you do not have any other income except the income earned in these investments, you need not file tax returns. The assets applicable to this rule are –
Shares in a public or private Indian company
Debentures issued by a publicly-listed Indian company
Deposits with banks and public companies
Investment options of the central government
7) Should I disclose my foreign bank accounts while filing taxes?
It is not mandatory for NRIs to disclose the details of their bank accounts in the country of residence when they file tax returns. You can mention the details of the bank account in India so that the refund if any can be transferred there.  If you do not have a bank account in India you can give the details of the foreign bank account so that refund can be remitted to you.
A circular issued on November 15 by Dr. Ajay Bhushan Pandey, CEO of the UIDAI, has directed federal ministries and departments to issue directives to state governments and other relevant agencies that NRIs are not eligible to apply for an Aadhaar card.
Few of the above questions are answered by Vidya – she is an NRI.
If you have any questions related to NRI status – feel free to add them in the comment section.