If you are searching for an Aadhaar card for NRI, the Application process for Aadhaar for NRIs, Documents Required for NRI Aadhar Card, what are the purposes and benefits of holding an Aadhaar; then you are on the right page. 
In This Article –
What Is Aadhar Card?
Do NRIs need Aadhar cards?
How to get an Aadhar card for NRI?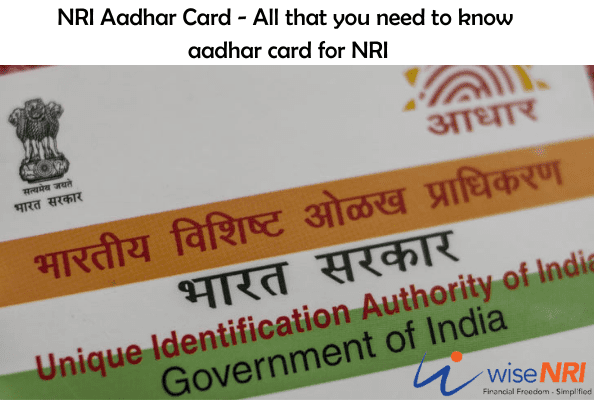 Read – NRI Checklist: 8 Important Things To Do before you Become an NRI
What is Aadhaar Card?
Aadhaar is a 12-digit unique identification number issued by the UIDAI on the government's behalf. It is a biometric document that stores an individual's personal information on a government database.
What is Aadhaar Card is not?
Aadhaar does NOT mean
Proof of Indian citizenship.

Rights to stay in India if other relevant conditions are not met.
Can Non-Resident Indians hold an Aadhaar?
Non-Resident Indians who have a valid Indian passport can apply for an NRIs Aadhaar Card. Earlier, the rule was that if a Non-Resident Indian has lived in the country for 182 days or more in the last year, the NRI can apply to Aadhaar. This is NOT applicable anymore, and NRIs can apply for Aadhaar on arrival to India. 
Is it compulsory for NRIs to have an Aadhaar?
It is not mandatory for NRIs to have Aadhaar. It does serve many purposes. It is slowly becoming the primary source of identification and integrated into different economic transactions.
Who Can Apply for NRI Aadhar Card?
Any individual living in India can apply for an NRI Aadhaar card. The qualification standards for the Aadhaar card is as per the following: 
The individual must be over the age of 3 years. 

The individual must be an Indian occupant. 

Outsiders are likewise qualified for enrolment. 

Outsiders living in the nation alongside NRIs are eligible for the Aadhaar card.
Requirements for Aadhar card for NRI
Before enrolling for Aadhar yojana, NRIs must have some necessary documents. Below are the documents required for the Aadhar card for NRIs.
School Certificate.

Birth Certificate

Photo ID Proof.
All the above documents are checked by government authorities and skillful specialists to decide whether they are substantial and qualified for an Aadhaar card. 
Check – Pan Card for NRI
What is the process for an NRI to acquire an Aadhaar?
The status can be checked on the UIDAI website. If the application is accepted, Aadhaar is delivered to India's postal address in about 90 days. It is also available on the website and can be downloaded. A downloaded Aadhaar is equally valid as an Aadhaar that arrives by post.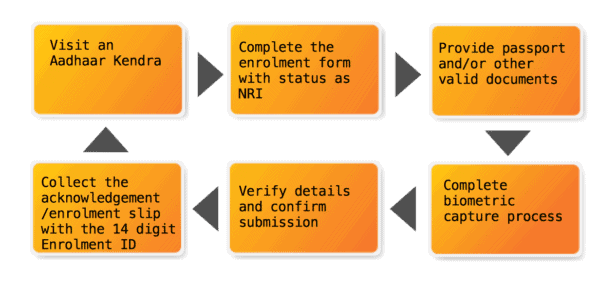 How to obtain an Aadhaar card for NRIs
Below we have mentioned steps for obtaining an Aadhaar card for non-resident Indians.
Visit any nearby Aadhaar Kendra. 

Carry your Indian Passport with you.

Fill in all the details in the Aadhar enrolment form.

Ask the administrator to enroll you as NRI.

Giving an Email ID is compulsory for NRI.
How does an NRI procure Aadhaar for their children who are NRIs?
The enrolment form has to be authenticated by a parent/guardian on behalf of the child (person less than 18 years of age). A valid Passport as proof of identity and address has to be submitted.
Is it mandatory for an NRI to link the PAN and Aadhaar?
NRIs don't need to link PAN with Aadhaar as Aadhaar is not mandatory for NRIs. But having an Aadhaar might make some financial transactions simpler. So, you may want to link Aadhaar to your PAN.
Must Read- How to Apply For NRI Credit Cards
How can I link it with PAN?
Linking the Aadhaar and PAN is quite simple. You can go to the Income Tax website and click on 'Link Aadhaar' on the left-hand side menu. The page to link the two will display. Complete the web form to finalize the transaction. You can check the status here. 
What are the purposes and benefits of holding an Aadhaar?
It is a single source offline/online identity verification across the country. It is used for authentication and verification in many transactions. It is a document that combines age proof, address proof, and identity proof. Since it is an online document, authentication and verification can happen anywhere and anytime. It also serves as proof of welfare programs and subsidies. It is easy to open bank accounts and apply for a passport if you have an Aadhaar. Aadhaar is mandatory in many cases for a resident Indian.
What else should I know about Aadhaar?
There is no online process as of now to apply for Aadhaar.

Obtaining Aadhaar does not involve any fees.

While filling the enrolment form, the declaration is a little different for NRIs from the one for residents. It is essential to read and understand it before signing the enrolment form.

Currently, the Aadhaar process does not support international numbers nor international addresses for correspondence.

If the NRI does not have an Indian address in the Passport, any other document that is the list of approved address documents can be submitted.
From the above article, we hope you understand all the important information regarding the Aadhar card for NRIs. If you have any Information about NRI Aadhar Card, then you can contact us. We are happy to help you.