The trend of Non-Resident Indian students going to foreign universities for higher education is growing strong as their numbers are swelling each year.
The challenges faced by Indian students aspiring to pursue education abroad are numerous, including convincing parents, selecting the right country and college, preparing for exams, and managing finances. However, the journey doesn't end there. Adjusting to a new country, adapting to unfamiliar norms, and embracing a different culture can be demanding. It necessitates a flexible mindset and a fresh perspective to not only thrive but also survive in this new environment.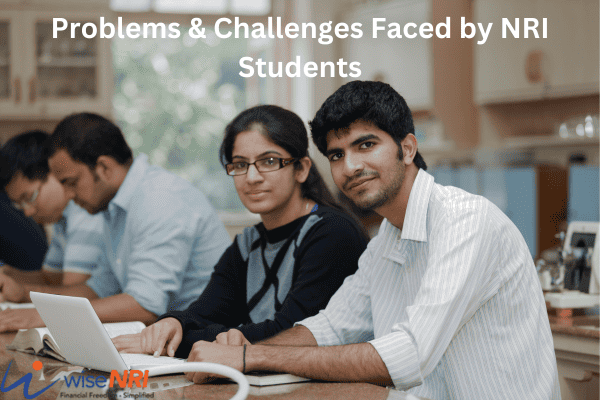 Must Read Child's Higher Education – Things NRIs Should Consider
NRI students, face unique challenges when pursuing their education abroad. If you work hard to embrace a new environment, then studying abroad can be a great experience.
We discuss the top 13 unique challenges that NRI students face. We also have some great tips to help increase your chances of success.
1. Cultural Adjustment and Integration
NRI students often face difficulties in adjusting to a new culture, language, and social norms. The change in environment can be overwhelming, leading to homesickness, isolation, and a sense of being an outsider.
They should be prepared to adjust to a new culture and seek opportunities to learn about local customs and norms. Making friends with other NRI and local students can help them adjust quickly.
2. Absence of Social Circle
NRI students often face difficulties in forming social connections with local students. This is because they are already balancing the Indian traditions and the local culture of their country of residence. Add to that the cultural differences, language barriers, and a lack of familiarity in a new country with the stress of studies.
This is a really heady mix for any mature person to handle, let alone a student. This isolation can lead to loneliness and affect their overall experience abroad. NRI students may miss their family and friends back home, especially during festivals, birthdays, and vacations.
But as a youth, you have more chances to assimilate into new surroundings and absorb new customs to build meaningful relationships. But if you are struggling, reach out for help from your school's international student office, professors, and other NRI students.
3. Lack of Support
Absence of familial and social support in times of emergency is also something to deal with. Apart from health issues, students feel vulnerable during tests, when they face discrimination, or simply feel left out.
The support system and family structure they are used to are absent and it could be quite unnerving.
You must regularly talk to your family and friends back home, about all issues you face. Make an effort to meet new people and get involved in local events and activities.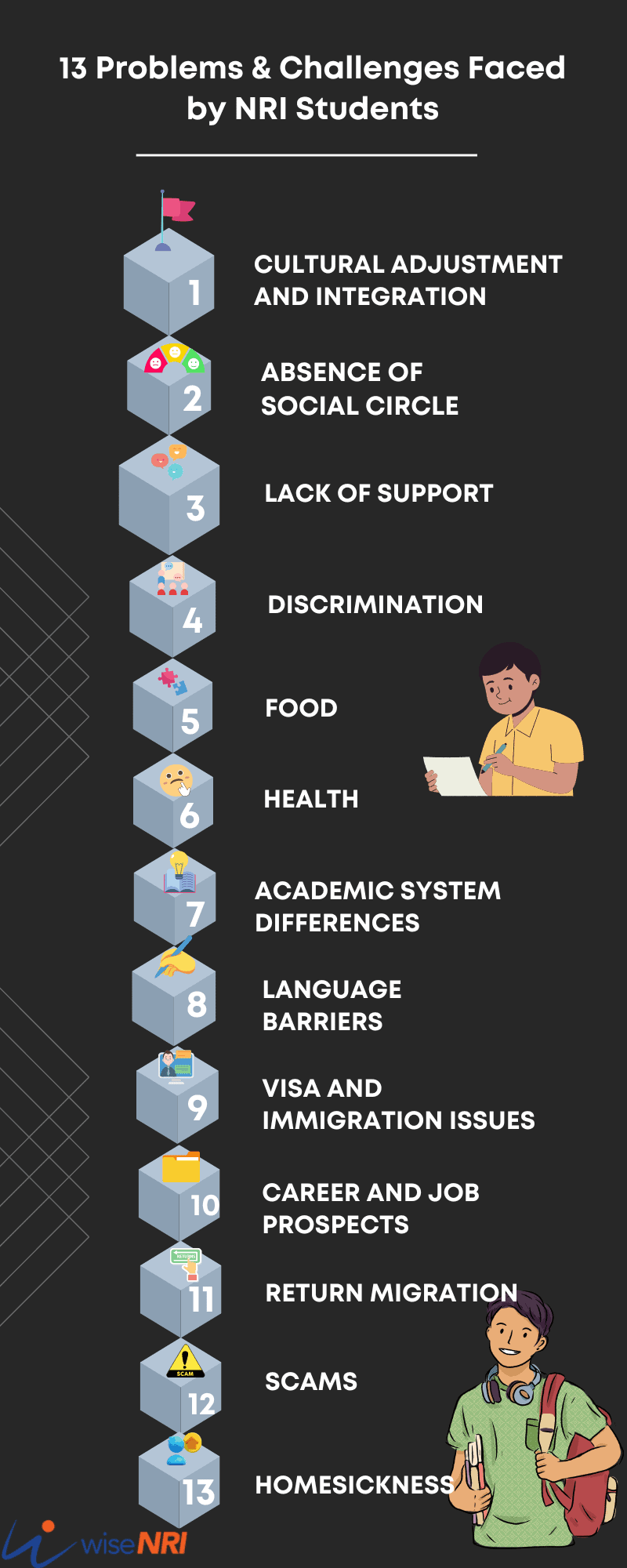 Must Check – What Should I Know About Studying Abroad?
4. Discrimination
Despite all the progress, education, and awareness, the world is still full of people with biases and bigotry. NRI students may experience discrimination from other students or locals.
Initially, you may not even recognize subtle acts of social and cultural bias or discrimination. In an increasingly polarized world, you may also have face the heat of active discrimination and, god forbid, hate crimes.
Reach out to your support circle and authorities to report such incidents and seek help.
5. Food
Food is something that varies significantly. Every society and culture has its own culinary preferences. For someone ready to experiment with new foods, it may be fun. But for someone following a strict diet plan – due to cultural, religious, or health reasons – it may be difficult to find appropriate food.
In such situations, the solution is to learn a few simple recipes using locally available items. This will not only help you maintain health but also keep expenses under check.
6. Health
NRI students may have difficulty accessing affordable healthcare as they may have to pay higher healthcare costs. Another problem is the difference in the approach to healthcare in India, your home country, and the host country.
Having adequate insurance coverage and knowing about your allergies and ailments through a thorough medical checkup would go a long way. Having a balanced diet, adequate sleep, regular exercise, knowledge offers aid, and a dew simple home remedies for common ailments would help you a lot.
7. Academic System Differences
The education system in the host country may differ significantly from what NRI students are accustomed to. This can include variations in teaching methods, evaluation criteria, and academic expectations. NRI students may find it challenging to adapt to these differences and perform at their best.
Check – Stigma of being an NRI
8. Language Barriers
Language proficiency plays a crucial role in academic success. NRI students who are not fluent in the language of instruction may face challenges in understanding lectures, participating in class discussions, and completing assignments. This language barrier can hinder their learning experience and social integration.
Therefore, you must gain some exposure to the language of the host country and its nuances. This will help you connect with others and to understand the coursework. You can get help from online tutorials and mobile apps, join a language instruction class, or join a language exchange program.
9. Visa and Immigration Issues
NRI students need to navigate complex visa and immigration processes, sometimes by themselves. They may face challenges in filing proper paperwork, meeting deadlines, obtaining the necessary documentation, maintaining legal status, and complying with immigration regulations. These issues can cause stress and uncertainty for NRI students.
Make checklists and set reminders with adequate margins for each of such tasks. It is also helpful to get professional help with matters you do not understand fully – you can always get that from your school's international students' cell.
Check – NRI Passport Renewal Online
10. Career and Job Prospects
Many students find it hard to make ends meet because of the foreign exchange rate differences, especially amid the rampaging inflation seen in the past couple of years. Therefore, they may be tempted to seek illegal part-time jobs at local enterprises. Do not get into this vicious cycle without proper permissions and a work visa, to avoid legal hassle and even deportation.
The struggle continues even after completing their studies. NRI students may face challenges in finding employment opportunities in their host country due to cultural differences, visa restrictions, competition, and even biases. These are unique challenges that NRI students often navigate while planning for career advancement.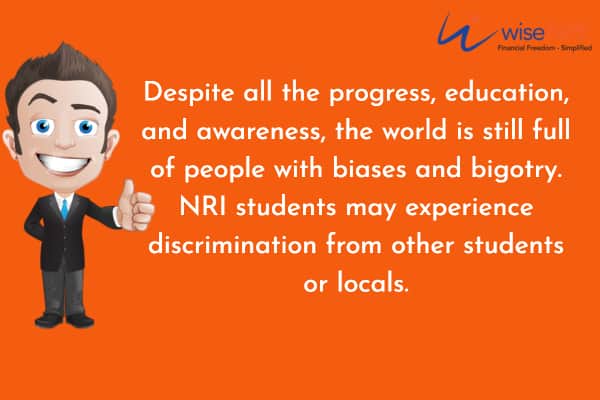 Must Read – 5 Financial Lessons from Superheroes
11. Return Migration
After studies, many NRI students return to their home country or India. Here too they may face unique difficulties like readjusting to their native culture, finding suitable employment, and rebuilding their social networks.
Reverse culture shock and reintegration challenges are also common. They may also find it difficult to clear professional tests mandatory in many professions or adjust to the differences in pay and expenses.
12. Scams
Admission and employment scams are rampant as many NRIs aspire to a great life for the next generation. Gullible parents and students can fall into the trap and enroll in a mediocre program or at a college without accreditation. Sometimes such scamsters may forge papers leading to legal hassle and even deportation.
Before applying to any college, check their accreditation, talk to alumni, and do as much independent research as possible. Before zeroing in on the program and the institution, ensure that the school and program you choose are a good fit for you. Consult a professional for help in such circumstances.
13. Homesickness
Homesickness is common among students who go to study abroad. It is a looming feeling of sadness, loneliness, anxiety, or even depression when a student is away from their home or familiar surroundings. It is a normal reaction to being in a new and unfamiliar environment and may go away after a few weeks or months. Sometimes it may last longer and may affect one's normal functioning and studies.
It can manifest in a variety of ways, including physical (lack of energy, sleep, and appetite), psychological (depression, stress, lack of concentration), and physiological (body aches, headaches, and upset stomach) ways.
To deal with homesickness, you must give yourself time to adjust and make efforts to assimilate into the new environment. Actively stay connected with friends and family back home while making new connections at school, hostel, and in the community. Participate in activities that bring you in close contact with like-minded people and seek association with other NRI students.
Set aside some time for yourself for reading, journaling, taking a walk, or simply doing something you enjoy. And never hesitate to ask for help from friends, family, or professors. Seek professional help if homesickness is severe or persistent, to develop coping mechanisms.
Happy Learning
It is important to note that while these challenges exist, many NRI students successfully overcome them and have fulfilling experiences abroad. Universities and support services often provide resources and assistance to help NRI students navigate these challenges and thrive academically and socially.
We would love to hear about your experiences. Please share them in the comment section.