The 'Big Bull of Indian stock markets, investor-billionaire Rakesh Jhunjhunwala, died this month, but not without leaving behind a treasure trove of lessons for trades, investors, and frankly everyone!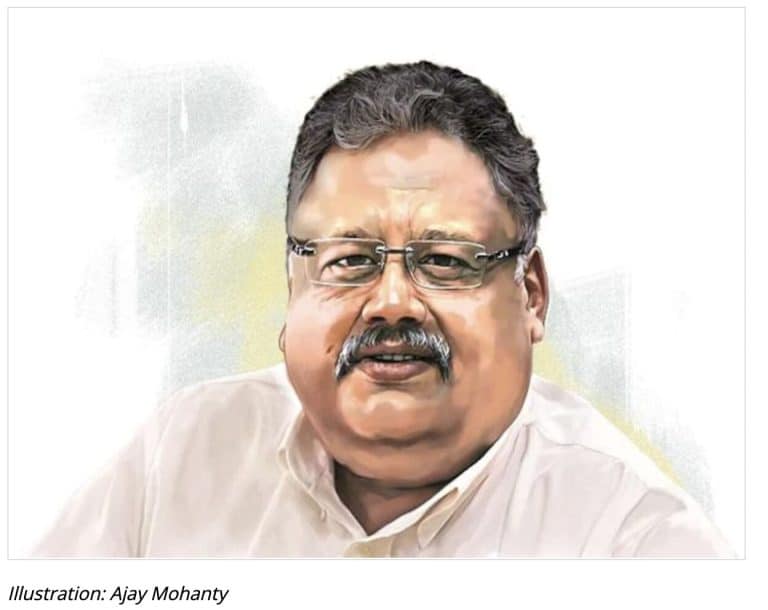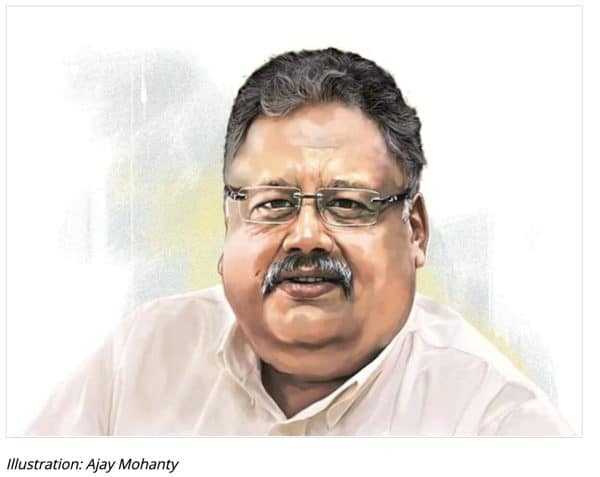 5 Great Learning From Mr. Rakesh Jhunjhunwala for NRIs
Rakesh Jhunjhunwala was one of the most successful investors in the Indian stock markets. He is widely regarded as 'Warren Buffet of India' due to his similar investment principles.
Many of Rakesh Jhunjhunwala's investible principles are profound and we can learn a lot from them. Today, let's look at the  5 Great learning from Rakesh Jhunjhunwala's principles that Rakesh Jhunjhunwala follows so that we can incorporate them into our own style of investing.
1. Patience is key to long-term success
While Rakesh Jhunjhunwala was an astute trader, he was also a successful investor. He believed that one could generate consistent, long-term value with patience and the right investment decisions. For long-term investing, he preferred businesses with competitive management and strong fundamentals. He also ensured he stayed invested for a sufficient time period.
For example, he first purchased shares of Titan in 2002-2003 when the share price was less than Rs. 10. Though he has been buying and selling at different times, it is still a significant part of his portfolio. In August 2022, its price is around the 2400-2500 levels, which means it has delivered 250 times returns to those who remained invested in it for the last 20 years.
Develop your investment portfolio such that it will help you to achieve long-term financial goals.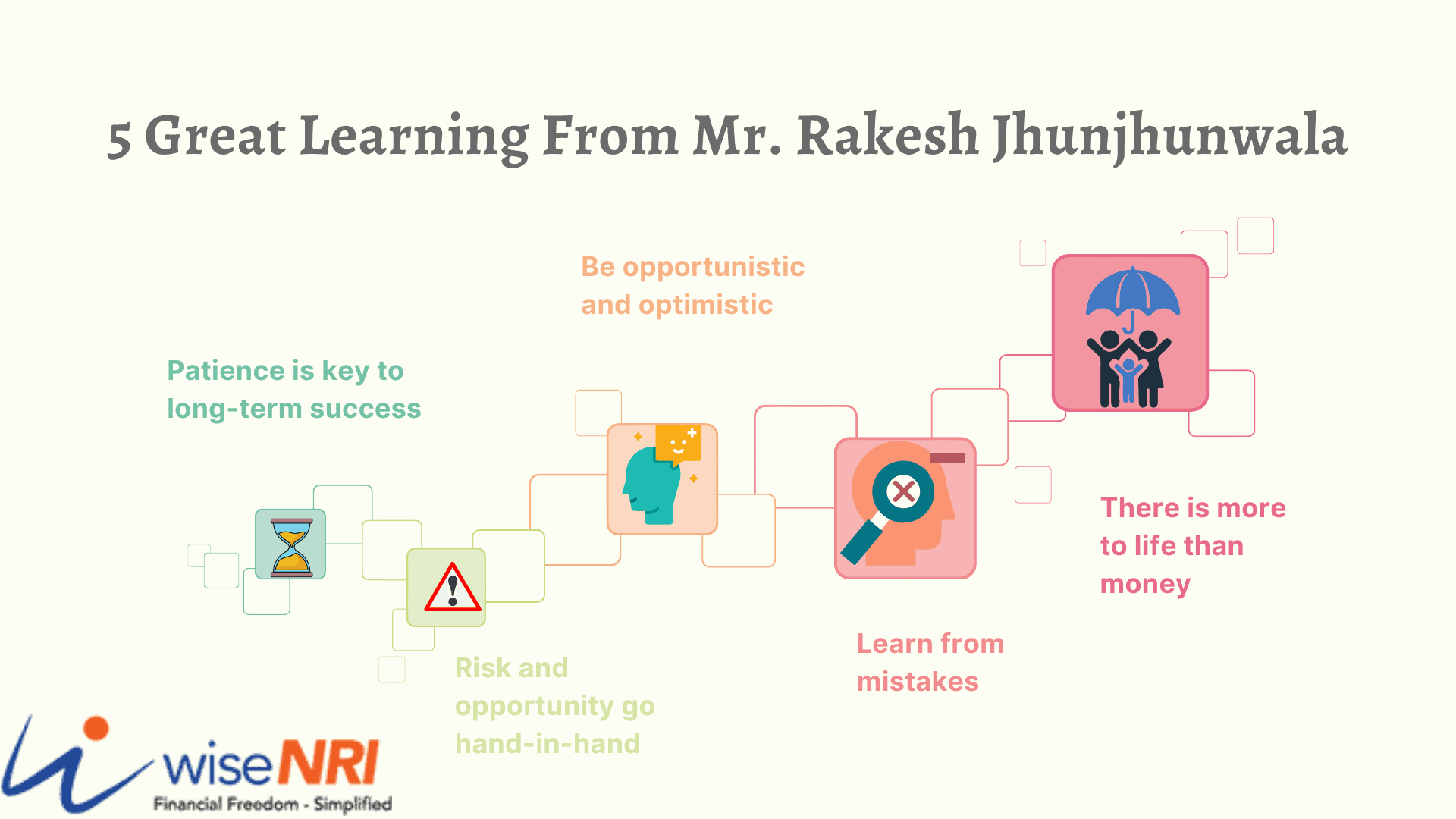 Must check –NRIs Contribution to The Indian Economy
2. Risk and opportunity go hand-in-hand
Risk and reward go hand-in-hand. He believed that risk is the essence of life. He was open in sharing his opinions, did not fear being a contrarian, and used knowledge and intuition to make his investments. At the same time, he was conscious of taking risks. He would ensure that if things turn unfavorably, he would be able to bear the losses without any emotional damage or substantial financial damage.
As an NRI, you can open a PIS account and invest in stocks and mutual funds as per your risk capacity and risk tolerance levels. But buying real estate when you are on a whirlwind tour back home or blindly investing in avenues "recommended" by friends or acquaintances are avoidable risks. Moreover, investing rules and taxation rules are different for NRIs. Also, NRIs may be short of time to focus on money matters when on a trip to India, leading to costly mistakes. It can be helpful to use the services of a qualified financial planner with experience managing NRIs' finances.
3. Be opportunistic and optimistic
He always said that one has to be opportunistic and optimistic when investing in stock markets. He believed in India's growth story and bet big. He even entered the airline industry ( a difficult business) when the industry was still struggling with the ill effects of the pandemic.
Identify the right investment products and act quickly. Even if you are convinced, investing a huge sum in one investment product may not be the most brilliant move. You can invest a small sum and then increase your allocation via SIPs for NRIs. When markets are volatile, be patient and positive if you have done your homework., and this will help you avoid making emotional decisions.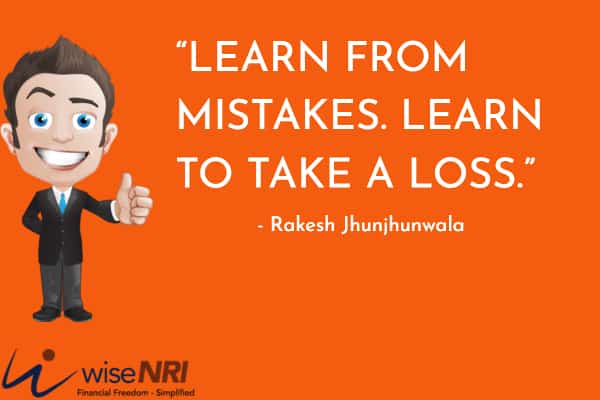 Must Read – NRIs Moving from one Foreign Country to Another – Checklist
4. Learn from mistakes
He was never the perfect investor. He did make mistakes. But he was careful about the mistakes he made. He ensured he had the financial and emotional capacity to handle them. He also leveraged those mistakes. He learned from them to make other opportunities count and ensured he never repeated his mistakes.
5. There is more to life than money
While Rakesh Jhunjhunwala was a legendary investor who knew how to make the most of the markets, he neglected his health. Over time, this led to severe issues. So remember to follow the adage – "Health is wealth".
When you are building your financial corpus, remember to invest time and effort in physical health, emotional well-being, and relationships that fulfill you. When you are in your home country, take a break to rejuvenate yourself and spend time talking or meeting with loved ones. You will be refreshed and ready for the daily grind when you are back in the place you live.
Hope these lessons from the ace investor sets you up for success!